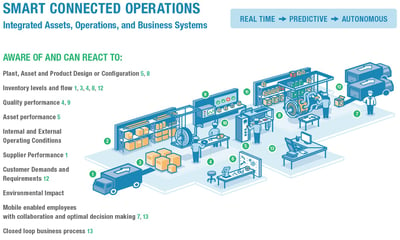 Smart Connected Assets have created an opportunity to push the envelope in a now emerging market of Smart Services. Granted, outsourcing the maintenance of OEM equipment has been around for some time, think Rolls-Royce and pay per mile aircraft engines. However, the Industrial Internet of Things (IIoT) creates an opportunity for more advanced service offerings to maintain assets before they fail.
If done correctly, it has the potential to increase product quality and brand loyalty to new levels. Industry thought leaders have taken the lead and are gaining competitive advantage by assembling the necessary solution components to develop best in class Smart Services. Great examples include Joy Global and KONE, who have the foresight in their industries to provide predictability and reliability in the equipment they are selling.
As this trend continues, manufacturers who want to offer up Smart Services should consider three areas to ensure a strong foundation on their journey to a best in class offering to the market.
Pick a Flexible IIoT Platform
When offering up a Smart Services program to clients, manufacturers will need a way to handle the connectivity, a way to manage and analyze the data, as well as the ability to create applications or flexible mash up applications to cater to the clients' requirements.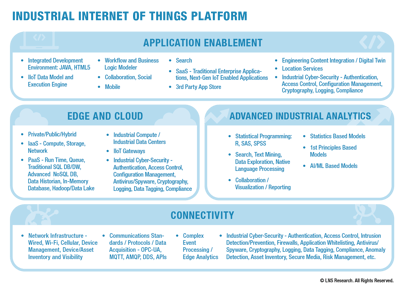 One area where we see increasing importance and investment is network connectivity. For Smart Services to work effectively, guaranteed uptime of the network to monitor the assets will need to be a component of any agreement. In an IIoT world it makes no sense to have a factory without guaranteed internet uptime. We are starting to see manufacturers invest in double or triple redundancy using multiple providers for connectivity rather than work arounds for when network is down. Remember, the tools you will deliver to manage the assets as they are dispersed will not only be used by a remote operations team, but your customer will want to monitor the asset as well. A well thought out IIoT platform can provide this capability.
Service Level Agreements Will Need to Improve
Most Service Level Agreement (SLA) today are triggered when an asset has already broken down. They are built around response times to get out to the asset and get it up in running in a designated time frame, typically around how critical the asset is to the business.
When offering Smart Services, this notion is flipped around entirely. Applying a Predictive Analytics approach within a Smart Services SLA means you may be showing up, before the asset has failed. Depending on the communication between your client and the remote monitoring team, they may even be surprised when you show up as "everything is fine".
It will be important to show a level of performance, when organizations are not seeing the products breaking down as clearly as they had before advanced predictive monitoring. It will also be critical to coordinate additional work while your team is there for a critical issue, to ensure the Smart Services program is cost-effective long term.
Communicate Performance with Agreed Upon Metrics
At LNS we compiled research to understand what clients view as the most important metrics for the Asset Performance Management (APM) programs. When implementing Smart Services, manufacturers should be aligning to their client's metrics as much as possible. Here are the top metrics according to our survey, to learn more read our Research Spotlight, "Understanding the Full Scope of Asset Performance Management Metrics":
Which APM Metrics does your organization measure? (N=361)

Have a baseline understanding of how clients view and monitor their Asset Performance Management (APM) success and failure will help when creating the next generation SLAs. Knowing this upfront will ensure a clearer way to communicate the performance of the remote monitoring of assets and the performance of the team supporting the asset in the field.
Start Now and Evolve
Initial success will be dependent on having a well thought out people, process and technology approach to managing the life cycle of the asset after it leaves the manufacturing facility. Most organization have experience in supporting assets for their customers with warranty programs, and outsourced maintenance and can use this knowledge base when moving to Smart Services.
To remain competitive, manufacturers will be required to provide some level of Smart Services for their clients. They will need to be flexible and willing to evolve with the predictive insight that will be gained from this new approach. Those that provide best in class Smart Services will have the competitive advantage.
Access the Metrics That Really Matter webinar On-Demand where Andrew Hughes presents the results from the fourth iteration of the Metrics that Matter research study conducted between LNS Research and MESA International, and places particular focus on how the deployment of IIoT, Cloud, and Analytics are transforming manufacturing today.
Categories: Smart Connected Assets, Industrial Internet of Things (IIoT), Asset Performance Management (APM)