Organizational culture is one of those ubiquitous but nebulous terms thrown around in the business world. "We have a strong culture of continuous improvement" … "Our safety culture is lacking" … "We need to change the culture around here." These and similar expressions might be heard in the executive suite, the plant manager's office, or on the shop floor.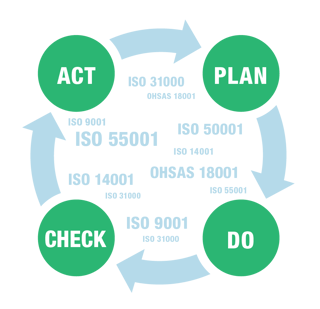 Although the importance of culture in determining safety and operational performance is recognized, organizations have a tough time getting past the jargon and using culture as a lever to drive improvement. This is often due to lack of a common understanding of what culture is, how it is formed and what it takes it to change it.
In this post, we'll define culture, look at its role in performance improvement, and identify the often-missing key ingredient for culture change initiatives.
Organization Culture: Shared Assumptions Influence Behavior
Let's use the definition below from Edgar Schein, a pre-eminent researcher and author, on the topic of organizational culture:
The culture of a group is a pattern of shared basic assumptions that was learned by a group as it solved its problems…that has worked well enough to be considered valid and, therefore, to be taught to new members as the correct way to perceive, think, and feel in relation to those problems.
This definition of culture focuses on the "the correct way to perceive, think, and feel," which in turn influences individual and group decision-making and behavior in the workplace. Over time, organizations develop patterns of behavior reflecting the culture, and impacting EHS and operational performance in day-to-day operations.
This is not to say that culture solely determines performance. Rather it's a key aspect of an organization that interacts with and influences other dimensions such as strategy, structures, systems, processes, technology, and resources. How culture impacts performance doesn't depend on the culture alone, but rather on its relationship to the organizational environment it belongs.
Culture as an Opportunity, and Challenge, in EHS and Operational Improvement
Enterprises recognize the critical role culture plays in enabling performance improvement. Results from the LNS Research Global EHS (Environment, Health and Safety) Management Survey show that improving organizational culture is one of the top objectives in undertaking EHS performance improvement initiatives, with 40% of respondents citing it as such. Closely related, alignment of EHS processes with other parts of the organization is also named as a top objective, by 39%.
What are your organization's top 3 strategic objectives for EHS performance improvement?

Click here to see in full-size
On the other side of the coin, organizational and cultural issues are prominent barriers to performance improvement. Our survey data show that poor collaboration across departments is the number one challenge, listed by 45% of respondents. Lack of a culture that supports continuous improvement is another top challenge. 35% cite this as a key barrier to operational and EHS performance improvement. If the importance of culture in performance is well-recognized, why are companies are still struggling with effective implementation?
The Essential Ingredient for Culture Change: Leadership
The starting point for any culture change initiative is executive leadership. One or more key people at the top need to decide that something about today's ways of working needs to change, then develop a clear vision for the needed change. Most importantly, they need to start "walking the talk" in a visible way and recruiting others to do so. The key is that the change initiative must be more than just issuing directives and making announcements, leaders need to set a consistent example and recruit others to do so.
A classic example of top-down leadership as the lynchpin of culture change is the approach taken by Paul O'Neil at aluminum maker, Alcoa when he became CEO in 1987. O'Neil's first order of business with all stakeholder groups - investors, management, and employees- was to make a commitment to workplace safety; the TOP priority for him personally, and the company. He believed that this focus would instill a culture of "habitual excellence" that would permeate the organization.
His approach worked. During his 13-year tenure as CEO, Alcoa's lost workday incident rate fell from 1.86 to 0.2. Focusing on improving safety led to the improvement of inefficient manufacturing processes and product quality. Net income increased five-fold.
We'll delve deeper into this topic in an upcoming LNS Research online event, "Unlocking the Power of Organizational Culture to Improve Safety and Operational Performance," on May 25 at 2:00 pm EDT. This webcast will provide operations and EHS business leaders with an understanding of how culture can impact safety and operational performance, how to assess it, and strategies for achieving culture change to support organizational objectives and help operationalize management systems.