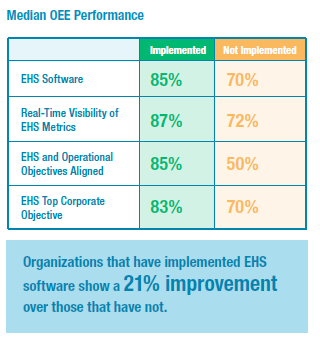 A common problem faced by Environment, Health and Safety (EHS) and operations leaders is getting past performance plateaus. It's a familiar scenario: after a good run of continuous improvement, results seem to stall and drift sideways, or even decline. When this happens, how can business leaders help take their organizations to new levels of operational performance while coping with tougher resource constraints? Let's look at the basic problem, its root causes, and how it can be addressed by effectively operationalizing EHS management to achieve step-change improvement.
Management Systems and the Execution Gap
Management systems have been deployed throughout industry to serve as the framework for managing risk and compliance, and driving continuous improvement, whether it be environment, health and safety, quality, or another aspect. Yet, many organizations hit a performance improvement wall, and continue to experience costly events such as workplace injuries, production interruptions, and brand damage.
While management systems are effective in defining an organization's EHS strategy and how it will be implemented, that's only part of the story. Often there's a gap between the stated policies, processes, and procedures, and their execution in day-to-day operations. This failure to consistently operationalize EHS management is what hinders performance improvement and causes adverse events.
Barriers to EHS Performance Improvement
The LNS Research global survey of EHS managers and practitioners shows that the top barriers to EHS performance improvement relate to a combination of organizational, business process, and technology issues (see graph):
Disparate systems and data sources- we're still trying to manage what is intended to be an integrated, enterprise business function with fragmented, departmental systems, and software.
Poor cross-functional collaboration- EHS management is inherently a cross-organization endeavor, yet business functions are still tending to operate in isolation.
Inadequate ROI justifications for improvement- difficulty in communicating an effective business case is an on-going challenge that must be solved to make the investments needed to enable improvement
Although these are long-standing challenges, there is some good news. We see fundamental changes occurring in approaches to EHS management, the available enabling technologies, and how they are deployed. The convergence of these trends has major implications for how the traditional barriers to EHS performance improvement can be overcome to close the execution gap.
Advance by Operationalizing EHS Management
Our work with industrial organizations over the past several years has shown that Operational Excellence objectives are best achieved by taking a holistic approach that aligns people, process and technology capabilities. Taking such a big picture approach is more likely to lead to step-change performance improvement than narrow efforts focused on one aspect.
We see several drivers spanning Operational Excellence that together create an opportunity for EHS business leaders to better operationalize their EHS management systems to drive new levels of performance:
Ongoing changes in and harmonization of management system standards such as ISO 9001, ISO 14001, and the forthcoming ISO 45001

The availability of next-generation EHS software and technology such as Big Data Analytics, Cloud-computing, mobile apps, and the Internet of Things (IoT)

Recognition of the critical role of leadership in implementing and sustaining systems
Learn More at the Environmental Leader Conference 2016 and Beyond
I will be representing LNS Research at the Environmental Leader Conference on June 21-23, 2016 in Denver, presenting on the topic "Operationalize EHS Management: How New Technologies Enable Next-level Performance". The focus will be on how business leaders can benefit by applying next-generation technologies that have come on the scene in the past few years and continue to mature. The potential to close the gap between EHS strategy and execution will be illustrated, and actionable recommendations will be provided.
With these shifts, EHS is well-positioned to play an increasingly important role in achieving enterprise Operational Excellence and sustainability objectives. We will explore this topic further in an on-going research campaign throughout the year, looking at it across people, process, and technology dimensions. Join LNS Research as we continue to delve into this topic in the coming months.
Access this NEW eBook, "Manufacturing Metrics in an IoT World: Measuring the Progress of the Industrial Internet of Things," presents results from the fourth iteration of the biennial Metrics that Matter research study conducted between LNS Research and MESA International. It places particular focus on what IIoT means to manufacturers in the MOM space.
Categories: Operational Excellence, Big Data, Industrial Internet of Things (IIoT), Industrial Transformation / Digital Transformation, Environment, Health and Safety (EHS)