In the global COVID-19 crisis, an adage commonly attributed to Winston Churchill rings true more than ever: "When you're going through hell, keep going". The conventional wisdom is that crises bring out the both the best and the worst in people and organizations. The Coronavirus pandemic is no exception.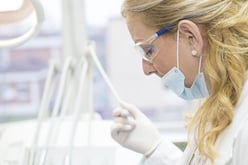 Some people hoard food and toilet paper, while others ask their neighbors if they need anything. Some companies stockpile respirators and other critical safety supplies for price gouging schemes, some are donating these items to local hospitals. Healthcare, retail, logistics, first responders and many other frontline workers put themselves in harm's way to the benefit of the general public, while other people foolishly ignore social distancing guidelines, putting themselves and many others at risk. So it goes.
Technology has a major role to play in how individuals, companies and governments will get through these "interesting times". Now more than ever, industrial organizations need to keep employees safe and healthy, and operations and supply chains running smoothly so the public can access life-sustaining goods and services. And there's a much greater imperative for innovation to find solutions to contain and mitigate the current threat, treat patients, develop vaccines, and predict and prevent similar occurrences.
This post will highlight some examples of how tech companies are stepping up with solutions, information and resources specifically designed to help companies meet COVID-19 challenges. We've grouped these solutions into four categories important to industrial organizations: risk management, remote work and collaboration, engineering and operational continuity, and knowledge and insights. Keep in mind that the examples cited are only a sampling among thousands, and there is significant cross-over between the categories.
Health and Safety Risk Management
The COVID-19 pandemic presents industrial, commercial and public sector organizations with new occupational health and safety challenges, and Environment, Health and Safety (EHS) software vendors are responding with new targeted solutions to manage the risk.
Remote Work and Collaboration
A basic COVID-19 control measure is social distancing to keep people physically separated as much as possible to minimize disease spread. This means that in all industries workers and teams are being transitioned to working remotely to the extent practical. Technology companies are responding with access to solutions for remote work and collaboration to enable operational continuity.
Augmentir – this AI-powered Connected Worker platform provider is offering industrial organizations free use of its Remote Assist Tool to help address travel restrictions and social distancing related to COVID-19. The tool enables frontline workers to get real-time support from remote subject matter experts to diagnose and troubleshoot field service, manufacturing and maintenance problems.
GE Digital –

is offering free Remote Monitoring and Control licenses to its 20,000 industrial automation software customers. The web-based solution gives plant operators and management teams real-time monitoring and control access to plant operations over a secure connection, allowing critical infrastructure to operate with a reduced crew on site and enabling coordination with remote teams.

PTC – in partnership with the National Association of Manufacturers, PTC is making available for free its Vuforia Chalk remote assistance product, which is part of the company's enterprise Augmented Reality (AR) platform. Running on smart phones and tablets, Chalk leverages AR to enable off-site and on-site employees to collaborate in the operation, maintenance, and repair of all kinds of products and assets. Frontline workers can access remote experts, minimizing travel and scaling specialize skills and knowledge.
Engineering and Operational Continuity
Implementing remote work arrangements be especially challenging in industrial operations given that major assets and production processes are managed with complex IT and operational technology systems. In the crisis, technology vendors are providing access to software that enables remote monitoring and control of industrial operations, as well as enable teams to collaborate remotely in complex engineering and design work.
AVEVA – is enabling business agility during the crisis by providing its customers withfree access to cloud software for engineering and operational continuity. Includes Restart Remote Engineers to enable "in-flight" engineering projects to transition to cloud-based collaboration among now-remote teams; Access Anywhere for real-time monitoring and control of supervisory systems; and Remote Situational Awareness to provide a holistic view of asset and process performance for faster, better decision-making by remote teams.
Dassault Systemes – the company's software is being used to deliver new innovative COVID-19 solutions for life healthcare and life sciences organizations. For example, the SIMULIA XFlow fluid simulation application was used to quickly model and design ventilation systems for new hospitals in China to mitigate infection risk for patients, staff, and the community. Medidata solution enable biopharmaceutical companies, academic researchers and startups to collaborate to speed clinical trials and optimize manufacturing processes to keep up with demand.
Siemens - is making its Additive Manufacturing (AM) Network along with its 3D printers available to the global medical community to speed design and production of medical components, such as spare parts for ventilators. Doctors, hospitals and other organizations needing medical devices as well as designers and 3D-print service providers with medically certified printing capacities can register for free access to the Siemens AM Network.
Knowledge and Insights
Technology companies are stepping up to provide access to data, information, knowledge, and insights to help industrial organizations develop COVID-19 responses and strategies.
Plex Systems – is sharing a Resource Center to help manufacturers determine their COVID-19 business continuity response and strategy in real time. It brings together: resources from leading manufacturing associations and industry organizations; industry analyst-provided research and articles (including from LNS Research) on impacts on the manufacturing community; and unique insights based on anonymized operational data from 700 manufacturers running 1,200 active production facilities in 29 countries.
Parsable – is offering its Connected Worker platform to companies a series of COVID-19-specific EHS standard operating procedures (SOPs) and analytics dashboards to validate and analyze compliance, at no cost. Examples of the prepackaged SOPs: site entry and visitor compliance; hand washing, employee exposure screening, and remote office safety check. These capabilities are available for all employees and facilities across a company, and Parsable will provide remote training and support to ensure successful implementation and adoption.
SAP - is opening access to a variety of technologies to help employees, companies, communities, and governments respond to COVID-19. Highlights include free access to: Qualtrics Remote Work Plus, an automated feedback solution for remote workforce readiness; SAP Ariba Discovery to reduce supply chain disruption by posting sourcing needs and getting responses from suppliers; Remote Readiness and Productivity Academy training content to help establish best practices in remote work and develop leadership during times of change and challenge.
Kinsa -

is providing as a public service the "U.S. Health Weather Map", which is a visualization of unusually elevated prevalence of flu-like symptoms (fever). The aggregate, anonymized data feeding the map is sourced from Kinsa's network of Smart Thermometers and accompanying mobile applications. Advanced analytics show a very strong correlation between cumulative atypical illness incidence and positive COVID-19 tests in terms of geographies affected and timing, indicating the map is useful in showing where COVID-19 may likely be occurring.
Moving Forward
The impact of the COVID-19 pandemic is changing rapidly as the spread of infection plays out across the globe over time. Individuals, companies, communities, governments and organizations of all types are searching for answers on how best to respond, and hopefully move into a predict and prevent mode.
Technology companies of all types have sprung into action to provide many types of solutions to help their customers and others manage through the crisis. In this post we highlighted many examples, with a focus on health and safety risk management, remote work and collaboration, engineering and operational continuity, and knowledge and insights. We expect more and more tech companies will be proactively developing and sharing new solutions to their customers and many other stakeholders. After all, everyone's in this together.
Please leave us a comment with your own example(s) - we welcome your input.
Categories: Risk Management