2019 marks the third consecutive year LNS Research has attended and covered Gensuite's annual customer conference. This year's edition, BREAKTHROUGH: Gensuite Conference 2019, was held in Cincinnati May 5-7. The event spanned the environment, health, and safety (EHS) software vendor's ecosystem of customers, partners, and Gensuite experts were on hand to convey how the company's solutions enable breakthrough operational performance improvement across EHS, risk, security, sustainability, and quality among others.
Through a combination of plenary and breakout sessions, Gensuite did a really good job of communicating its significant progress on ongoing product and solution initiatives, along with the company's plans for future investment. Many Gensuite customers (aka subscribers) such as Whirlpool, Tate and Lyle, Parker Hannifin, and Delta Global Services presented real-world results of their initiatives and outlook. Let's explore the key conference themes and the implications for Gensuite's installed base and prospective subscribers.
Continued Investment to Provide a Solid Platform for IX
Gensuite continued to paint the picture of how it has systematically renovated its core platform and application offering over the past few years. This message was covered in the opening plenary session by CEO R Mukund and Donavan Hornsby, vice president of strategy. They underscored key accomplishments include successfully "recharging" functionality of core applications, user interface (UI) revitalization, enhanced mobile apps, and embedded analytics. Mukund and Hornsby also highlighted how the company will extend these initiatives with hyper-personalization of the UI, ongoing application recharge, and efforts to increase business and technology integration of Gensuite with the enterprise.
These are strategic investments in the evolution of the core solution that position Gensuite to retain its current subscriber base, provide a competitive offering for net new subscribers with essential capabilities to enable compliance and risk management systems (i.e., data management, workflow, reporting, etc.), and drive user adoption. These core improvements also represent a solid foundation upon which Gensuite subscribers can leverage the transformative technologies of Industrial Transformation (IX) and Industry 4.0 over time to further digitalize EHS management.
Big Data and Advanced Analytics Take Center Stage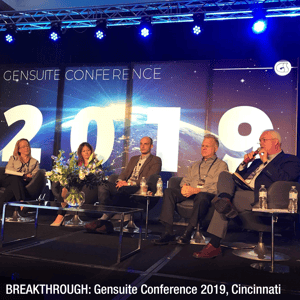 A central theme of the event was analytics capabilities, and how they can be used for risk-based performance improvement and optimization. The company emphasized this point in a plenary session panel introduced by Natasha Porter, Gensuite EVP and moderated by Doug Pontsler, chairman and managing director of the Center of Visual Expertise (COVE). The panel members illustrated a range of analytics capability maturity, and the leading-edge work Gensuite is doing with subscribers to enable new approaches to risk management based on predictive analytics.
Tate and Lyle discussed their use of the embedded Tableau® analytics and data visualization that provide better visibility to metrics. Delta Global Services presented its use of advanced analytics on a set of 250,000 records, including 70,000 mobile app records, to become more preventive with leading indicators. Consultant Keith Bowers described Gensuite Analytics, including the vendor's advanced analytics functionalities such as natural language processing of text-based records, and Big Data analytics using machine learning (ML) and artificial intelligence (AI) to identify trends, make comparisons, and identify early warning signals of adverse events.
The latter also described an experiment that involved analysis of a "data ocean" of 1.3 million data records across six Gensuite subscribers plus external data sources such as weather. Applying the solution this way represents the promise of EHS 4.0 to enable a shift towards predictive and prescriptive risk management. Based on the success of this initial work, Gensuite plans to offer this capability more broadly as a service to subscribers.
Making Digital Real on the Front Lines
A major challenge in Digital Transformation is figuring out where to start and how to move forward with a project. Gensuite has been proactive in offering advanced digital solutions that are innovative yet readily implemented via its "frontier technology" initiative. As well as covering this topic in main stage presentations, the company dedicated a breakout session to demonstrate progress in building out a range of digital tech solutions that integrate with and extend the Gensuite application platform.
Gensuite's frontier tech strategy involves identifying digital technologies to address specific EHS/operations pain points, and working with early-adopter subscribers to take them through a process of exploration, pilot, and large-scale deployment. Examples range from early adoption to mainstream stages:
EXPLORATION: machine learning, wearable sensors, image recognition
PILOT: smart auditing, proximity beacons, AI virtual assistant (Genny)
DEPLOYMENT: mobile apps, QR scanning, geo-fencing
Specific scenarios demonstrated and already available to Gensuite subscribers include:
QR code scanning to access location- and task-specific information
Proximity beacons to automate context-relevant advice and content
Smart glasses with augmented reality (AR) to enable inspections and audits
Genny virtual assistant
Integration of virtual reality (VR) solutions with learning management system (LMS) functionality
The LNS Research Take
Based on the information communicated at the event, and discussions with many subscribers, Gensuite appears to be on a solid growth trajectory with a healthy ecosystem. The company has collaborated with its installed base to identify strategic improvement areas and has made significant research and development (R&D) investments to realize these improvements, while continuing to build out the core platform for the future. These commitments include steady progress in taking advantage of the transformative digital technologies of Industry 4.0 to provide customers a pathway to achieve an EHS 4.0 vision of predictive risk management. Two specific initiatives exemplify this posture, the first being the advanced analytics data ocean work. The second is the frontier tech program, which provides a pragmatic way to pilot and deploy digitals innovations that extend the value of the core platform in bite-sized chunks.
We agree with Gensuite's strong focus on and investment in advanced analytics capabilities. Today, compliance and risked-based management systems are still "table stakes" capabilities; the full promise of EHS 4.0 to predict and prevent incidents will be enabled by a combination of mobile apps, smart connected devices, Big Data, and advanced analytics (with ML and AI) coming together as the Industrial Internet of Things (IIoT). The resulting insights will ultimately be how EHS adds value to the business and the competitive battleground among the field of EHS software vendors.
We also observed that Gensuite is working closely with its subscriber base to identify key EHS management initiatives and programs among those companies, then building specific enablers into the Gensuite platform to support those initiatives. For example, human and operational performance (HOP or H&OP) programs are supported by enhancements in the incidents and measurements, concern reporting, safety observations, and safety risk assessment applications, with more H&OP features planned. Moreover, the data ocean advanced analytics work directly supports serious injury and fatality (SIF) prevention programs.
Gensuite's investments in R&D to improve the core platform, leverage transformative digital technologies, and build out organizational capabilities is positive and bodes well for current and prospective customers looking for a long-term business partner. At the same time, the EHS and sustainability software market is a dynamic one, with continued merger and acquisition (M&A) activity and private investments occurring on a record-breaking scale. There are larger competitors with presumably more resources looking to take market share, so Gensuite must continue to navigate carefully to outmaneuver them.
In a fast-moving, competitive market, Gensuite has made it clear it won't stand still; it's intent on continuous evolution to lead the market forward. So far, the solution vendor has managed to find and execute the right go-to-market strategies to be competitive and grow profitably. As the market continues to mature, Gensuite will also need to continue to adapt to compete with those bigger, well-resourced competitors. All indicators show it has the strategic vision, nimbleness, and resources to do so.
Categories: Solution Vendor / Software Vendor, Industrial Transformation / Digital Transformation, Artificial Intelligence / Machine Learning (AI/ML), Environment, Health and Safety (EHS)