In our Industrial Transformation (IX) Readiness work, there are many surprising results from the research. Two of the most surprising are:
Creating and hiring for a Chief Digital Officer role has no correlation with the success of an organization's Industrial Transformation.
Only 9% of companies include Plant Managers as part of the Industrial Transformation team.
These data points highlight an important fact: Chief Digital Officers – and IX leaders more broadly – are struggling to get buy in from operations. Digging more deeply into the data, we have now uncovered an even more stark and important result.
Companies that include operations as part of the Industrial Transformation team (surprisingly only 59% of surveyed companies do so) are five times more likely to have fully implemented an IX program rather than be stuck in piloting or proof of concept phases.
So far, this is the most highly correlated of any capability to IX scalability, which leaves two questions:
Why do so many companies (41% of respondents) struggle getting operations' buy-in to IX?
What can CEOs and other senior leaders do to maximize the likelihood of operations' buy-in and ultimately a successful Industrial Transformation?
Do Not Confuse the Value Chain for Value Chain Support
LNS Research leans heavily on Porter's seminal work on defining the Value Chain. Which draws a straight line from inbound logistics, through operations, to sales and service as primary activities of the firm. Secondary activities include roles like infrastructure, HR, and technology development. Certainly, organizations structures have evolved dramatically since Porter first published, but the concept of primary and secondary activities holds, which is where much confusion occurs.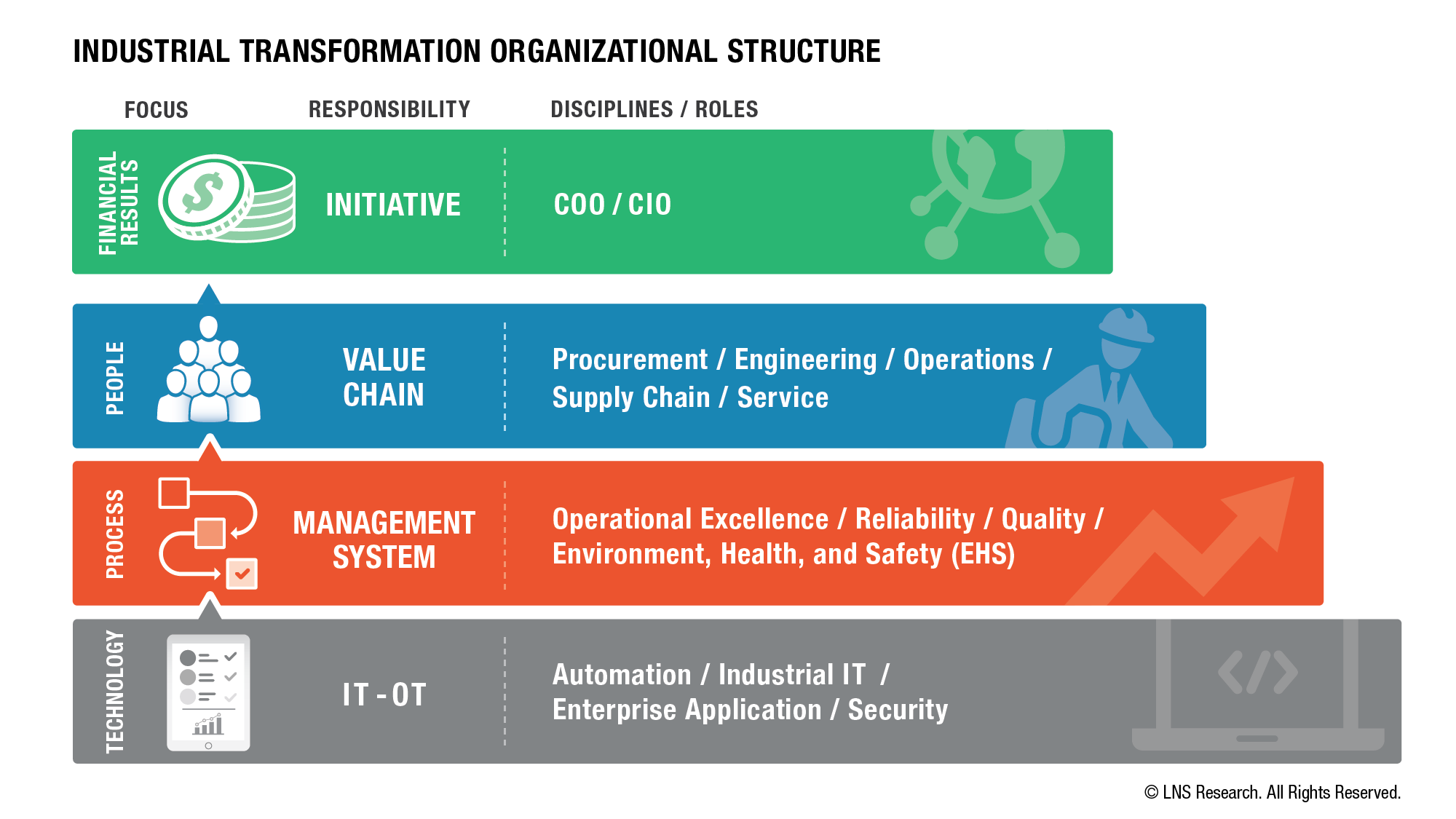 In our view, industrial transformation, value chain support, and technology are all secondary activities in Porter's parlance. And both value chain support and technology roles can be shared services (like IT or Quality supporting all aspects of the value chain) or dedicated services (like OT or Operational Excellence supporting just operations).
Operations are the roles responsible for delivering products to customers, including operators, supervisors, plant management, corporate operations executives, etc.
Operations support are the roles responsible for helping operations operate, including OT, IT, OpEx, Lean, WCM, Quality, EHS, Maintenance, Data Science, and IX specific roles.
It is these dedicated services like OT or Operational Excellence that are most often confused for Operations itself.
OT & OpEx ≠ Operations
This point is especially important for IT leaders and CIOs that are looking to increase partnership and buy-in with operations. Often, LNS sees IT leaders unsuccessfully target OT leaders for buy-in, examples include:
The CIO and enterprise architects of a large oil and gas company targeted OT leadership and site level innovation leaders for transformation. This targeting strategy was flawed for several reasons. OT itself lacked influence and credibility within the organization. OT's most senior leader was not nearly as powerful or influential as the CIO. The CIO had direct engagement with the CEO, the OT leader struggled to gain traction with the VP of Operations. Additionally, OT had itself struggled to deploy technology with a strategic architecture. The OT leader many years earlier had developed an OT architecture – but had failed to drive change or adherence across the organization, it was mainly shelf-ware.
A large industrial equipment company has created a Chief Digital Officer role, with corporate IT taking a leadership role for Industry 4.0. The IT leaders for Industry 4.0 are targeting Advanced Manufacturing for operations buy-in. At this company, advanced manufacturing is mainly a focused technology role, significantly disconnected from operations and the business challenges faced. By partnering with Advanced Manufacturing to drive use case prioritization and selection, significant gaps emerged – mainly around technology not business focused pilots – than main reason companies get stuck in pilot purgatory.
A large life sciences company, that had previously created a manufacturing CIO role now has this CIO leading IX. The CIO has identified multiple IX use cases and assigned an IT and business leader to each use case. These teams then act as a virtual CoE of shared resources to be leveraged whenever a plant wants to engage around the use case. Although this is a very common structure deployed by both CIOs and CDOs they often struggle to create "pull". Two reasons:


Small IT/business teams end up speaking the language of digital not operations. The average shop-floor supervisor has hardly (if at all) heard the terms MVP, agile, AI/ML, or digital, everyday parlance for IT.
IT lacks critical buy-in and active participation from senior operational leadership, only shop-floor participation in pockets.
IT leaders would be better served by targeting Operations leaders directly for buy-in and then dedicated services roles like OT and OpEx will quickly follow if successful.
---
All entries in this Industrial Transformation blog represent the opinions of the authors based on their industry experience and their view of the information collected using the methods described in our Research Integrity. All product and company names are trademarks™ or registered® trademarks of their respective holders. Use of them does not imply any affiliation with or endorsement by them.