Everyone involved in the Manufacturing Operations Management (MOM) industry realizes that the sector has always been dogged by a plethora of challenges to its growth. Some of these challenges include:
High cost

Difficult to

Complexity of MES

Difficulty of integration, especially with ERP

Endless merger and integration of solutions

Broad market with differing requirements
Dozens of MOM software vendors have addressed and, mostly solved these challenges with a wide range of MOM solutions. However, manufacturing companies are all at different stages of implementing MOM and have, particularly in the past, had differing goals for MOM. The advent of Digital Transformation has given a boost to interest in MOM as it can be a starting point for integrating factories into Industrial Internet of Things (IIoT) platforms. IIoT initiatives encourage manufacturing leaders to look at their current state of automation and MOM deployment so that they can make plans for Digital Transformation. To help leaders consider where they are with MOM and where they need to go to, we offer the seven lives of MOM, from nothing to everything.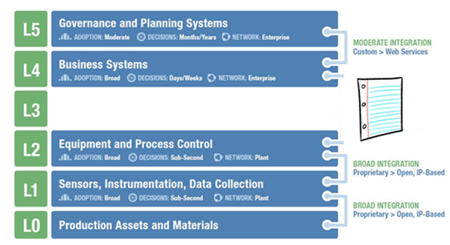 We start with "No MOM" where plants may have automation, but central management system is in place. Usually, the management functions will be undertaken with paper. This is still by far the largest group. LNS Research shows that close to 80% of factories do not have MOM system.
We then move to traditional "Monolithic MOM", the typical big software solution that includes most ISA_95 functionality all bundled together and usually managed through a proprietary database in the plant. The clear majority of MOM solutions today include a monolithic MOM system running in the plant (often one per plant).
All the following lives of MOM are today just emerging or yet to exist. It is, however, good to recognize the paths to future states so that manufacturing leaders can understand the options. At this stage of maturity, there is a potential split in the path. The first is "Cloud-based MOM" and the other we shall call Distributed Modular MOM.
Cloud-based MOM is starting to get some traction in several industries. It makes a lot of sense for many MOM functions where business systems already run in the Cloud, and there is a natural tendency towards integration. For example, enterprise quality systems are often Cloud-based, so it would seem logical to combine quality data from plant and enterprise in the Cloud. There are industries and functions that, to many people, simply need to be in the plant and close to the automation and process. The issue with latency, communications reliability and even security, cause a lot of fear. In the past, this would have been justified, but with today's networking and computing technology, the reality is probably much less worrying than the theory. However, fast data capture will probably stay in the plant for the foreseeable future.
The concept of the distributed "modular MOM takes" us back to the early days of standardization and the IAS S95 MOM standard. ISA95 defines a series of interconnecting functional modules, each with a specific role and each with clearly defined interfaces for inter-module communication. This would seem to be the perfect modular MOM system with pre-defined interfaces that would even allow you to mix and match vendors for particular modules. Alas, the reality is that MOM vendors used S95 as a proof point for functionality. They claim to be fully compliant because they support all the functions but without the modularity defined in the standard.
The good news is that modularity is coming quickly. Many of the big vendors of MOM are also players in the IIOT market, and they have quickly recognized that many MOM features will run on future IIoT platforms. Modularizing their systems now will allow them gradually to port the functionality to be true native apps in an IIoT infrastructure.
This brings us to the "transitionary life of MOM" – IIoT platform with some MOM apps. This is the state of play for the leaders in IIoT platforms that focus on manufacturing. AS they develop their platforms, they are gradually developing MOM functionality. While this is encouraging for the future of MOM, manufacturing leaders today have difficult choices to make when choosing a MOM route. If a company has decided on an industrial transformation strategy, then they should include a MOM strategy within that. Many such companies will already have MOM in place while others will be looking to start from limited MOM functionality. As IIoT platforms mature and the choice of native apps increase, the benefits of taking an IIoT platform approach will rise. Today, existing MOM solutions are much more powerful and complete. LNS Research will be looking at the leadership needed to solve this dichotomy.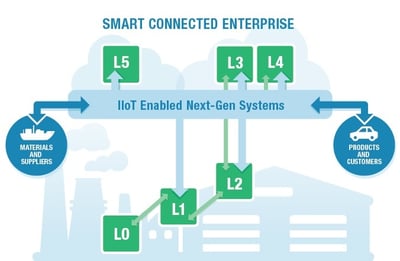 The sixth of our seven lives of "MOM is MOM Apps on IIoT" - the platform will have sufficient apps to be able to deliver required functionality required for mom both on premise and across the enterprise and beyond. These apps will be delivered by different vendors, not just the owner of the IIoT platform.
This would seem like the end of the lives of MOM, but you will remember we said there are seven lives of MOM. For this, we need to think beyond today's view of MOM and consider systems that will take advantage of new technology that will come with the IoT. We need to think beyond what we consider to be MOM today and consider all the possibilities that the technology will bring to the plant. The end game is when we get back to the beginning and have No MOM, just efficient and flexible factories run by people and systems that are continually learning and improving.
---
All entries in this Industrial Transformation blog represent the opinions of the authors based on their industry experience and their view of the information collected using the methods described in our Research Integrity. All product and company names are trademarks™ or registered® trademarks of their respective holders. Use of them does not imply any affiliation with or endorsement by them.