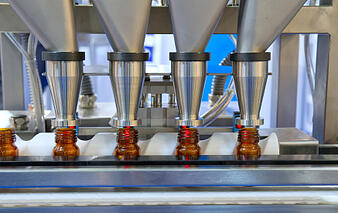 With the evolution of quality management, there has been a shift away from manual and paper-based solutions. Organizations are now leveraging the power of automation and integration across the value chain to improve the quality of products and processes. This progression has materialized directly in the Quality Management Software space.
One of the most widely used processes for improving the quality of products and processes is non-conformance reporting and corrective and preventive actions (CAPA). As the CAPA process is a critical component of quality management, it has naturally become a central piece to many different types of companies delivering EQMS software, including ERP, PLM, MOM, and EQMS pure-play software providers.
Below, I'll discuss the importance of automating CAPA procedures. Also, with benchmark data from our recent survey, I'll provide some context into how it's being used.
Automating Corrective and Preventive Actions Procedures
CAPA processes are not only necessary for process-driven organizations but also required in many industries. Companies have traditionally managed the CAPA process with the use of spreadsheets as well as through homegrown or point solutions. While this has worked for smaller organizations, it's proved ineffective for larger ones with distributed facilities and business units.
By providing a platform for cross-functional communication and collaboration, the automation capabilities found within EQMS have taken the CAPA management process to new heights. EQMS streamlines the CAPA processes, significantly strengthening abilities of investigating, resolving, and avoiding non-conformances.
Automation and the Portfolio of Quality Management Functionalities
Without a doubt, effective quality management requires the utilization of a wide arsenal of tools and resources. This mix varies depending on the type of company and industry, but there are a general set that are employed across the board. The 2012-2013 LNS Research Quality Management Survey asked nearly 400 executives which EQMS functionalities their organizations currently had automated.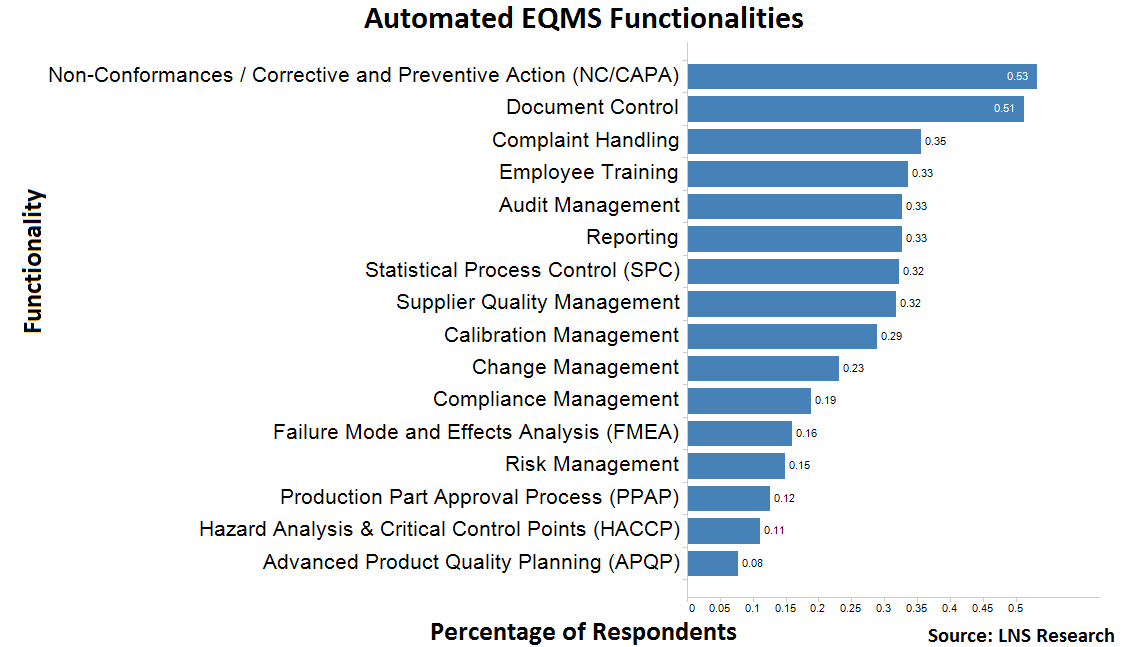 53% of EQMS users have deployed automated CAPA management Tweet this stat!
51% of EQMS users have deployed automated document control Tweet this stat!
As illustrated in the chart above, a majority of executives noted that their companies were automating CAPA as a part of EQMS. With a 53% use rate, aside from document control, automated CAPA was considerably ahead of every other option. Because of the the role that it plays in continuous improvement, and that it was one of the original capabilities delivered by early entrants to the market, the fact that it's the most adopted piece of EQMS functionality is not terribly surprising.
What may be surprising to some readers is that the adoption rate is not higher and that the adoption rates of other quality management functionalities fall off so quickly after CAPA and Document Control. In future articles we will spend more time examining the full range of processes that need to be automated beyond CAPA as a part of EQMS and which of these pieces of functionality are most associated with driving benefits in KPIs.
The Effect of Automated CAPA Management on the Products in Compliance Metric

It's always interesting to cross-reference an EQMS functionality with performance in a particular metric. In the 2012-2013 Quality Management Survey, we asked executives about their 2012 performance in Products in Compliance, where LNS defines Products in Compliance as a percentage of total products produced while in compliance with both external regulations and internal process specifications.
Below, the chart depicts how the adoption of automated CAPA has effected performance of Products in Compliance.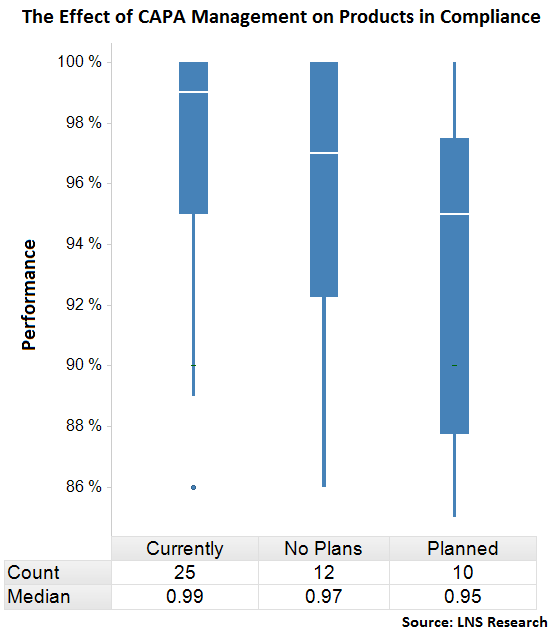 Automated CAPA is driving an improvement in median product compliance performance from 96% to 99%. Tweet this stat!
The above box plot shows the distribution of performance in Products in Compliance for companies with automated CAPA management as compared to those companies that are currently planning or have no plans to implement this technology. Clearly there are major differences between the groups and what stands out most in this data is:
The top 50% of companies with automated CAPA have 100% - 99% of products in compliance
The bottom 50% of companies without automated CAPA have 97% - 85% of products in compliance
From this new research it is clear that automating NC/CAPA can drive considerable performance improvements for Products in Compliance and companies that struggle in this area should begin to consider how best an automated CAPA solution can fit within existing IT infrastructure. Unfortunately, our additional analysis has shown NC/CAPA does not drive significant performance benefits in other more operational metrics like First Pass Yield or Overall Equipment Effectiveness.
In future articles we will examine where else CAPA can make a difference like NPI and CoQ. We'll also discuss which other areas of EQMS can deliver these performance benefits and how adopting a broader platform of quality functionality can help drive both operational and compliance benefits.
You might also be interested in:
Quality Risk Management | A New Perspective
Operational Excellence: Customer Complaint Management