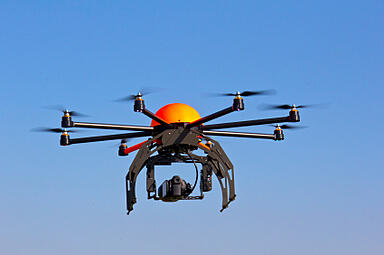 The future of drones--excuse us--unmanned aircraft systems, is a topic on our minds this week as we examine many facets of the rapidly advancing technology that has the public equally paranoid and excited. From the current global market breakdown, to coming job prospects, to the biggest players currently advancing the technology and capabilities, the articles below are intended to take an objective look at a transformative technology that will be entering our lives at an accelerating rate over the coming years.
The unmanned aircraft system (UAS) has surged in the last decade due to operational successes overseas, and Forbes recently published an article mentioning that the United States Air Force may make use of drones in their tactical missions. The UAS market is expected to exceed $55 billion by 2020. U.S firms currently have 50% of the market by value, and "are likely to account for 77% of global UAS research and development and 64% of procurement over the next decade." Read more about this surge.
Tweet this article | Share on LinkedIn
"Integrating UAS into the national airspace will lead to new and expanded uses, which means the creation of quality, high-paying American jobs." -Michael Toscano, President & CEO of AUVSI
The Association for Unmanned Vehicle Systems International (AUVSI) unveiled a new study which found that during the first three years of unmanned aircraft systems being integrated into the national airspace system, 70,000 new American jobs will be offered. Beyond that, it is estimated that over 100,000 jobs will be created by 2025. The economic impact between 2015 and 2025 is said to be more than $82 billion. Access full article on this recent study.
Tweet this study | Share on LinkedIn
In case you haven't been fully engaged in the companies that are focusing on the technological advancement of the drone, The Huffington Post provides us examples. Click here for slideshow.
Tweet this article | Share on LinkedIn
Drone development isn't the only industry that is expected to increase the number of available manufacturing jobs. CNN Money covered Ford's announced of its intent to undergo the most aggressive manufacturing expansion the company has experience in over 50 years. This plan consists of 5,000 new U.S. jobs for 2014, 3,300 of which will be salaried positions. Overseas, Ford is building factories in Brazil and China and will be introducing 23 new vehicles globally. Ford: Go Further.
Tweet this article | Share on LinkedIn
In a manufacturing organization, understanding what's happening at the plant level is crucial, and visibility is directly proportional to the number of locations an organization has. So, what happens when an organization's facilities span worldwide? Leading manufacturing organizations have been improving manufacturing operations is through the use of Enterprise Manufacturing Intelligence (EMI)/Operations Intelligence (OI) software. In this article, Research Associate Greg Goodwin takes a look at the profound effect that EMI software functionality has had on manufacturing operations since its initial adoption over the past 10 to 15 years. Read more.
Tweet this article | Share on LinkedIn
Interested in taking a deeper dive into supplier quality management, supplier risk management, and the role of enterprise quality?
Join LNS Research's President & Principal Analyst, Matthew Littlefield, and Supplier Quality Process & Audit Manager at GE Healthcare, Mark Bienkowski, for a webcast on the topic. The duo will discuss emerging best practices and strategies for ensuring supplier quality, as well as examples the strategies used by GE Healthcare to successfully manage quality at the enterprise level. More information provided on the link below.