The Asset Performance Management market didn't disappoint in 2016. The momentum and pace of innovation continued in solutions, business models and assets. All bolstered by Internet of Things (IoT) Platforms and the effect they are beginning to have on the Asset Lifecycle.
As the year 2016 comes to a close, we like to bring back and review our 2016 predictions blog to help our readers understand what the future may hold and help foster continued discussion as we move to 2017.
Last year's blog entitled, "2016: What's to Come in the APM Space?" offered ideas on what to expect in 2016. Now we would like to review these predictions to see how we did. Our basis for the predictions we came up with was based on our survey research, customer meetings, vendor briefings, and intuition.
2016 Predictions, How Did We Do?
1: The lines will blur between APM and IIoT
History is bound to repeat itself, and this held true in the APM space. When we wrote of this prediction, the focus was on how the partnership and acquisitions that took place will be incorporated and create innovation for APM.
We began to see the blurring of IIoT and APM as the vendor community brought both together to tell the story of value, much of the focus was on Predictive Analytics and combining more data sources. This year didn't disappoint on the acquisition front, with a quite a few deals happening in the last two months.
Traditional APM vendors are taking the lead in acquiring IIoT offerings and bringing these into their technology stack. Some IIoT vendors are trying to develop APM related solutions, these are mainly on the analytics front, and although these can create some value, it will be important for them to show how they can create actionable, closed-loop workflows into their solutions. This will most likely be through formal partnerships and integrations with the enterprise level APM vendors.
This is also an opportunity to offer up a teaser! We are excited about the lines blurring in IIoT and APM; this is creating innovation in a space where managing as good enough. This movement creates a great research opportunity as we explore the changes and evolution of the Asset Lifecycle as Smart Connected Assets, Operational Architecture, Mobile Workforce and New Applications come together; stay tuned!
2: Measurable capacity offerings will take shape
We have seen this take shape in many industries this year. We heard quite a few stories from different industries and heard manufacturer's talk in new terms instead of selling equipment offering. Their main driver is moving people, in the elevator business, or delivering passengers on time in the transit industry.
This transition will continue in the foreseeable future as the equipment providers realize the value isn't in the product, but the long-term service contracts and efficiencies gained from such programs. The initial results are that better service is provided and being able to do more with less, always a good payback opportunity.
When we wrote about this last year, we pointed out how service contracts would become a focal point of this model and how good analytics to monitor assets are important. These seem to be solved with the many Predictive Analytics solutions available for a variety of assets and industries.
We did uncover another issue with our Smart Connected Assets research last year; there is a problem with data sharing. There are a few reasons for this, but owner/operators may not be ready to share this data back to a supplier as it may serve as a competitive advantage. What if a company figured out how to run a machine more efficiently, for example? They might not want this to be fed back to the supplier, as this performance information could be used as a customer service opportunity with other clients.
We expect data sharing to steadily increase as the concern over privacy or loss of competitiveness wanes as organizations realize moving to the capacity model provides increased uptime and big savings opportunities

3: Augmented Reality in Maintenance Becomes Real
Did Augmented Reality become real in 2016; no. In reality, we only saw one manufacturer, partnered with many vendors, show the same demo throughout the year. It was a bit forward thinking to believe that this could be implemented in many industries. Is it real? Yes. Will it be widely used moving forward? Probably not.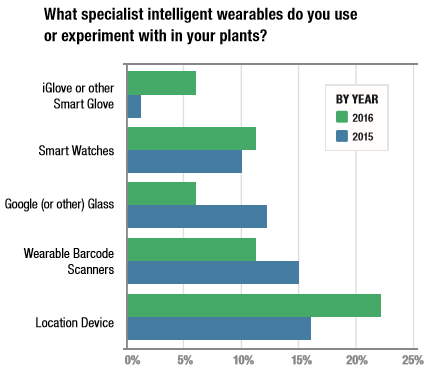 What is interesting is we often see consumer expectations push industry requirements. The hot gift this year is VR, so as this becomes mainstream, AR/VR will continue to push into industry applications. There are some efficiency gains to be had, and with the aging workforce upon us, we must find ways to do more with less. A quick value will be to create ways for a maintenance technician to "phone a friend" and share what he is seeing to validate the approach to working on the asset and diagnose problems. This could be the entry point to larger applications, and we see momentum with intelligent wearables.
Taking on 2017
Stay tuned in for our 2017 predictions! We look forward to doing as good or better when making our predictions for APM in 2017, as our responses continue to grow in our APM survey. Check back next week for that blog, along with some exciting research on the evolving asset lifecycle in this IIoT era.
We are so excited for what 2017 holds in working with our great client and vendor communities as we all drive towards continued innovation in the APM Landscape.