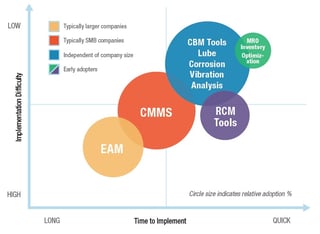 Here at LNS Research we are excited as to what the New Year will behold! We ended 2015 with a review of our 2015 predictions, we would like to begin this year on predictions we expect to take shape in 2016.
Click here to speak with Jason
Our basis for identifying these predictions is based on our survey research, customer meetings, and vendor solution direction and intuition. Last year was all about analytics, cloud and IIoT, and we witnessed these predictions take shape. This year we expect to see dynamic change in the Asset Performance Landscape (APM) landscape.
The Lines Will Blur Between APM and IIOT
Over the past twelve months we discussed in detail the LNS Research view and definition of the APM Landscape. It is both broad and deep, encompassing enterprise and point solution vendors, and this view culminated in our APM solution selection guide. It is clear through our evaluation process, we see many enterprise and specialized vendors begin to position and tie product functionality to the Industrial Internet of Things (IIOT).
Last year, many partnerships and acquisitions took place within and outside the APM landscape. In 2016 we should expect to see the fruits of this labor this, especially around predictive analytics - focusing on prediction of failure using multiple data sources.
IIOT vendors are also developing solutions to add value to the APM landscape. Most IIOT movement in the APM space has been around reliability, analytics and data sources.
As the line blur they key will be how well these experts can integrate these solutions back into the APM ecosystem to ensure a tight business process and improve operational excellence. Eventually we will see APM or IIOT becoming a subset of one or the other when explaining the landscapes of both.
Measurable Capacity Offerings Will Take Shape
There were some forward thinkers here, like Rolls Royce and engine hours. And we are seeing this take shape in the consumer market with Elon Musk predicting consumers pay for miles, not cars. More industrial vendors will evaluate and implement capacity offerings as an option the capital expenditures.
Manufacturers who go down this path will need to really have their stuff together. This includes systems and processes to monitor assets they are putting out in the field, and an efficient way to support them when they breakdown.
Service contracts will become the focal point of this model, organizations that do not have good field service management processes will most assuredly fail, and ensuring customer confidence that assets will remain up by a certain percentage, good analytics to monitor will also be important.
Organizations that understand what APM metrics are important to them will end up being the most successful and will have the advantage as this space continues to evolve
Augmented Reality in Maintenance Becomes Real
It's always fun to look a little further into the future and see if it can take shape sooner rather than later. So this year, the long shot prediction is, the rise of digital copies and its relation to augmented reality. The time of holding up a smart device to an asset to understand its risk, safety, work history and parts identification will begin to be part of the maintenance work process.
Connectivity in the plant and a few slick solutions taking shape will be the start of pilot projects this year to test the usefulness and efficiency to adapting maintenance job plans and further integrate smart phones into daily activities. It's the addition of an app pure and simple, and the next generation workforce will be accepting it, as they won't have time to retain the workforce knowledge leaving now and continuing in the next few years.
Stay Tuned, Self-Evaluation in 12 Months
As we watch 2016 unfold while working with end-users and vendors, our eyes will not only be on our predictions, but what else continues to shape the APM space. We look forward to providing insights and analysis from our surveys and market dynamics as they progress.
And as we did last year, we will be grading ourselves on our APM predictions at the end of the year. Although we hope we are spot on, we will always be interested in how things turn out regardless of being right or wrong, as long APM continues to advance.
Understand the capabilities of twenty of the leading vendors in the APM space by downloading our APM Solutions Section Guide. The guide contains comparison charts for the factors listed above and the detailed profiles of the twenty vendors ranging from automation companies, to enterprise software providers and includes many specialized APM solutions as well.
Categories: Industrial Internet of Things (IIoT), Asset Performance Management (APM)