The world is reeling from the COVID-19 crisis that is on course to cause thousands more deaths and precipitate global economic disruption of unknown proportions. What can environment, health and safety (EHS) business leaders do to help their organizations successfully navigate the COVID-19 pandemic?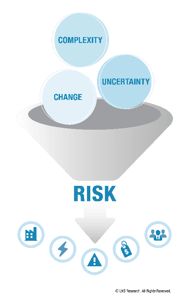 In many organizations, EHS business leaders are actively involved in responding to the crisis, and perhaps leading it. The expectations of EHS will vary widely depending on organizational structure, defined roles and responsibility, composition of the crisis management team, in-place response plans and other factors. The EHS scope could range from a focus on on-the-job worker health and safety, to more holistic matters such as employee wellness, facility security and crisis communications. Table stakes will include items such as working with Operations and other groups to update preparedness and response plans for the new reality, and developing and rolling out policies regarding travel, remote work, meetings, social distancing, personal protective equipment, health monitoring, etc.
Beyond showing competence in addressing such nuts-and-bolts tactical issues, the crisis presents a rare opportunity for the EHS business function to increase its value to the organization and influence how it's viewed long after the Black Swan event has passed. In this post, we discuss three strategies spanning people, process, and technology that can help increase awareness of the EHS business function as a change agent, and its contribution to the business.
1. Take your seat at the table
In some organizations, the EHS business function is well-integrated into the business, from strategy and business planning to core operations. In others, EHS might still be stuck in the old-fashioned "necessary evil" category. Regardless of where your organization falls on that spectrum, EHS business leaders and professionals have an opportunity to level up their game in the crisis by increasing cross-functional collaboration directly supporting strategic objectives.
Our research shows that 59% of industrial organizations have converted, or are in the process of converting, yesterday's Operational Excellence programs to tomorrow's Industrial Transformation (IX) initiatives. Yet among 19 business functions, EHS is one of the least involved with IX programs, barely beating out marketing and HR for last place. The current crises could provide a window to increase engagement of EHS as a vital business partner in not only responding to the current crisis, but in on-going IX efforts.
2. Re-enforce a risk-based approach to increase resilience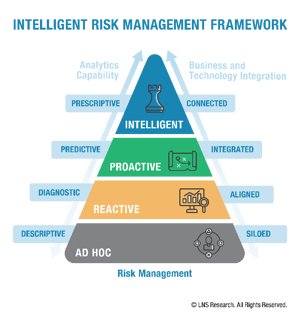 EHS management is essentially a risk management function, or at least it should be. As important as compliance is, non-compliance is just another type of risk to be managed according to the organization's priorities and risk tolerance. The EHS management systems most organizations have in place should define processes for operational risk management (ORM).
Indeed, common management system standards such as ISO 45001, 14001, and 9001 prescribe a risk-based foundation. With the COVID-19 Black Swan creating uncertainty, the EHS function is well-positioned to apply logical, risk-based approaches based on current management systems to mitigate operational risk. Effective contributions to safeguarding business continuity and increasing organizational resilience are welcome in times like these.
3. Use lessons learned to build a business case for investment
Regardless of how effectively your organization's risk management system(s) function during the crisis, this could be a great opportunity to build the business case for investments to make them better. If like most organizations yours has a patchwork of fragmented, siloed risk management systems for risk management, it's likely that "opportunities for improvement" have surfaced recently and over time. This current situation is likely to re-enforce the strategic importance of effective ORM in managing threats to business continuity.
The COVID-19 crisis could be a golden opportunity to surface gaps and build a business case for enabling greater risk management matu­rity and transition from traditional operational risk management (ORM) to intelligent risk management (IRM). IRM is an approach that leverages digital technologies to extend the foundational capabilities of ORM for proactive, predictive risk management. Lessons learned in the crisis can be used to help expeditiously craft a business case for technology and process improvement to better prepare the organization to prevent future adverse events and reduce the impact of those that do occur.
Another potential area of innovation and investment are Connected Worker technologies such as mobile devices, wearables, augmented reality, proximity beacons, location tracking, etc. Such technologies are being increasingly incorporated into IX programs to improve productivity, quality, and safety performance. The EHS business function is in a prime position to lead this type of innovation, and the current crises might surface important Connected Worker use cases related to monitoring worker location, interactions, health status and so forth in the COVID-19 "new normal".
Uncertainly and Opportunity

Black Swan events like the COVID-19 crisis are rare. But they do occur, with the potential to have massive adverse consequences for people, companies, countries, and the world. As of today, the story is still being written as to the extent of these impacts, and the degree of disruption to global business networks and economies. No matter the ultimate outcome, EHS business leaders and professionals have a rare opportunity to step up and make a meaningful impact on how the business gets through the crisis, and to change how they are perceived in the organization. Although these are times of great uncertainty, they also present great opportunity for innovation and transformation.
Categories: Industrial Transformation / Digital Transformation, Environment, Health and Safety (EHS), Connected Worker