Click here to speak to Matt Littlefield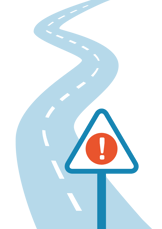 2017 has been a memorable year in the world of IIoT and Digital Transformation – we passed the milestone of transition from peak hype and talking about what's possible, to actually planning and in some cases doing what's practical.
The vendor community had its fair share of high-profile setbacks, but positive momentum outweighed the negative. As we move into the post-peak hype era many winners will emerge – vendors, yes, but most importantly industrial end users. The manufacturing enterprise C-suite needs to consider the business ramifications now; those who are already on the journey or have their plans in place are going to win big. The ones that don't?—Let's just say that any business still doubting or "considering it" may very well be in a difficult spot in 2019 or even as early as the end of 2018.
We're not talking about a simple lag time in cost savings or a revenue boost for companies that are still delaying. The risk is so much greater than that – it's going to become a matter of competitive (dis)advantage, and quite possibly survival. Given that companies like Whirlpool, Coca-Cola, Kimberly-Clark, Newell Brands, and Black & Decker and many others have already made strides in their Digital Transformation efforts, with most surpassing the results they expected. Their competitors who haven't started yet might never catch up if they don't start soon. What's in store for 2018?
LNS predicts: Large industrials reinvent operational excellence.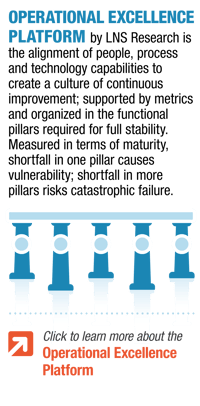 Experts have always said that the industrial space is insular, organic and conservative in technology and process improvement adoption. Lean manufacturing began to spread throughout the world in the 1980s, but it was largely developed from 1948 to 1975 as the Toyota Production System (TPS). Motorola was primarily responsible for developing Six Sigma in the early 1980s, but it didn't become a guiding principle for GE under Jack Welch until the 1990s. In both cases, the systems delivered best-in-class results to early adopters, then were codified and organically adopted across industries through the work of academics, consultants and technology providers.
As these methodologies spread interesting things started to happen. First, practitioners and organizations refined the processes to take advantage of technology available at the time. Second the processes themselves became convention and in some circles even turned to dogma—meaning that as technology advanced, the core process couldn't change without severe repercussion and criticism.
LNS believes that 2018 will be the year that dogmatic postures will break down. A new breed of industrial company will emerge and publicly prove with best-in-class results that companies need new approaches to Lean and Six Sigma to fully capture the value of digital technology in manufacturing.
LNS predicts: IIoT platform adoption gains critical mass in the industrial sector.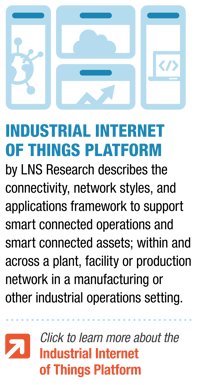 LNS predicted that 2017 would be the year for IIoT platform providers to move from pilot to enterprise rollouts, and that more than one vendor would go on the record with customers making enterprise commitments. Two major IIoT startups announced big wins in 2017. Enel, the largest utility in Italy went enterprise-wide with C3IoT, and Caterpillar Progress Rail signed on with Uptake enterprise-wide to monitor 5,000 trains.
In 2018, some of the platform players will gain critical mass, meaning they'll sign several major customers on the same multi-tenant platform with shared services and apps running across. There will be some caveats though. We're not going to see a one-platform-rules- all architecture. More likely, each industrial company will have multiple platforms to execute on several use cases, and inter-cloud connectivity will become a requirement and reality. We also believe that IIoT platforms (not including cloud platforms like Azure and Amazon Web Services (AWS)) will have to differentiate on subject matter expertise and relevance. Ultimately, different platforms may offer similar analytics and apps but have specific industry strength and adoption – like utilities, oil and gas, transportation, or manufacturing, just to name a few.
LNS predicts: Edge and Cloud have a record year.
AWS and Microsoft Azure have emerged as the cloud leaders for the industrial space and both are delivering record results for shareholders. At the same time, Edge is sexy again and there have been a slew of next-gen start-ups focusing on the industrial edge to deliver new analytics as close to the data source as possible.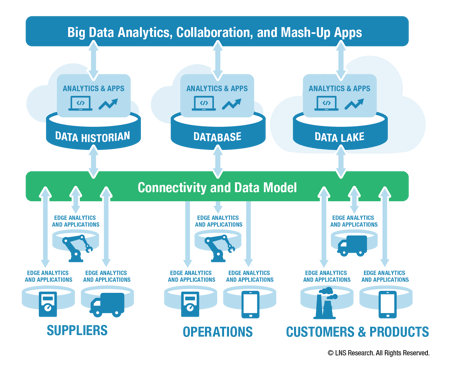 (Click image to enlarge.)
Over the coming months the market will realize that hybrid analytics really means that Edge and Cloud are both growing markets and there's more than enough business for each to have a record year.
LNS recommends: No More Talking, Lots of Doing
The end of the hype cycle for Digital Transformation and IIoT means that companies have to decide now which use cases they're going to focus on in 2018 to take advantage of today's technology. Industrial organizations that delay are at risk for losing out to competitors who are already getting results or at least putting plans into action. Consider these first steps:
Examine the results other companies have achieved and decide if any proven use cases might work for your organization.
Discuss your options with counterparts at other organizations. Likely they're going through similar strategic planning activities, or have already done so and can help you avoid pitfalls.
Enlist the help of an objective third-party advisor. Tech vendors, implementers and integrators are extremely knowledgeable, but they also have a sales objective that makes them somewhat (or largely) biased.
---
All entries in this Industrial Transformation blog represent the opinions of the authors based on their industry experience and their view of the information collected using the methods described in our Research Integrity. All product and company names are trademarks™ or registered® trademarks of their respective holders. Use of them does not imply any affiliation with or endorsement by them.