The #MondayMusings Industrial Transformation blog series provides insight and analysis for executives from the previous week's briefings, events, and publications @LNSResearch.
Cloudera and Hortonworks, two Big Data platform vendors focused on the industrial space, announced a merger in October of 2018. In January 2019 the companies completed the merger. The new company will retain the Cloudera name and will continue to trade on NYSE under the Cloudera stock symbol, CLDR. This is a combination of two of the three largest players in the Hadoop/Big Data market; the third company, MapR, remains privately held.
New Competitive Landscape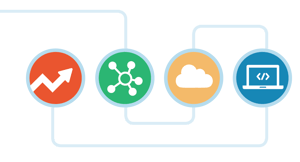 For years LNS has maintained that Cloud and Big Data analytics are central components of the IIoT platform, making Hadoop key to delivering on the promises of Industrial Internet of Things (IIoT). Back in 2016, we stated that no single provider could deliver the complete platform and it would instead be delivered by an ecosystem of providers, with that ecosystem very much in flux at the time. The market has evolved considerably since then - AWS and Microsoft Azure dominate the market for Big Data and industrial analytics, while IIoT platforms such as PTC ThingWorx and Siemens Mindsphere are evolving into development platforms for IIoT.
The new Cloudera will need to take on these competitors, especially AWS and Azure. Like many other segments of the IIoT industry, there is cooperation among these potential competitors: Hortonworks has well-established strategic partnerships with PTC and HPE, and those relationships are not going away. Also Microsoft's Hadoop-specific product under the Azure umbrella is powered by Hortonworks Data Platform, and that deal was renewed in 2018 for three years. It's possible that Microsoft will decide to move away from Hortonworks to a fully open-source version of the product in the next few years to remove this dependency on a direct competitor, though Microsoft has given no indication that they will pursue this path. We expect that there will be continued "coopetition" between the new Cloudera and the large scale cloud and IIoT vendors – at least for now.
There's much to like about the newly combined company. The market has matured considerably, and removing a major competitor will, of course, allow the new Cloudera to control a major portion of the market. It should also give the company greater leeway in pricing their solutions and and potentially reduce the company's overall spend on sales and marketing, bringing them closer to profitability (both companies have reported losses in the first three quarters of 2018). Additionally, the announcement was accompanied by a repositioning for Cloudera, with their primary message evolving from "a platform for machine learning and analytics optimized for the Cloud" to "the Enterprise Data Cloud." This is a strong clarification of their intentions and puts them squarely in the AWS/Azure market.
Products and Services
The company has released a few details about their intentions involving its products. For example, the company will offer their open source Hadoop platform and services across multiple Cloud vendors and in private corporate data centers, clearly an attempt to differentiate from AWS and Azure by offering more choices to their customers. Additionally, Cloudera is now talking about a full range of offerings that span the enterprise "from the Edge to artificial intelligence (AI)." Their apparent goal is to provide a solution for ALL of an industrial company's Big Data and analytics needs, which some might consider a "big hairy audacious goal."
Big Challenges Ahead
However, the story is not yet complete. While Cloudera has never been a competitor in the Edge computing or analytics market (which has produced a plethora of hot startups), Hortonworks has an established product that has been competitive in this market: Hortonworks Data Flow. The new Cloudera is laying claim to this portion of the enterprise data story, and we'll need to see how they integrate the products. It's also unclear how the "full stack" approach matches up with how companies are buying and using Big Data and analytics platforms and applications. For long-term success, Cloudera must move beyond their traditional buyers (the data science group within the enterprise) to the Industrial Transformation leaders within these companies and go after projects in the Edge and beyond.
The company also has an opportunity to build a strong integrated story around data models and types, and how their offerings bring together the data (and the intelligence derived from that data) to provide unique advantages. We believe that the combination of Hortonwork's experience at the Edge with Cloudera's strengths can provide unified metadata across the platform and facilitate shared data models across diverse data sources and streams.
The new company must articulate answers to fundamental questions such as -
What does a company do with their legacy data, the next-generation structured data, and the time-series data produced in plants and factories?
How should a company combine this data with the traditional Big Data stores to maximize value, build context and gain new insight?
What are the appropriate uses for Cloudera's AI and machine learning (ML) technology in these situations?
Cloudera must strengthen and extend their existing use cases to drive understanding of this new data usage model.
Recommendations for Users
For industrial companies considering Big Data projects, the new Cloudera Enterprise Data Cloud deserves a close look. As we've recommended previously, industrial companies must define a common data model across the enterprise; it's one of the most critical steps in developing an operational architecture to support Industrial Transformation. The big question industrial companies will have to answer is if their Big Data platforms and products will be relegated just to projects run by data science groups – or if it will extend across different operations, business, and engineering roles.
---
All entries in this Industrial Transformation blog represent the opinions of the authors based on their industry experience and their view of the information collected using the methods described in our Research Integrity. All product and company names are trademarks™ or registered® trademarks of their respective holders. Use of them does not imply any affiliation with or endorsement by them.