Manufacturing and IT leaders have been pursuing IT-OT convergence strategies for many years now. To reach that converged state, LNS Research sees establishing a common data model including both IT & OT data as an essential step. This common data model ensures that the data leaving the plant from multiple sources and of multiple types are accurate, trusted, and secure.
Our recent research on Analytics That Matter shows that 29% of companies have created a common data model across IT and OT. Over the past few years, we have seen this number increase steadily as more companies (leaders and followers alike) are implementing a common holistic data model to attain IT-OT convergence. But where the leaders are standing out is how they manage the data model. While the followers mostly let their IT teams manage the data model, the leaders are increasingly having data science or process engineering teams manage it.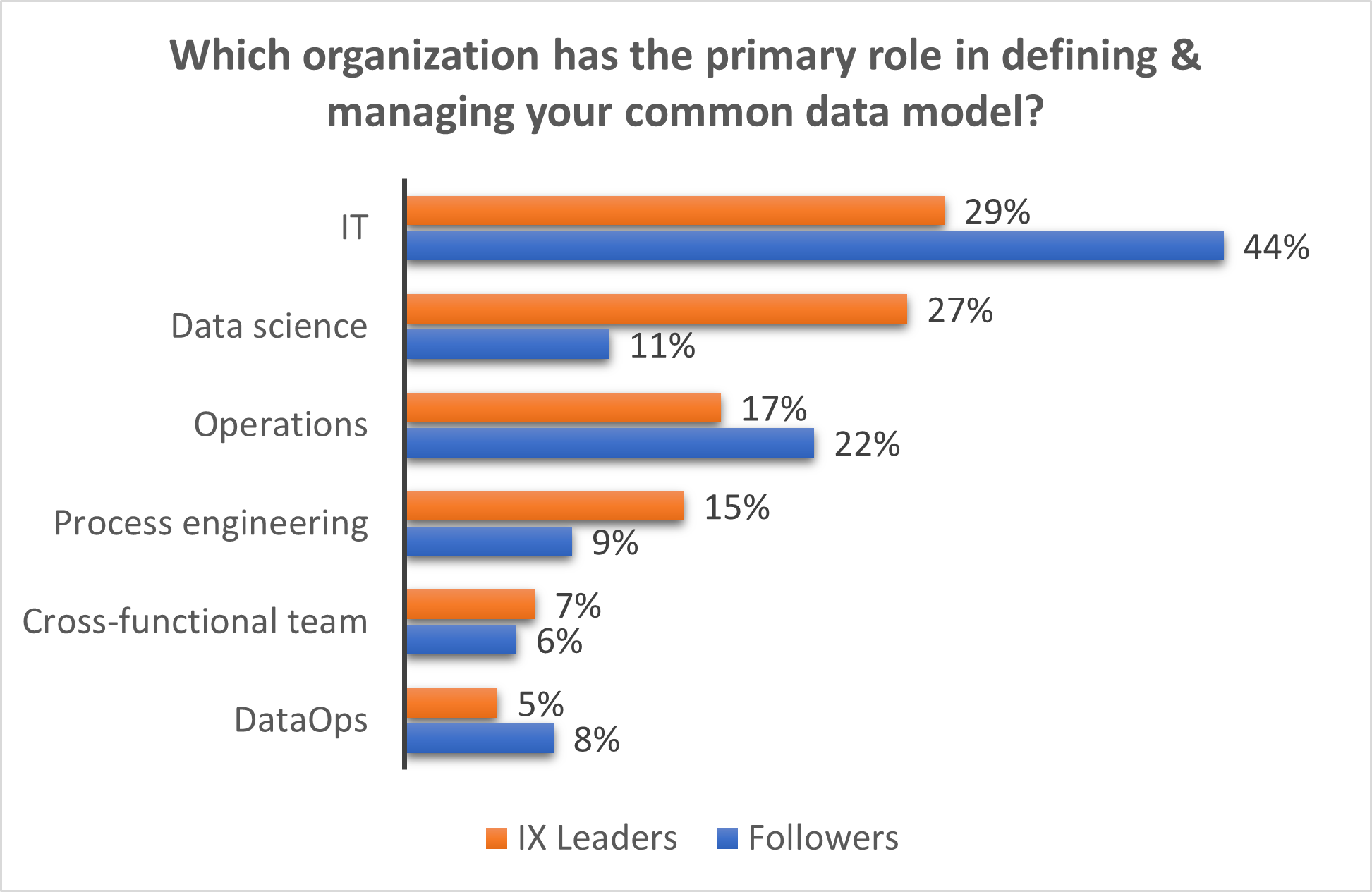 Let's see why it is important to have data science or process engineering teams rather than IT teams manage this data model. Often traditional IT teams often have a different set of priorities and goals than the plant's OT teams. IT teams, especially those that have been involved in large ERP implementations, may attempt to use a centralized, master data management approach, to managing distributed plant data. This difference, along with their traditional data hierarchy and protocols, often prevents IT from providing value to the plant quickly. On the other hand, newer data science and process engineering teams are more likely to use agile methodologies, incrementally building the data model as use cases dictate, enabling the usage of data lakes and advanced analytic algorithms to provide value much faster.
However, experience shows that just putting a data science team in charge of the data model also will not deliver guaranteed success. If the data scientist teams work on their own, without input from subject matter experts from the plants, they often just "discover" previously known or understood phenomena. As a result, the insights they provide may not be seen as that valuable to the manufacturing team, causing data scientists to lose credibility with the business.
To work around these caveats, LNS Research strongly believes both good data and good culture are necessary to drive IT-OT convergence and other transformation programs inside and outside the plant. In our research on Analytics That Matter, we have identified two best practices that companies can learn from IX leaders to attain IT-OT convergence through their common data model:
Data conditioning & contextualization to ensure good data: Manufacturers are increasingly adopting a data conditioning & contextualization solution in their enterprise architecture that acts as an abstraction layer that provides context to their data before it gets ingested into the data lake(s) or other data storage locations. Companies can get this service either from their IX Platform or through a separate pureplay vendor. Either way, LNS sees this contextualization layer as an important piece of the IX reference architecture, and critical in driving IT-OT convergence.
Data governance teams to nurture a positive culture: Data governance is an emerging methodology that brings together agile, lean, and DevOps into a holistic program to manage an organization's data. It ensures the IT and data science teams don't go astray from what the plant team wants. As a part of their DataOps team, we've seen companies create new data roles such as data engineers, data wranglers, assign multiple data owners who maintain data integrity and quality. The key to success with these new roles is to push ownership of the data and data quality as close to the source of the data as possible, and ensure those data owners are not just custodians of the data, but also users.
By combining these two best practices, companies can reap significant benefits in their IT-OT convergence. For instance, instead of loading all the data into these data lakes and leaving it to the data scientists to find patterns, companies can create a data governance team, establish data roles to make sure only the appropriate data is included in the data model and it is contextualized even before any kind of analysis is run. After that, the data scientist, working with the data governance team and the operations team can additionally include some new contextualized data from appropriate sources and test out their hypothesis with support from subject matter experts.
To summarize, our research has shown that IX leaders manage their common data model with newer data science teams. However, data science teams need manufacturing's support to get maximum benefits out of this data model and driving an IT-OT convergence. Two best practices we have found are data contextualization (good data), and data governance teams (good culture). LNS believes this combination of good data and good culture is pre-requisite to drive a true IT-OT convergence.

Categories: Industrial Transformation / Digital Transformation, IT/OT