It's no secret that life science manufacturers operate within a highly complex compliance environment. While some level of customer or industry compliance is inherent for all manufacturers, the global regulatory compliance requirements levied upon life sciences manufacturers are complicated and continuously evolving.
Click here to speak with Dan Jacob
While regulators continue to demand new, different, and more, regulators also are requesting that manufacturers focus on operational and organizational excellence principles that improve outcomes.
Life science regulators are hoping that manufacturers can carry a heavy regulatory compliance load while delivering improving outcomes continuously in line with less-regulated peers. Whether or not regulators are requesting that life science manufacturers adopt an Operational Excellence approach, manufacturers are left with three questions:
What strategies can I deploy that will get me there?

How will this help me?

What are concrete next steps?
Read on to find those answers.
Strategy #1: Recalibrate Your Objective
If ensuring compliance is one of your top strategic objectives, you aren't alone. 36% of life science manufacturers identified ensuring compliance as their top strategic objective in quality management, by far the top objective in life sciences. Conversely, only 14% of all manufacturers share this as their top objective, making it fourth on the market-wide list. Top strategic objectives in manufacturing and across operations yielded similar results.
Life science manufacturers are much more focused on compliance versus improving performance in other areas such as brand, supply chain, costs, and operational performance.
But how do objectives impact operations? Well, objectives drive priorities. Let's break the market into two groups and put compliance-oriented manufacturers in one group, and operational performance oriented manufacturers (all others) in a second group. We should be able to see how objectives translate into the adoption of different best practices across the two groups. And indeed, we do.

Click to see image in full-size
As can be seen, compliance-oriented manufacturers have elected to prioritize automation of specific quality processes. For instance, manufacturers that have prioritized compliance are 20% more likely to have automated compliance management with software as compared to performance-oriented manufacturers.
Conversely, performance oriented manufacturers have much higher adoption of cross-functional practices and real-time metrics driven practices. They are 126% more likely to have automated SPC with software, and 42% more likely to have real-time visibility of quality in manufacturing.
The takeaway is that objectives drive prioritization decisions and behavior. Compliance is important in life sciences, but for those looking to improve outcomes, it should not be the top strategic objective.
Strategy #2: Beef Up Evidence-Based Decision-Making
The data also shows that manufacturers seeking to improve performance should improve their evidence-based decision-making capabilities. This isn't a new concept – Deming famously quoted "In God we trust, all others bring data." However, Deming stated this almost a half-century ago, and operational data is still performed manually and infrequently by many.
Real-time data is much easier said than done, of course, particularly with highly fragmented process environments. Data veracity is a major concern. Real-time, but misleading, evidence could be worse than no metrics at all.
Strategy #3: Take an Operations-Wide Approach
Focus on an operations-wide approach. Connecting processes, teams, and technology across operations drives substantial financial and operational performance gains.
Connect processes and technologies across roles and value streams. Be sure to instrument these processes with the appropriate process metrics such as cycle times, but also measure outcomes such as On Time Delivery, Successful New Product Introductions, and Costs.
The data above provides one perspective, but LNS has written extensively about this and tracks a number of best practices in this area. We encourage you to read other LNS posts and research publications dedicated to a deeper analysis of operation-wide approaches.
Strategy #4: Look Outside Your Four Walls
Getting external perspectives is important, as an external perspective helps to challenge stagnation and the "that's the way it's always been" culture. Benchmark externally to gain an understanding of the state of the market and opportunities for improvement, and keep current with shifts in the market.
Sometimes it is just as important to connect internally. It's surprising how often departments are unsure what top management objectives are, or how they directly contribute to those objectives.
What's the Impact?
Do best practices that improve evidence-based decision-making and operation-wide process support also improve outcomes? In short, yes.
LNS selected six such best practices and compared those that adopted them to all others. The adoption of these six best practices were strongly correlated to improvement in several metrics, including successful new product introductions as shown.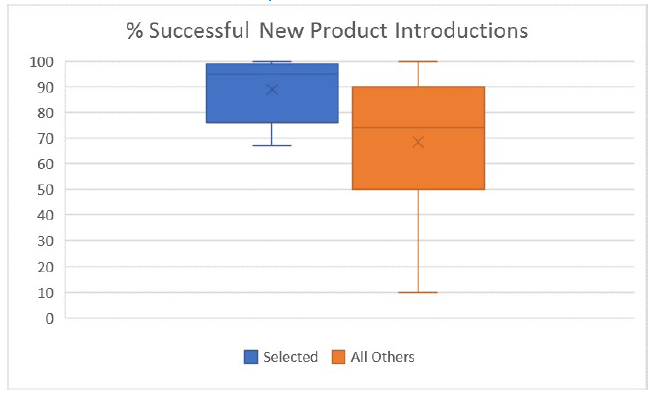 Next steps
To find out more about how to shift from conformance to performance to drive improved outcomes, join me on June 27th at 1:00 PM EST for my upcoming webinar, The New Path to Performance: Quality in Manufacturing for Life Sciences. During the webcast, we'll discuss how life sciences, quality, and manufacturing should be connected to improve outcomes, unveil new frameworks to communicate the connection between operations and quality, and identify current trends impacting the market.