As the enterprise resource planning (ERP) market approaches the quarter-century mark, many manufacturers and asset-intensive industries are going through an upgrade or refresh cycle. With the growing importance of Cloud, mobility, Big Data analytics and the Industrial Internet of Things (IIoT), these firms are frequently driven by competition, or senior management's desire to change the company's competitive position, through Digital Transformation to become a Smart Manufacturing company. LNS has numerous end-user clients that see their business environment changing, and application decisions they made one or two decades ago now leave them with a technology portfolio that inhibits their ability to pursue Digital Transformation. Data from our IIoT survey shows that of the nearly 650 respondents, 62% list enterprise application spending as the number one investment area, over Big Data analytics and knowledge management. Unfortunately, many firms struggle with choosing their next generation ERP technology. What are the most common mistakes that make it so hard?
Click here to speak to Dan Miklovic
MISTAKE #5: Failing to Consider How the Business Has Changed
This is a typical mistake when a business is replacing its ERP because of changes in the vendor landscape. There has been a lot of merger and acquisition (M&A) activity in the ERP market and, in some cases, ERP vendors have been acquired multiple times. A vendor's product is either phased out by the new owner or suffers from low investment and not keeping pace with the market. For many end users that face the necessity to change vendors, a common mistake is just to replace what they have, without considering possible adjustments to processes or the things people need to get done today. Often companies document existing processes as they operate under the current ERP, and use that as the functional requirements definition for the new system. In many cases, unknown to management or IT, teams or workers have developed workarounds to overcome system limitations. Companies that limit themselves to how the current system works and misconceptions about how it's being used increase the risk that they will invest in new technology with the same limitations.
MISTAKE #4: Not Sufficiently Planning for Growth
In the small to midsize business (SMB) market, a common mistake is to assume that the enterprise is on a linear growth trajectory. For a company that has seen consistent and predictable growth during the economic recovery, there is the temptation to extrapolate that growth five to ten years out and set future system scalability at that number. This fails to recognize two potential conditions that could invalidate the assumption. First, businesses can grow non-linearly for multiple reasons; M&A activity, sudden demise of a competitive product or company, market whimsy or just "being in the right place at the right time." Secondly, the company can redefine the market and leap ahead of the competition through Digital Transformation. In fact, it may be something that management may already be trying to achieve. Success on either front could mean the solution chosen to support 10% year-on-year growth is suddenly overwhelmed when faced with double or triple the scope, overnight. Whether it is sudden globalization necessitating multiple languages and currency support, an order of magnitude increase in product SKUs or plant locations, or just exponential growth in employees, failing to provide for the unexpected can be a serious mistake.
MISTAKE #3: Not Trusting the Cloud
Of course, one way to mitigate the problem described just above is to deploy your ERP in the Cloud. The right Cloud platform could help a company spin up new plants or expand the scale of the system easily. The problem is, some companies cling to the idea that the only way to maintain the privacy of their data is by having total control of the software on hardware located at their facilities. While on-premise was the primary way ERP was deployed in the past, the future looks very different. LNS survey data shows that today over 70% of users implement on-premise but going forward that number changes to a 50/50 split between on-premise and hosted in some form of Cloud deployment. Some of the ERP vendors that LNS tracks are reporting that new greenfield installs of Cloud offerings outpace on-premise installs by 2:1. There are very few companies that can justify not considering a Cloud-only offering or at least a hybrid Cloud and on-premise mix going forward. It is a rare company, particularly in the SMB space, that can achieve the same degree of security that is inherent in today's best-run Cloud infrastructure solutions.
MISTAKE #2: Thinking ERP is "Just ERP"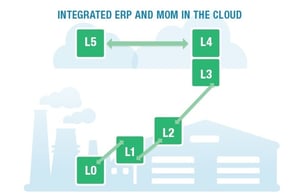 ERP has evolved from just a combined financials and material requirements planning (MRP) application package to include product lifecycle (PLM), human resources (HR), customer relationship management (CRM), and supply chain management (SCM) capabilities. Even with such a broad footprint, many industrial companies have limited themselves to thinking of ERP as the highest level of application computing. They subscribe to the old computer integrated manufacturing (CIM) model that is hierarchical. With Cloud, IIoT, and Big Data capabilities prevalent on the shop floor as much as at corporate headquarters, the Manufacturing Operations Management (MOM) function is now a cross-application discipline. LNS survey data shows that majority (51%) of users are looking to ERP as a critical component of their MOM strategy. With the addition of predictive analytics to most ERP/Enterprise Asset Management (EAM) applications, we see these enterprise software applications becoming the key component of Asset Performance Management (APM) strategies. Selecting an ERP provider with a narrow functional footprint necessitates multiple integrations to achieve the same functionality that many single-vendor solutions now offer across the functional spectrum. That's not always a bad strategy, but it is one that should be made as a conscious decision, not a decision the company is backed into because of a poor choice of ERP provider.
MISTAKE #1: Forgetting Information Technology (IT) and Operational Technology (OT) Goes Beyond Technology in ERP Projects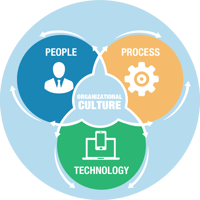 There is a lot of market hype about IT/OT convergence. LNS is occasionally as guilty as the vendor community in using the shorthand of IT-OT to discuss the impact of digitalization on all forms of manufacturing. The reality is that vendors sometimes make it seem like Digital Transformation is all about technology, since that is what they sell. But if you look at the mistakes listed above, it becomes clear that technology is the key in only half of the cases. ERP is just another piece of technology. Any ERP refresh or upgrade initiative must also address the people and process concerns, so that people, processes and technology are well-aligned. We suggest changing the dialog from IT versus OT to business and support, and operations collaboration issues. When planning that ERP project, don't make the mistake of making it the responsibility of one group or the other. Instead, think of any project, not just the ERP refresh, as an opportunity to restructure support towards a digitally enabled business. Many of the original ERP implementations were IT and CFO led, then pushed onto the company. This time around, if the business is going to transform operations – the business must involve itself proactively and push its agenda.
---
All entries in this Industrial Transformation blog represent the opinions of the authors based on their industry experience and their view of the information collected using the methods described in our Research Integrity. All product and company names are trademarks™ or registered® trademarks of their respective holders. Use of them does not imply any affiliation with or endorsement by them.