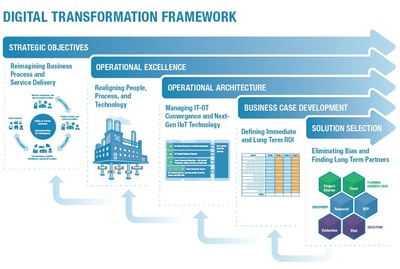 As we have built out the Digital Transformation framework at LNS Research we have been increasingly asked by clients to help them with their efforts to define their Operational Architecture.
Many of the past blog posts I have written have dealt with the 5 common pillars of Operational Excellence; Asset Performance Management (APM), Environmental, Health, and Safety (EHS), Energy Management, Quality and Operations, as well as optional supporting pillars like PLM, SCM or S&OP, depending on your industry. Most organizations have organizational elements that align closely with four of the pillars:
Facilities and Maintenance aligned to APM

Quality aligned to Enterprise Quality Management (EQMS)

Sustainability aligned to EHS and Energy in most cases (or roles for each function in some companies)
Operations is an exception in that Operations can span all of the above roles as well as include the functions related to production or service delivery. Also, unlike the other pillars where there are applications closely aligned with the functional element, Operations frequently leverages multiple application areas. At LNS Research we have written extensively about Manufacturing Operations Management (MOM) and Manufacturing Executions Systems (MES), but for most companies another key operations package is Enterprise Resource Planning (ERP). With The Industrial Internet of Things (IIoT), Cloud, Big Data, and Predictive Analytics driving change, we see ERP looking very different in the Digitally Transformed enterprise.
When Apps Move to the Cloud and the IIoT Makes Data Ubiquitous, Boundaries Dissolve
As the IIoT becomes more prevalent, we are already seeing the merging of the first three layers of the S95 model and we have a hypothesis about what is next: Digital Transformation will do to ERP going forward what it already has done to MOM/MES. This change is going to be as profound as the advent of client-server computing was to ERP at the turn of the millennia. Companies that are finding their existing ERP solutions put in place for Y2K, although upgraded, are not providing them the flexibility to support diverse BU activity.
The whole concept of two-tier ERP, usually based on a two-vendor solution set is being challenged as vendors move their solutions to the Cloud. Additionally, the increasing power of Predictive Analytics applied to diverse data sets of operational data spread across an IIoT platform and the Cloud will begin to challenge the role ERP applications have served as the master data management (MDM) repository for product, facility, and customer data.
With global Cloud platform providers like Amazon, Microsoft, and IBM providing highly scalable environments, vendors that previously had served primarily the ERP mid-market now have the compute power available to handle much larger enterprises. At the same time the tier 1 ERP providers have developed their own Cloud platforms enabling them to more cost effectively serve the mid-market. As long as an operating unit has reliable connectivity the need for a two-tier ERP approach is diminishing.
At LNS Research we are already seeing this change take place in asset intensive sectors where Enterprise Asset Management (EAM) applications, which had served as the ERP equivalent and the MDM repository for asset data being augmented by Big Data platforms that can keep track of all asset information regardless of its source. As Matthew Littlefield noted in his post regarding the Dassault Systemes Enovia analyst event, MDM is dead. Matthew noted "We now live in a Big Data and IIoT world where data is dirty, disparate, and unstructured. The key to successfully deploying analytics is not in making all data clean and structured, but instead working effectively with it in its current state."
This applies beyond engineering – it is going to be the norm across all application areas. Those ERP providers that recognize this will attract the attention of the users that understand what they need to do to begin their Digital Transformation journey.
Access this NEW eBook, "Manufacturing Metrics in an IoT World: Measuring the Progress of the Industrial Internet of Things," presents results from the fourth iteration of the biennial Metrics that Matter research study conducted between LNS Research and MESA International. It places particular focus on what IIoT means to manufacturers in the MOM space.
Categories: Cloud, Enterprise Resource Planning (ERP), Big Data, Industrial Internet of Things (IIoT), Industrial Transformation / Digital Transformation