In our last post we examined the challenges many companies face with Statistical Process Control and SPC Software. We showed, through example, how many companies struggle to gain buy-in for SPC among operators and middle management. We also showed how many of these companies fail to support initiatives at the enterprise level with the necessary leadership, process, and technology business capabilities
In this post we will examine how leading companies are creating a model of Operational Excellence to support Statistical Process Control initiatives and the best practices that are encompassed by these models.
Incorporating Statistical Process Control into Operational Excellence
In another recent post we discussed how companies are building Enterprise Quality Management Software (EQMS) into Operational Excellence. The way this is accomplished is closely related to the case of Statistical Process Control and depending on how a company architects its IT systems can be a subset of EQMS.
Based on how we define a model of Operational Excellence at LNS Research, it is all about aligning strategic objectives, metrics, and business capabilities (people, process, technology).
Strategic Objectives: Statistical Process Control is mainly a tool to help a company measure, analyze, and reduce variability in important business processes. Most often companies start with manufacturing processes but the concepts can be applied to most any process. SPC is also often a supporting tool in other quality or continuous improvement initiatives like TPM, TQM, or 6Sigma.
When it comes to high level strategic objective, most companies are primarily focused on things like revenue or profitability growth and attempt to grow revenues in many different ways, including: launching new products, entering new markets, and increasing production capacity to name just a few. SPC usually will play a supporting role in the achievement of these goals, specifically through variability reductions and the reduction of non-conformances and waste.
Metrics: Statistical Process Control is all about metrics and measuring the right metrics. Typically SPC initiatives measure performance at a very granular level, for example a specific quality control parameter like pressure or temperature on a production asset. The trick is putting in place the analytics to determine how reducing variability in these very granular metrics roles up through the organization and impacts higher level metrics like OEE or Perfect Orders and ultimately Revenue Growth or Profitability.
People: Quality should be an executive priority and the organization should move towards a culture of continuous improvement. Far too often grass roots efforts start out with a lot of momentum but if the executives don't believe in it the trend is more often than not for the initiative to lose steam and not have a truly enterprise wide benefit. SPC should play a big part of the quality and continuous improvement discussion at manufacturing companies.
Process: Begin to harmonize disparate systems and business process into a standardized and flexible framework for creating operational excellence and building SPC into the business. Many times there are just too many systems and they are often disjointed and difficult to maintain. By streamlining the IT environment and focusing on business process, quality can begin to become a strategic objective that is intelligently built into business processes.
Technology: The model for technology architecture that LNS Research advocates puts Enterprise Quality Management Software in a process orchestration role that helps centrally manage core quality process and creates interoperability between enterprise applications regarding quality.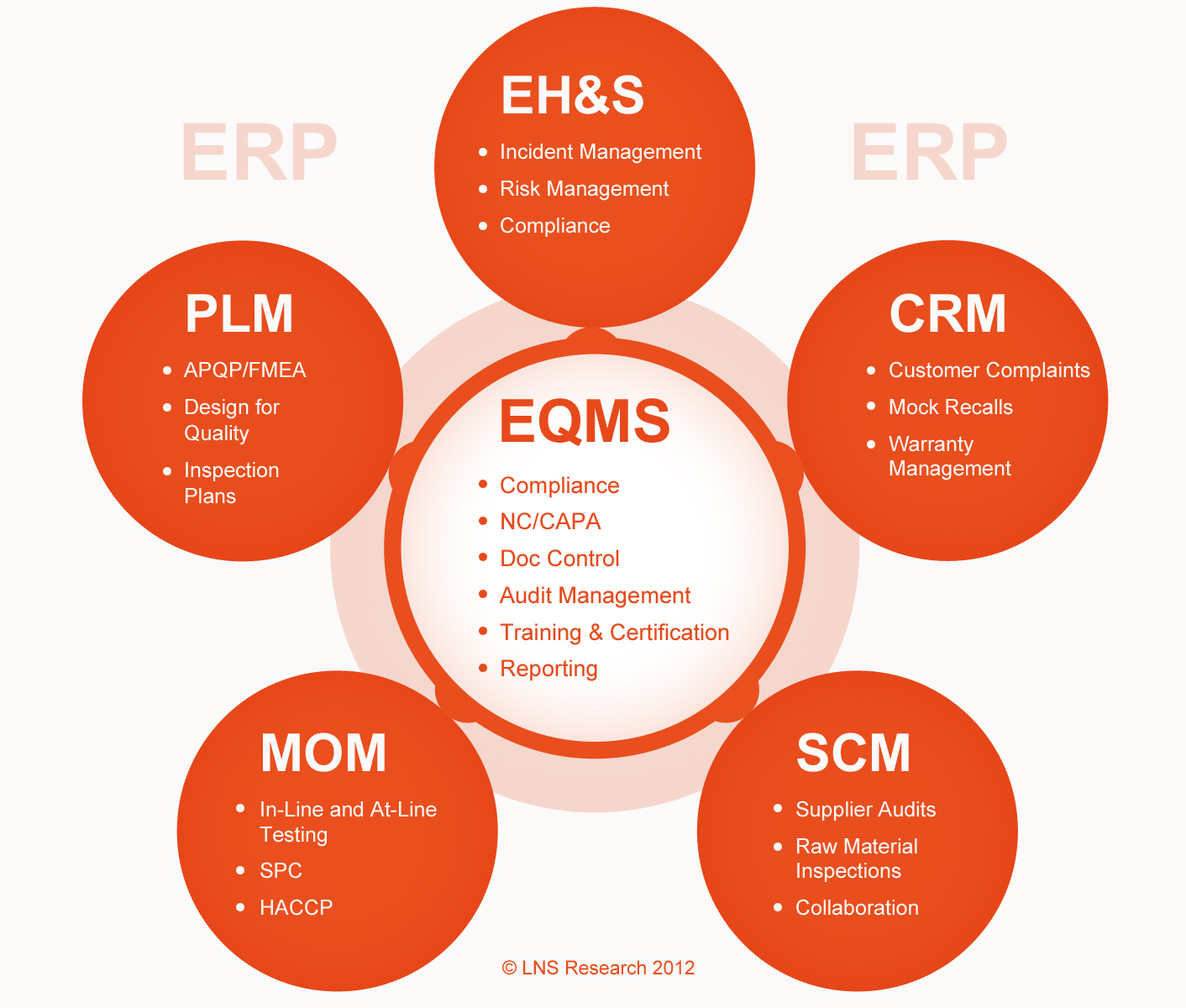 As you can see in the above picture, SPC software sits typically between EQMS and MOM software. If a process exists outside of manufacturing, SPC would then be between that area and EQMS, like PLM and EQMS for example.This then leaves three options for how SPC should be supported by software. It can be supported by:
Best-of-Breed SPC Software
EQMS software
Other Best-of-Breed Enterprise Applications like MOM
It should also be noted that no matter what type of software is chosen to manage SPC, it should be managed at the enterprise level and should be managed collaboratively by all effected parties, including: IT, quality, manufacturing, and possibly more.
Upcoming Research
In upcoming research we will test our hypothesis and see if World-Class manufacturers are truly building models of operational excellence for SPC in the way described above. We will also examine the pros and cons of managing SPC software in the different ways described above. If you would like to participate in this research or be notified when this research is published, please submit your email at the LNS Research home page.
If you would like to read more on this topic, please click the button below to become a part of our community and gain access to our Research Library.
Categories: Enterprise Quality Management System (EQMS), Cost of Quality (CoQ), Statistical Process Control (SPC)