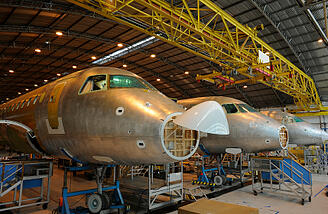 We're back for Round 2. After gathering these articles from the week, I noticed an underlying theme throughout most of this compilation: Societal Advancement. As our world evolves, it's only expected for changes to gradually alter everyday life. Yet, are these progressions always considered improvements or are some bound to negatively impact the human population? I'll leave it up to you to make your own opinion.
I'm happy to bring to you a thought-provoking weekly roundup to stimulate our brains and get those wheels turning in a forward motion for the work week to come.
With a recent announcement from Staples regarding the roll out of 3D printing available in its stores, Andrew Bell of Kinaxis saw the opportunity to further discuss this advancement. This technology has the potential to revolutionize the manufacturing industry, and therefore the supply chain infrastructure. Read his predictions.
Tweet this post | Share on LinkedIn
A must watch video. This segment on the advancements in robots and the resulting technological unemployment proves to be of great interest in the manufacturing world. This video explores how robots tend to be faster and more efficient than humans and how they may be competing for our jobs. From Watson to Siri to Google's self-driving car.
Tweet this post | Share on LinkedIn
The world's most sophisticated plane has been grounded. The 787 has been in the works for ten years since Boeing engineers realized that they could get better fuel efficiency by building the planes with carbon composite and using electricity instead of air to power their internal systems. Joshua Freed of the Huffington Post proves this announcement to be a stunning setback for Boeing, but why is it financially sound to carry on production during grounding?
Tweet this post | Share on LinkedIn
Our team has compiled over 900 executive responses and analyzed quality management trends such as best practices, metrics, quality management software usage, and strategic initiatives. Through analysis and live discussions, we've highlighted the top 5 areas that executives plan to focus on in 2013. LNS Research's most popular blog post of last week.
Tweet this post | Share on LinkedIn
Here at LNS Research, we consistently urge our readers to rigorously evaluate software vendors to ensure best fit. Paul Leavoy of Intelex took it one step further. In his latest post, he outlines the top 10 questions that you must ask prospective vendors before making your selection. The questions that can save money and headaches.
Tweet this post | Share on LinkedIn
GreenBiz asked a number of executives from various industry backgrounds to reflect on 2012 and predict what will drive sustainability in the new year. Liz Enochs provides five executive responses that include discussion of extreme weather patterns, government money, and supply chain expectations. Who do you agree with?
Tweet this post | Share on LinkedIn
You might also be interested in:
The LNS Weekly Industrial Roundup: 1/6/13 - 1/12/13
5 Industrial Technology Trends to Focus On in 2013
Enterprise Sustainability Management: A Global Approach