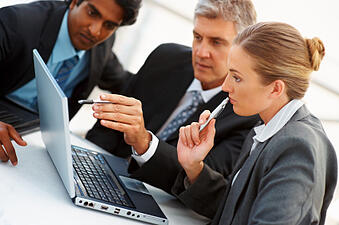 A considerable amount of executives today still struggle to make quality a top priority. Based on over 300 survey respondents, many large and mature industries barely have over 50% of companies currently making quality a top priority. In fact, for some industries like Food and Pharmaceuticals, the share of companies with quality as a top objective is below 50%.
In manufacturing and industrial environments, quality is essential for survival (aka long-term viability and profitability). If you're not monitoring and continuously searching for ways to improve it, you're going to fall by the wayside. That being said, though, if market leaders are placing quality management front and center, why does there still seem to be a steady flow of recalls and other concerning quality issues throughout the world?
This is strange, considering our research shows that quality management software adoption has been increasing in recent years. With its ability to centralize, standardize, and streamline quality data, it offers companies a holistic tool for managing quality across the value chain. But quality management is more than technology and automating processes. As noted by LNS Research's Model of Operational Excellence, it's just as much about people and leadership.
Quality Management as an Executive Priority
Our 2012 Quality Management Survey asked a number of questions pertaining to quality as it relates to people, processes, and technology. One data point of note regards a question about executive priorities. As seen in chart below, a majority of executives say that quality management is currently a top executive priority. This sampling is from industries where product quality and safety are imperative for success.

What's concerning here is the number of executives that do not say quality is a top priority. Even those that plan to make it a top priority are still behind on the curve. Plans are by no means concrete, and experience has proven for many that a quality management program is ineffective without an organizational backing, specifically one that starts at the top.
Getting the Most out of Quality Management
When quality isn't an executive focus, there tends to be disparate dedication to and strategies for managing it. As a result, improvements and initiatives can be localized to specific plants or departments, rather than enterprise-wide. This becomes even more of an issue when an organization has hundreds of distributed facilities across the globe. The absence of unity around quality management is a main culprit in adulterated products and adverse events.
Quality management strategy requires strong leadership to set the precedent for the rest of the company. Even with some of the most effective technologies and efficient processes, without top-level buy-in that supports, promotes, and practices quality, it's nearly impossible to optimize these resources. It's most often a quality culture driven by the CEO or Chief Quality Officer (CQO) that gets the rest of the company to put quality as a top of mind issue.
The Ingredients for a Strong Quality Culture
A main goal for quality management programs is to have every employee considering how their actions and decisions will affect the overall quality of their own processes as well as up through facilities and the company as a whole. Support from the Board of Directors, in collaboration with the CQO, CEO, and other executives, is critical for catalyzing cultural change and movement toward this global mindset. The following high level groups can take a couple important steps:
Board of Directors
Make quality management a focus point of every board meeting
Stay current on quality trends, emerging technologies, and regulations
Establish or enhance a learning center for quality education courses, SOPs, and instructions
Remain visible by walking around plants, attending both community and industry meetings
Make metrics such as Cost of Quality and Overall Equipment Effectiveness a top level issue
Chief Quality Officer, CEO, and Other executives
Use both internal and third party quality audits to assess and prioritize areas for improvement
Create an internal marketing plan around quality management for employees
Develop a plan for internal education, process improvements, and capital investments
Make reporting on metrics and plans for improvement a regular task for managers
Use rewards-based performance programs for quality improvements
How Executive Focus Resonates with Managers and Workers
Although the BoD and executives may lay a foundation for a quality management program, managers play a central role in its success as well. On the shop floor, for instance, managerial actions stand as an example for how quality management should be practiced. If they're doing things like following SOPs, wearing safety goggles, and openly discussing how their decisions will affect the quality of processes and products, then workers will be more likely to exhibit this type of behavior.
Ideally, once in full motion, workers shouldn't feel as if they're just another cog in the wheel. They should have an independent thought process that they can express on the topic. Only after a sense of ownership has been established on the ground floor will the benefits of the quality management initiative be experienced at an enterprise level.
A Mini Case Study on Quality Programs
Last week we had the chance to speak with an executive responsible for both quality and SCM. Coming into his role not long ago, he saw a similar issue with disparate quality management programs. Groups in the company were taking steps to improve quality, but the improvements were siloed. What was interesting about this conversation was that the executive was in favor of keeping quality management responsibilities localized, however, he understood the importance for an organizational, high-level change.
By taking actions such as reorganizing the structure of his quality organization, standardizing SOPs, developing educational resources, and implementing a required metrics program, he created an environment for managers and workers to optimize quality within their plants. Basically, backed by executive buy-in, he enabled plants with the needed resources for success and also decentralized quality management. His thought process was success locally will translate to success globally.
In future quantitative and qualitative research, LNS will continue to examine the specific benefits of executive focus on quality and the shortcomings in an absence of such focus.

You might also be interested in:
5 Quality Metrics for the Plant Manager's Dashboard
5 Quality Management Areas that Will Get Executive Attention
Categories: Continuous Improvement, Enterprise Quality Management System (EQMS), Culture