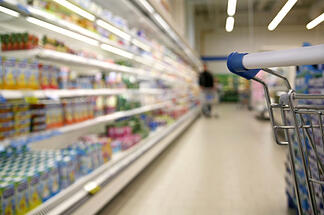 This week's round up includes articles that ignite interest from many trending topics within the industrial space. A couple of these insertions provide an alternate perspective on subject matter that I discussed last Sunday. While robots and 3D printing make a comeback this week, the newest additions include food fraud, SAP HANA, and a Made-In-America mindset.
As we are into our third week of this collection, I encourage feedback and comments below. I write this weekly blog post not only as a compilation of industry articles, but as a platform for discussion on trending news.
Share this week's round up on LinkedIn
A rebuttal to the 60 Minutes clip that made the cut for last week's round up, Drew Greenblatt's latest contribution to Inc.com takes a positive approach toward the topic of robots in the workplace. Greenblatt, owner of Marlin Steel, provides six examples of how robots not only saved his company, but aided in the formation of a happy and growing workforce. Read Drew's story.
Tweet this article! | Share on LinkedIn
According to a survey released in November by Boston Consulting Group, over 80% of Americans are willing to pay more for Made-in-USA products. 93% of whom indicated that their reasoning is due to wanting to keep jobs within country lines. Oliver St. John of USA Today reports on possible PR ploys and the importance of catching phony Made-In-USA claims. Regardless, bringing manufacturing back to the States will remain a trending topic. Made in America.
Tweet this article! | Share on LinkedIn
First Pass Yield is an important manufacturing metric for measuring quality and production performance. It's a metric that is not widely publicized, making it even more challenging to understand performance breakdowns and benchmark by industry. This past week, we provided a sneak peak of some of our own data that displays the performance of first pass yield for several major manufacturing industries. Learn how to calculate First Pass Yield.
Tweet this article! | Share on LinkedIn
My blog post from last week included an article on 3D printers moving toward an accessible household item. This 'Meet Steve Israel' article was forwarded to me, and it proves to shift the 3D printing subject to a more serious debate. Andy Greenberg of Forbes provides an interview regarding the use of 3D printers to make plastic weapon components and the resulting proposed law enforcement. As you read this content, you are forced to imagine how manufacturing can and will change as 3D printing becomes more readily available – or at least I was. Greenberg and Isael Q&A.
Tweet this article! | Share on LinkedIn
For the past two weeks, SAP's official launch announcement of its newest Business Suite powered by SAP HANA has sparked much discussion and evaluation. Mint Jutras' latest blog post provides a strong dialogue of this software advancement that has been years in the making and highly anticipated. It has been stated that HANA solves problems that were deemed unsolvable in the past. Exactly how revolutionary is this improved business suite?
Tweet this article! | Share on LinkedIn
Food for thought. Many of us spend a longer time in the grocery store aisles checking the ingredient and nutritional facts of food items. However, it becomes a more drastic discussion when we are victims of food fraud. The U.S. Pharmacopeial Convention released updates to its database this week. This Food Manufacturing article provides insight into the newest food items to be cautious of: olive oil, juices, seafood, honey, etc. Do your homework.
Tweet this article! | Share on LinkedIn
You might also be interested in:
SAP Announces Business Suite HANA
Improving Food Saftey: Insight From Mars' and Doles' Product Recalls
---
All entries in this Industrial Transformation blog represent the opinions of the authors based on their industry experience and their view of the information collected using the methods described in our Research Integrity. All product and company names are trademarks™ or registered® trademarks of their respective holders. Use of them does not imply any affiliation with or endorsement by them.