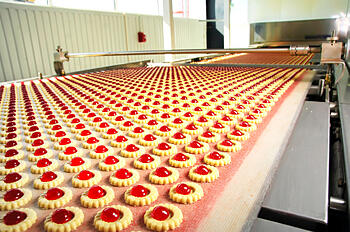 For years, executives have strived to create closed loop environments where processes and data in each stage of the value chain benefit from cross-functional communication and collaboration. And for a number of reasons, this has proven difficult. Though, over time, the rising complexity of products and processes has prompted many organizations to reconsider the effectiveness of current quality management capabilities and strategies and invest in emerging technologies to close the loop on quality management.
Because every organization is different, each will take a unique approach to creating and utlizing closed loop quality processes. However, the end game is similar: improve the quality of products and processes. In our discussions with industry-leading executives, we've identified several reasons organizations are finding difficulty with closing the loop on quality. Specifically, executives see common roadblocks around the optimization of people, processes, and technology.
This post will help executives understand the importance of closing the quality loop by providing an overview of the concept and challenges associated with creating a closed loop environment.
Challenges with Creating a Closed Loop Quality Environment
The challenges associated with developing a closed loop quality environment tend to correlate with outdated and obsolete quality efforts regarding people and leadership, business process capabilities, and technology architecture.
1. Misaligned High-level Support and Culture
Effective quality management requires an organizational commitment which starts with top-level support. Without it, decisions, strategies, and technologies to improve the quality of products and processes tend to be dispersed and made without considering the impact to the broader enterprise. Executive buy-in also helps to support a harmonized culture that encourages all employees to consider how their actions will affect critical focal points such as the cost of quality.
Many organizations face this challenge. In fact, to put this into perspective, LNS Research's 2012-2013 Quality Management Survey asked nearly 400 executives what their most pressing quality management challenges were. More than 50% stated that quality was viewed as a department rather than a responsibility, meaning that employees outside of quality-specific functions were not taking ownership of their impact on the quality of products and processes.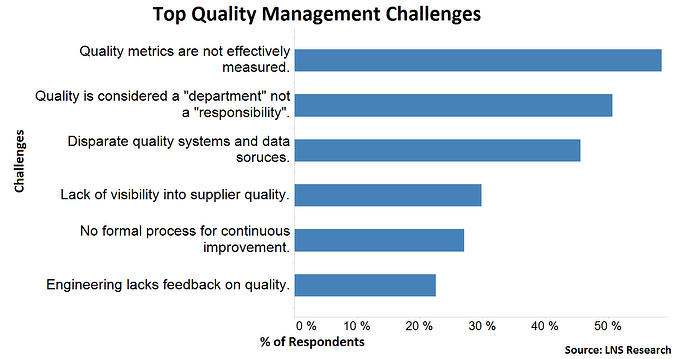 2. Lack of Long-term Quality Vision around Business Processes
Large organizations, especially globally distributed ones that have experienced considerable M&A activities, will typically have several solutions for the same quality process. While they may vary by plant, business unit, division, or geography, processes such as corrective and preventive actions (CAPA) management or audit management each target a similar goal. The resulting lack of standardization from M&A activities and fragmented approaches to quality creates a serious challenge for companies looking to close the quality management loop.
Inspecting data from the Quality Management Survey, in 2012, 47% of executives stated a serious challenge was having disparate quality systems and data sources. Because of the widespread use of manual processes and solutions that were implemented for targeted and local quality problems, this comes with little surprise. Today, many executives are faced with a tangled web of processes and solutions that require considerable backend work just to communicate a standardized set of quality data.
3. Disconnected Technology Architecture
Despite the emergence of the Enterprise Quality Management Software (EQMS) category, not many organizations have automated, standardized, and centralized quality functionalities using the platform. This aligns with the challenge around disparate quality systems and data sources. Further complicating this challenge, within a large and distributed organization that is susceptible to M&A activities, it is not uncommon for there to be more than one instance of an enterprise application such as ERP, MOM, PLM, CRM, or SCM.
Since processes are often built into and on top of them, disparate enterprise applications can be a roadblock for closed loop quality management. Rather than having a seamless solution for real-time communication and collaboration, in many cases this data is never seen at the enterprise level. Or, if it is, it may take significant resources – time and analysis – to get it to a point where it usable to substantially improve a process or impact a future decision.
Optimizing Key Resources for Effective Quality Management
To effectively improve the quality of products and processes across the value chain, closed loop quality management should be a key area for both attention and investment. Executives considering adding strength to their quality management portfolio should assess current quality capabilities, culture, and IT architecture in relation to emerging strategies. By focusing on overcoming these challenges, market leaders are benefiting from communicative and collaborative capabilities that were traditionally sources of major hurdles.
Those are the main challenges we've heard from quality leaders. What are some of the challenges you're currently experiencing or have overcome by optimizing people, processes, and/or technology?

You might also be interested in:
How Audit Management Software Supports Closed-Loop Quality Management
Top Integration Points for Enterprise Quality Management
Categories: Enterprise Quality Management System (EQMS), Culture