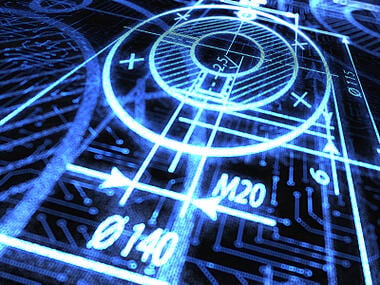 The quality management space is a very fluid one. As a testament to that, in a short period of time we've seen considerable changes in strategies around people and leadership, orchestrating business processes across the value chain, and enterprise IT architecture. One concept that's been there the whole time, though, is that the earlier you can build quality into your products and processes the better.
Many executives are asking two main questions: What are the best strategies for building quality earlier into the design process? And also, how do you develop a technology architecture that shares downstream quality process data with the product development team, enabling an environment for continuous improvement?
The answers to those questions tend to differ between companies and are based on a number of variables. This post aims to discuss how organizations, specifically those that are engineering-intensive, can build quality into the design and product development process earlier.
Companies Invest in Core Competencies First

For engineering-intensive organizations specifically, where product development and design are typically the focal point in the value chain, there is often a robust PLM solution in place. These companies rely on the ability to smoothly introduce and develop new products, which are usually complex and require significant design work. This can be facilitated with a strong PLM solution. The challenge for these companies, though, is that quality can take the backseat to design, resulting in downstream ramifications.
Engineering-intensive companies are constantly trying to build quality into core competencies as well as in other areas along the value chain, but a major challenge that we've seen is in effectively managing quality at the enterprise level. Often, this is because quality decisions are not made with the same long-term, holistic vision as engineering decisions, resulting in a disparate set of quality solutions that don't connect to the unified PLM solution.
LNS Research's 2012-2013 Quality Management Survey brings this challenge front and center, with 47% of companies stating that a main challenge for 2012 was having too many disparate quality systems and data sources.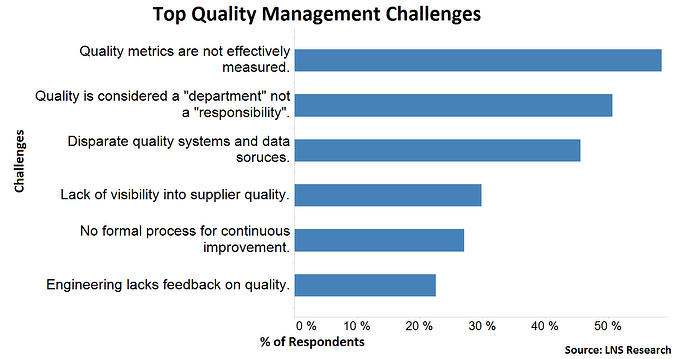 Understanding the Different Delivery Models for EQMS
To address the challenges associated with disparate quality systems and data sources, many companies have turned to enterprise quality management software (EQMS). EQMS is a software category that offers a variety of functionalities that streamline, standardize, and centralize quality process data and content from across the value chain. EQMS provides an unprecedented level of cross-functional communication and collaboration, which is critical for closing the loop on quality management.
Before implementing an EQMS functionality or set of functionalities, it is vital to assess current needs as well as IT architecture. Some questions executives should be asking include:
Do we have single or multiple instances of enterprise applications?
How has the user adoption of our enteprise IT been?
Is there global harmonization under this enterprise application?
Do we have a road map of our system architecture and how would these functionalities fit?
For some companies where there is already a strong, existing central platform for expediting processes and data, it makes sense to deliver EQMS as an extension of one of them. These enterprise platforms may include ERP, PLM, or MOM. For others with less of a unified information management system to build upon, it may make sense to go with a standalone EQMS solution.

Product Lifecycle Management as a Platform for Quality Management
When it comes to the integration of quality and design, it's often most important to inspect the relationship between PLM capabilities and the portolio of quality management capabilities. A disconnect between these two areas can make it nearly impossible to leverage closed-loop quality processes, which rely on information feedback loops between different functional areas along the value chain.
While EQMS functionalities such as CAPA can be delivered as a standalone solution, because of engineering-intensive organizations' existing investments in PLM, it is often strategically optimal to implement EQMS functionalities as an extension of the PLM platform. For engineering-intensive organizations, this not only helps to interconnect quality processes earlier in the design process, it also enables integration with the new product development process and launch business operations.
As quality is only becoming more of an important issue in our increasingly global world, high performing design-focused organizations are evaluating the effectiveness of current capabilities in relation to what's available in the market. Duly, many leading vendors have extended solutions to facilitate the enterprise management of quality on the PLM platform. Our most recent report goes in depth on this topic, discussing why an organization may use PLM as a quality platform, specifically as it pertains to the holistic management of closed-loop CAPA.
Interested in closing the loop on engineering and quality efforts? Sign up for our Global Quality Advisory Council. The next meeting will drill deep into the topic of quality management solutions and how market-leading organizations are integrating them across the value chain.
You might also be interested in:
PLM-Centric Quality Management
Key Takeaways from Siemens PLM Connection 2012
Categories: Enterprise Quality Management System (EQMS), Benchmarking