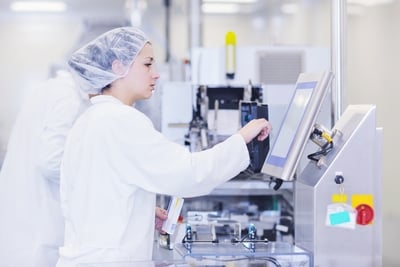 Many topics in 2014 have wrestled for the attention of quality management executives. These range from understanding and planning for the potential quality intelligence yield of smart connected products to the maturation of cloud-based enterprise quality management software (EQMS).
In between the high-level considerations exist core concerns around impending updates and changes to quality standards, supplier quality management challenges, and many quality-driven operational excellence initiatives. There's always a risk that not tracking the spectrum of topics will leave an organization at a disadvantage.
Risk is NOT new for 2015—but it will dominate more attention than most other topics in mainstream quality management in 2015. Risk and the management thereof relates to many processes that flow across an organization's quality management system, and when implemented appropriately demonstrates a proactive and mature approach to quality throughout the value chain.
In this article, we will look at some issues faced in 2014 balanced with a positive outlook on the future and what 2015 may have in store for us, especially in the context of risk management and quality management processes.
Quality Executives Saw Yet More CEOs under the Recall Hammer in 2014
Once again, the recall featured significantly in 2014, that expensive and often safety-related event that plagues organizations and damages brand reputation and potentially financial performance with voracity. Some recalls are higher-profile than others and the media seems to take particular interest in auto manufacturers' challenges in this area. Quality management and the associated risk will be featured more and more on the docket of board meetings in the coming year.
Earlier this year, Forbes highlighted the recall rate for auto manufacturers to propose that "A lower recall rate could indeed imply that a given automaker does a better job of manufacturing and/or quality control. It may also come down to which brands are managed better than others." In fact, in conjunction with quality, the article went on to say, "The recall rate could be an indication of a manufacturer's risk tolerance or strategy."
In the interest of not singling out auto manufacturers, as they are not the only ones experiencing recalls, it is worth pointing out that in healthcare recalls are also a regular occurrence. At the fifty week mark for 2014, the FDA has made 56 recalls in the medical devices category alone, more than one per week. Recalls on consumer goods were significant, too, ranging from bicycle helmets performing poorly in cold temperatures through yet more laptop power cords with the potential to burst into flames.
Lack of product traceability and genealogy is a very significant indeed when a product is recalled. Medical device manufacturers have been of this mindset for some time. Other industries have realized its importance and manufacturers are taking steps to address the potentially damaging consequences of this risk.
Quality management and risk will become more closely coupled in 2015 and beyond. There are changes afoot in the core ISO 9001:2015 planned update, where language around risk and the applicability of risk management take center stage.
Explicit Risk Management as a Core Process in the QMS?
Risk management in quality is morphing beyond engineering. Traditional approaches will persist, but risk is being elevated to much more than reliability and performance in the context of products and product sub-systems. Beyond implicit risk management (via sub-processes like audit and CAPA management), risk applies to the quality management system itself, inclusive of product reliability and performance.
Methodologies and controls and mitigation strategies are required to prevent the entire system from experiencing damaging or catastrophic system failures. This explicit risk management approach extends across the entire value chain and will prove exceptionally difficult to implement and maintain without a consistent framework, interoperability, and integration found in EQMS solutions.
We will see improved risk management modules in best-of-breed providers of EQMS in 2015. Slick interoperability will separate the best from the rest and most importantly, this process will seamlessly span the value chain. Best practices, pre-configured methodologies with scope for configuration to meet specific needs will be part of an offering, as will access to a community of users to exchange configuration results and perhaps even share benchmarking data.
Risk management done properly is anticipatory. It is a process in its own right, but has relevance and applies to multiple other enterprise quality processes including corrective and preventive actions (CAPA) and supplier quality management (SQM).
Supplier Quality Management and Risk

SQM is an area across the board receiving more focused attention by regulators and non-OEMs, and therefore quality leaders in 2015. From materials management and product genealogy through supplier quality performance, organizations are taking control of this and market leaders are employing risk-based approaches to their efforts.
Where once suppliers were provided a portal to access supplier compliance documentation and upload objective evidence of conformance, leading manufacturers have engaged in a more collaborative approach and a move to drive supplier assessments from their organization's EQMS platform.
EQMS vendors are responding and providing increasingly better interfaces and rules-based, secure modules to extend and engage the equivalent of virtual private networks (VPNs) for suppliers to directly interact with assessment criteria, non-conformances, corrective and preventive actions, and performance metrics.
Supplier scorecards are now common but this goes beyond the scorecard. We are seeing suppliers categorized throughout the criticality spectrum and risk heat-maps applied based on multiple criteria. This activity extends and drives integration with other disciplines where regulatory and compliance challenges exist. One example is the sustainability crossover where conflict minerals (materials management) blurs boundaries between product lifecycle management (PLM), EQMS, and Sustainability.
Driving Quality-Related Action Priorities
The reality of smart connected products, a function of the maturation of IoT capabilities and ubiquitous connectivity, will begin to exert pressure on enterprise quality management. The need to prepare for a deluge of data comes to the fore. Leveraging existing, proven processes to manage this is also closely coupled with risk management. Risk analysis should underpin approaches to CAPA, for example.
The data coming back to engineering and quality functions will result in actionable intelligence. With an increase in volume of actionable outcome, the need to prioritize resources is paramount. Achieving this without loss of fidelity requires a shift from a first-in-first-out approach. Formally and efficiently assessing the risk of NOT taking action is the first step.
Supporting Risk Management With Excellent Analytics
Analytics and reporting once had a poor relation in EQMS solutions. The focus was on automating and unifying a process. Having achieved this goal with its inherent benefits of efficiency, transparency, accountability and more, quality leaders look to the business improvement benefits based on intelligence. This could prove to be a rude awakening due to lack of flexibility and the expense required to derive actionable intelligence.
It is anticipated that in 2015 this element comes of age across the board. Vendors have invested or are investing in flexible analytic tools, some constructed in-house and others by virtue of partnering with best of breed cloud-based providers. 2014 could be seen as the year of the release for many of these with 2015 as the year of deployment. The challenge, with the flexible tools in hand will be defining the right elements of one's quality metrics to analyze and derive meaningful insight.
If an organization is to truly address risk across the value chain for quality management, excellent analytics and reporting capabilities are a must have. Vendors that lag here will find fewer opportunities in 2015 and those that strive to provide better out-of-the-box analysis will thrive.
The Future of EQMS
We're truly excited to be covering this quickly evolving and maturing software space. In 2015, we'll be bringing you comprehensive updates on all key solution vendors, as well as best practices for getting the most out of your quality management efforts. Please feel free to share your own thoughts on this topic in the comments section below or to reach out to me directly at rob.harrison@lnsresearch.com or tweet to me @RobH_LNS.
Categories: Enterprise Quality Management System (EQMS), Risk Management