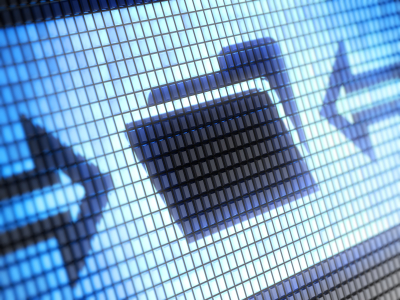 Gone are the days of carts and folders carrying reams of paper documentation and checklists from station to station on the shop floor. Fortunately, with enterprise content management, document management, collaboration tools, and other digital services, paper's on its way out of the office. But – let's be honest – that doesn't necessarily mean we're more organized or efficient. In fact, with the number of electronic documents we receive on a daily basis, it might even be more likely that something important winds up lost, doesn't get signed when it needs to, or persists as the wrong version.
When it comes to quality management, disorganization can easily result in adverse quality events, financial loss, and, in some cases, unemployment for responsible parties. Enter document management software. It's been a game changer for small and large organizations alike, simplifying the document management process with the provision of a standardized and centralized digital warehouse, and also allowing users to easily share and edit documents with the needed security and revision control to comply with a regulated environment.
This post aims to discuss the finer details of document management, quality management scenarios in which it's critical, options for quality managers, and adoption rates of the software across the enterprise.
Document Management Software Definition
In large organizations, it's typical for different sites and even departments to have varying types of documents as well as methods for handling those documents. Without a centralized system to ensure uniformity, there tends to be redundancy in efforts to create and distribute them. Document control software consolidates these efforts, providing a single retrieval as well as archival resource for controlled documents, which is key for easily locating files and effective reporting.
Generally delivered over the web with role-based security privileges, document management enables communication and collaboration on quality issues. Users can create, edit, link together, and archive documents to act as the enterprise standard. Example documents include SOPs, best practices, training materials, regulatory content and so on. Documents can also be entered into workflows, facilitating the routing and delivery of certain files to key personnel.
Applying Document Management to Real-World Quality Scenarios
Today, document management is a typical functionality of enterprise quality management software (EQMS). Because many EQMS functionalities require standardized documents and workflows, document management software is a key enabler of closed-loop quality management, the concept of creating cross-functional quality data feedback loops to earlier in the value chain. Specifically, document control plays a noteworthy role in improving the following processes:
Change management
Non-conformance/Corrective and Preventive Action (NC/CAPA) management
Compliance Management
Employee Training
Document Management Options for Quality Managers
Although there is a strong and existing market for cloud storage and file synchronization software that's leveraged by consumers and businesses alike, there are a number of reasons why a quality organization requires more than what DropBox, Google Docs, or similar services have to offer. Document control software provided by EQMS and other quality software vendors are often prebuilt to have the following capabilities:
Security/role-based access
Version control
Document workflow capabilities (routing, delivery, approval, escalation, etc.)
As mentioned previously, because the solution is an enabler of closed-loop quality, the functionalities are often built with the context of manufacturing and quality processes in mind to more naturally interoperate with one another.
Additionally, different independent software vendors (ISVs) have used different technologies to develop solutions, including technology from IBM, Oracle, and more recently Microsoft SharePoint. Quality organizations looking to invest in a document management solution may consider the following providers that were included in the 2012 EQMS Solution Selection Guide:
Intelex
EtQ
MetricStream
Qumas
IBS
IQS
CEBOS
Sword Achiever
There are also a few EQMS vendors not in the guide that offer document management and may be worth a look, including: NextDocs, MasterControl, and Pilgrim Software to name a few. Finally, in some cases a company may want to use a more robust standalone enterprise content management system that integrates with EQMS. Commonly used providers include: EMC Documentum, Oracle, IBM, Microsoft, and Hyland Software.
Adoption of Enterprise Document Management Software in EQMS

The LNS Research 2012-2013 Quality Management Survey asked executives and other quality leaders about their 2012 performance in key metrics as well as about their technology adoption. The chart below shows the adoption rates of specific EQMS functionalities.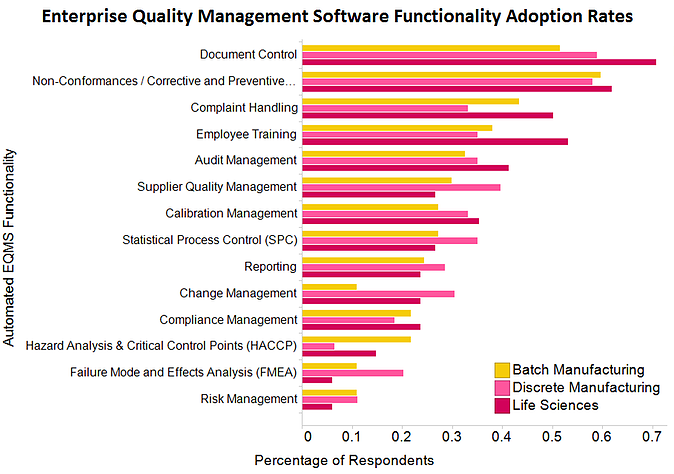 Document control was among the most adopted EQMS functionalities in 2012. Given that it's a foundational element to any quality management organization, this comes with little surprise. As organizations grow and become more complex, it is far too easy for training and other procedural materials to become overwhelming and disparate. Likewise, as IT capabilities mature and organizations require better communication and collaboration capabilities, document control can help to reduce risk and even improve the cost of poor quality over time.
To read more about many of the vendors listed above that offer document control software, follow the link below to LNS Research's EQMS Solution Selection Guide.
You might also be interested in:
Top 3 Strategies for Selecting an EQMS Solution
An Operational Excellence Definition Quality Executives Must Know