Whether we're talking about pharmaceutical manufacturing, blood and biologics, or medical devices, quality in the life sciences industry has only become more important. In a short time, regulations have evolved considerably, now stricter that ever with the intent to ensure the health and well-being of consumers. Adding pressure, the FDA and similar authorities around the world are constantly searching for ways to hold organizations as well as suppliers more accountable for the quality of products and processes.
The focus on quality in life sciences has been driving investments in enterprise quality management software (EQMS). LNS Research's 2012-2013 Quality Management Software Survey shows that although 37% of life sciences executives reported having no plans for an EQMS implementation, 33% were in the planning stages and 26% already had the capabilities implemented. With 59% of companies planning for or currently using EQMS, life sciences tops both batch and discrete manufacturing.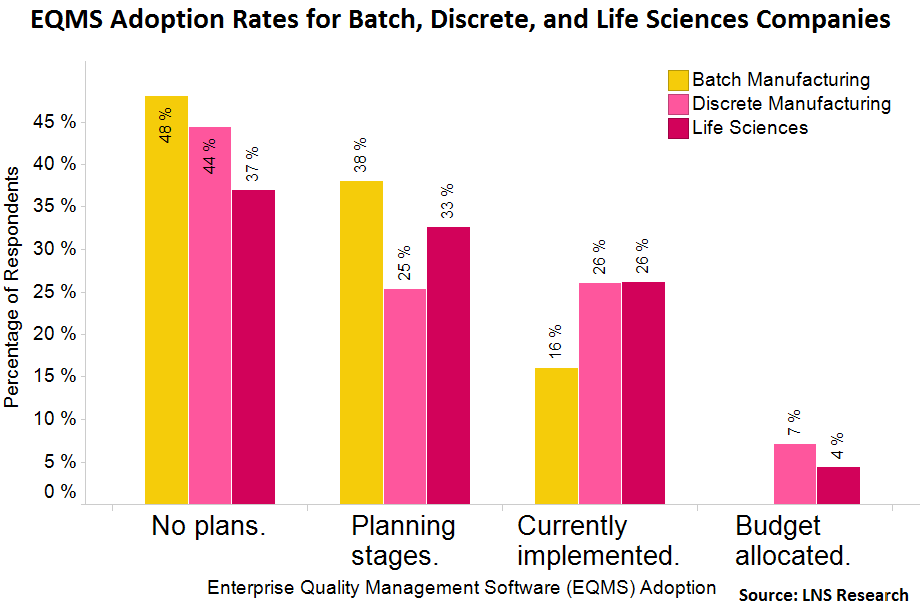 Quality Software Options in Life Sciences
Alongside the complexities of life sciences compliance and quality, there's a growing list of software vendors that have been developing industry-specific capabilities. Often delivered via pre-configured modules with robust quality content and functionalities, these solutions are lifting the burden for market-leading companies. They typically include integrated corrective and preventive actions, audit management, compliance management, risk management, employee training, document management capabilities, and more.
If you're a quality executive or someone responsible for making quality technology buying decisions, the below list highlights many of the EQMS vendors that are offering new and innovative capabilities specifically for life sciences:
Sparta Systems
Over the years, Sparta Systems has positioned itself as a major player in the EQMS space, serving a variety of medium- and enterprise-sized customers. With a core competency in life sciences, the company has a configurable set of quality business processes, allowing for the ability to adapt to industry- as well as company-specific workflows. Sparta Systems is also heavily investing in next generation EQMS capabilities with updates to mobility, analytics, the user interface, and the extended enterprise.

EtQ
With a strong history of serving the enterprise quality management space, particularly in compliance-burdened industries, EtQ is one of the leading vendors for quality risk management, EH&S, and food and product safety. The company takes a modular approach to deploying its solution, enabling the ability to start small and scale rapidly. With mature solutions for CAPA, audit management, document control, EH&S, training, and risk management, the company's well-positioned to serve mid-market-to-enterprise life sciences companies.
Camstar
Most well known as an MES vendor, Camstar has invested heavily in enterprise quality management capabilities over the past five years. With expertise and experience in the medical device industry (along with other industries like electronics), Camstar has tightly coupled traditional EQMS capabilities like CAPA and Supplier Quality Management with traditional MES functionality like traceability and electronic work instructions on a single platform.
NextDocs
NextDocs is a relative newcomer to the market being founded in 2006 but has shown impressive growth by focusing on life sciences companies that have made an enterprise commitment to SharePoint, and have the need to better manage regulated content and quality processes.
Pilgrim Quality Solutions

Pilgrim Quality Solutions is a long-time player in the EQMS market and has over that time maintained a strong focus on life sciences, especially the medical device industry. Pilgrim Quality Solutions over the past several years has extended its platform to address the needs of global life sciences companies and also manage risk and compliance along with quality processes on the same platform.
QUMAS
QUMAS is one of the most laser-focused EQMS vendors when it comes to the life sciences industry, with a deep understanding of not just quality and manufacturing but also R&D, clinical trials, and submissions for new drugs. QUMAS further differentiates itself in the industry by a focus on regulated content management as well as enabling collaboration inside and outside of the company for contract manufacturers and research partners.
Solabs
Solabs is an EQMS vendor starting to make a new name for itself in the life sciences market. Founded 10 years ago in Montreal, Solabs now has a US presence based in Framingham, MA, and differentiates from others in the market by focusing on ease and speed of implementation with a set of software functionality and services specifically designed for the life sciences.
IQS
IQS is a well-established EQMS vendor founded in 1988 with offerings for the medical device industry as well as other discrete and batch manufacturing industries. IQS has a broad offering of functionality and has spent the past several years transforming its product with new investments in analytics, the user interface, and more.
Human Link Software
Human Link is an up-and-coming vendor in the EQMS marketplace that is differentiating itself by now offering a cloud-based EQMS specifically designed for small and medium sized businesses in the life sciences industry. As an emerging vendor in the space, it will be important for Human Link to quickly deliver value to new customers and offer the right combination of flexibility and expertise that is critical for delivering a compelling ROI case for moving SMBs from manual to automated systems.
Evaluating EQMS Vendors
For executives currently evaluating these vendors or others, in depth overviews can be found in LNS Research's Enterprise Quality Management Software Solution Selection Guide. The guide has everything needed for a quality executive or technology buyer to develop a list of potential vendors.
LNS Research analysts are also available for one-to-one advisory sessions. If your company is currently considering an EQMS project and is interested in an introductory half hour session to get the LNS opinion on the market, click here:
Categories: Enterprise Quality Management System (EQMS)