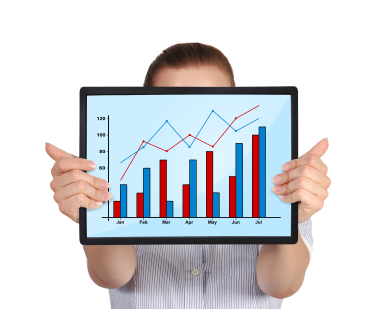 When it comes to building compliance into production processes, we've spoken to numerous companies in the past several years that have done an admirable job. However, there are still many – particularly in the manufacturing sector today – that struggle to meet product and process specifications set out of by regulatory bodies, customers, and even internal management. These companies are more vulnerable to quality risk than others.
In reality, building production processes in a way that ensures product compliance can provide a competitive advantage, and leading executives are actually taking proactive measures to get ahead of impending changes in their company's respective industry. There are various strategies and resources organizations are leveraging to meet today's ever-tightening compliance, and we aim to highlight them in this article.
Inspecting the Products in Compliance Metric
Although we can provide qualitative analysis from the market to understand which resources companies are using to meet compliance, it's always beneficial to look at supporting data. Our recent Quality Management survey asked several questions regarding the products in compliance metric, a measurement that can be leveraged to identify which efforts are delivering the greatest impact on the ability to meet compliance specifications.
Before this analysis, though, it's important to define the products in compliance metric so you can benchmark your own efforts. When we discuss products in compliance, we're referencing the percentage of products produced while operations are in compliance with all regulations, customer mandates, and standard operating procedures. Basically, the percentage of products that meet the ideal specifications.
Based on benchmark data from batch manufacturing, discrete manufacturing, and life sciences, we see that in every industry the top 50% of performers (those above the white median line) are in the 99%-100% range. Unfortunately, however, the bottom 50% of companies dramatically drop off in performance, with some performing as low as 90% compliance. The further the percentage drops in this box plot, typically the greater the quality risk.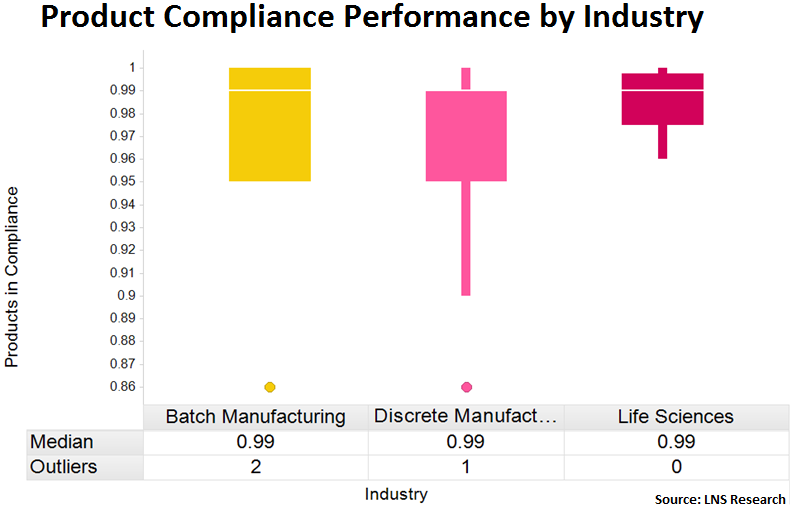 The Drivers for Improving Enterprise Quality Risk
To improve performance in product compliance and reduce quality risk, it takes focus and energy at every level of the organization, especially from top executives. We've written previously about the importance of a cohesive quality culture, and how buy-in from leadership is instrumental to its success. Our quantitative research, however, shows that there are specific investments in technology such as enterprise quality management software as well as actions that can improve product compliance.
Closed-Loop Quality Management Processes
Companies that have implemented closed-loop quality management processes are better able to capture downstream quality data and deliver it to upstream stakeholders for continuous operational improvement. Not surprisingly, this results in more robust quality management systems and an improved product compliance performance.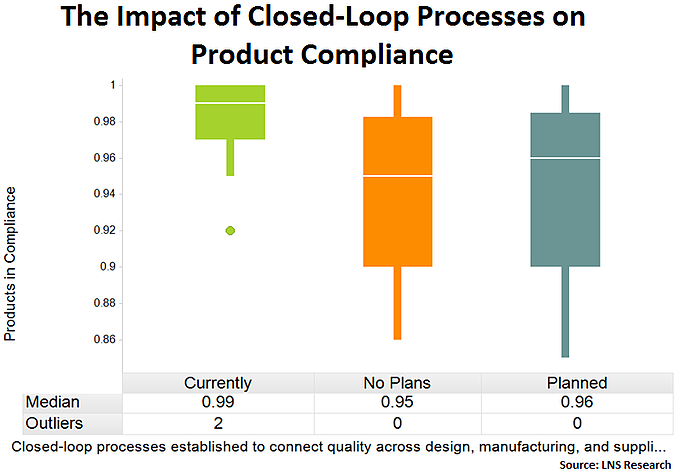 Formal NC/CAPA Processes Established Across the Company
Companies that have moved away from multiple and ad hoc corrective and preventive action (CAPA) systems to a formalized system with EQMS are again showing improved product compliance performance. By having a standardized system it's easier to measure the system's performance and the system itself is more effective, all of which drive compliance improvements and reduce operational and quality risk.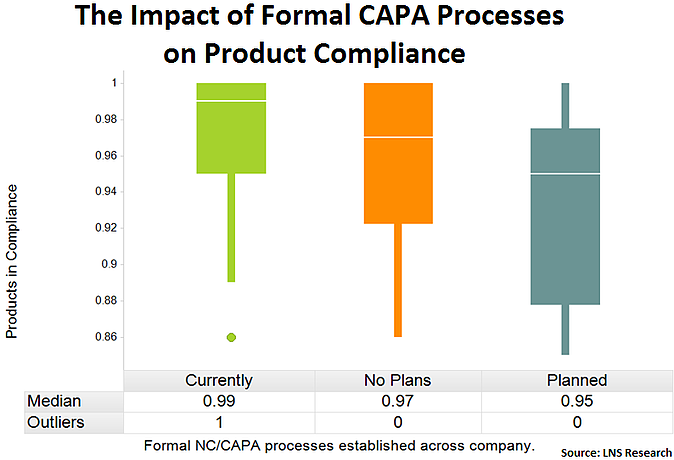 Formal Audit Management Processes
Similarly, companies that have standardized a formal audit management process experience higher product compliance. Whether through the use of EQMS or another system, a standardized audit process across the enterprise can ensure audits get done on time and can even help to identify trends challenges with meeting particular compliance specifications.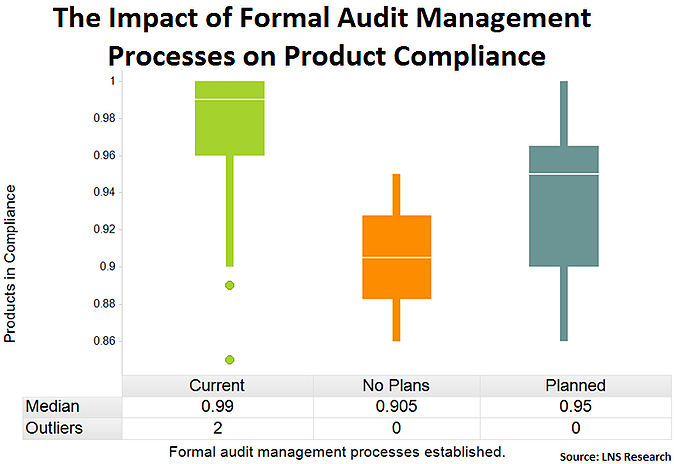 Formal Risk Management Frameworks
Finally, companies that have a formal risk management program in place are better prepared to systematically identify areas of needed improvement when it comes to compliance across the enterprise. EQMS can facilitate formalizing risk management not only within the manufacturing environment, but across the value chain from product design through service.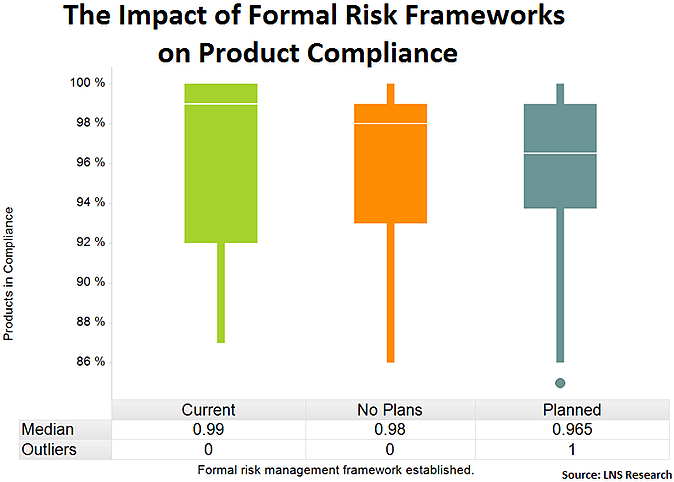 Taking the Steps to Improve Your Product Compliance
If you're interested in learning more about how investing in quality risk management can improve compliance, we invite you to attend our upcoming Global Quality Advisory Council webcast. In this Compliance and Risk Management webcast, Matthew Littlefield, President and Principal Anlayst at LNS Research will dive deeper into LNS's benchmark research. He'll discuss strategies for improving product compliance and reducing risk with the use of modern business processes and EQMS.
Additionally, we'll hear from Ken Ray, Director of Corporate Compliance Governance at Celgene, on how he has implemented and used EQMS to harmonize quality processes across the organization, formalize and extend risk management beyond GMPs to the entire enterprise, the best risk tools for driving organizational tools, and how to use risk management to better manage compliance across the organization. Mr. Ray will also share lessons learned on the role of software in all of these areas as well as best practices for a successful EQMS implementation.
Categories: Enterprise Quality Management System (EQMS)