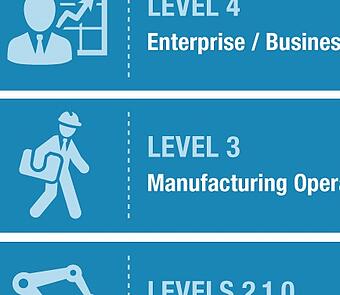 In response to the rapid ROI that Manufacturing Operations Management (MOM) software applications have delivered, it's not surprising to see organizations planning for additional investments. But the current landscape of manufacturing software applications is vast, and technology decision makers face challenges around where to start. Should they implement specific MOM application areas and then scale or should they implement a full MOM suite up front? And if they do choose to rollout specific applications, which ones will drive the most business value?
In this post, we'll use benchmark data to examine some of the trends surrounding MOM application adoption today and discuss how you should approach such an investment.
A Comprehensive View of the Manufacturing Software Application Landscape
The infographic below gives an idea of the breadth of MOM software applications, and how they fit into respective business units. As shown, between level 4 and levels 2,1, and 0, decision makers on a budget have significant challenges and opportunities for leveraging technology to improve operations.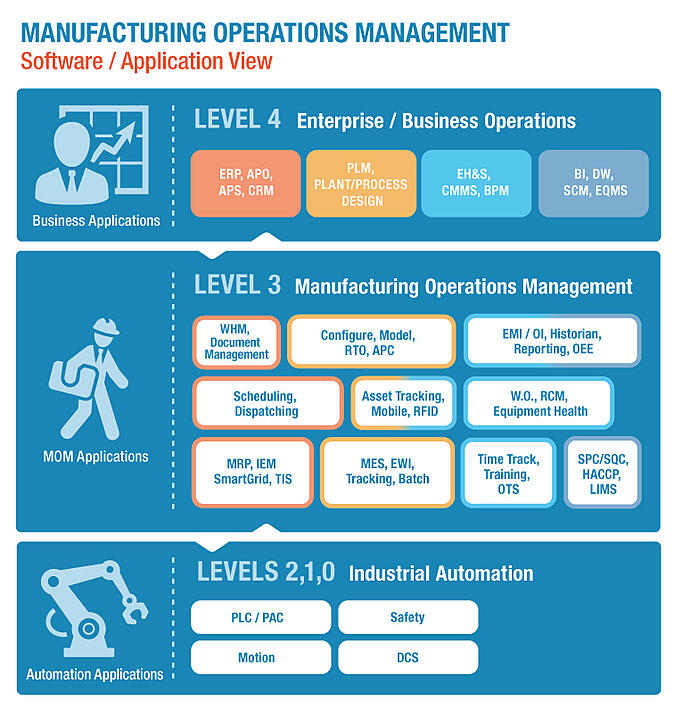 Current and Planned MOM Application Adoptions in 2013-2014
The 2013-2014 LNS MOM Survey has been completed by over 100 executives and manufacturing decision makers across a broad range of industries and company sizes. Its purpose is to identify top-of-mind manufacturing objectives and concerns of business leaders, as well as trends surrounding technology adoption, business processes, manufacturing culture and strategy, and more.
In one survey question, we asked respondents about what types of MOM software functionalities they had already adopted. Respondents were not limited to any specific number of application responses.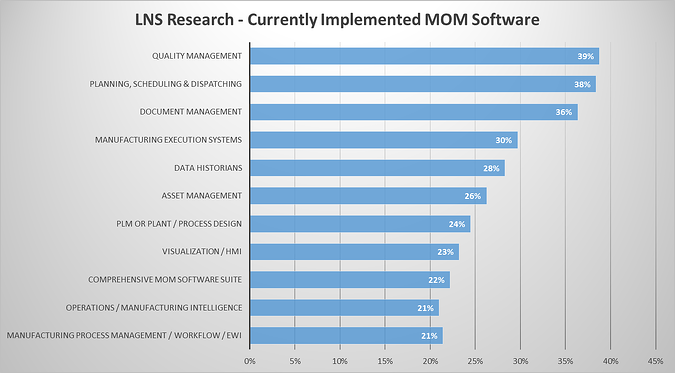 As can be seen in the graph above, the most commonly adopted software applications were focused on Quality Management, Planning, Scheduling & Dispatching, and Document Management with respondent adoption rates of 39%, 38%, and 36%, respectively. Toward the bottom of the graph, we see some of the lesser adopted functionalities included Operations/Manufacturing Intelligence and Manufacturing Process Management/Workflow/Electronic Work Instructions (EWI).
It's interesting to note that while these applications have a relatively low current implementation rate, the survey data also indicates that these are poised for larger short-term adoptions. In a follow-up survey question we asked respondents about which MOM software applications their organizations' planned to implement within the next year.
As can be seen between the above and below graphs, while Operations/Manufacturing Intelligence and Manufacturing Process Management/Workflow/EWI lag in terms of current implementations, these functionalities were some of the more commonly chosen by respondents for planned implementations over the next year, with 26% of survey respondents selecting each of these applications.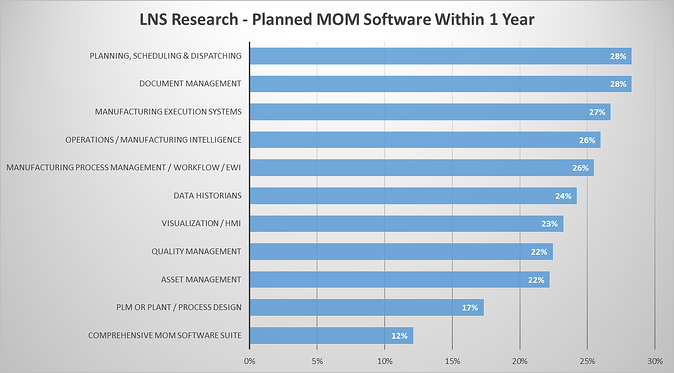 This shows some emerging rapid growth in software applications that enforce workflow processes and provide better real-time visibility of activities and performance. However, the prevalence of the higher adopted applications from the first graph shows continued adoption across the board.
Another thing that's interesting to note is that full MOM suite adoptions are low compared to individual applications, which suggests companies are tending to target specific application areas rather than focusing on implementing big-picture MOM solutions.
Organizational Approach to MOM Implementation
Between both of these survey questions, we collected data on what companies' organizational approach was in terms of current and planned implementations. As the pie chart shows, we see a fairly even distribution between executives choosing to roll out software implementations at the local plant level (32% of respondents), business unit level (31%), and corporate level (36%).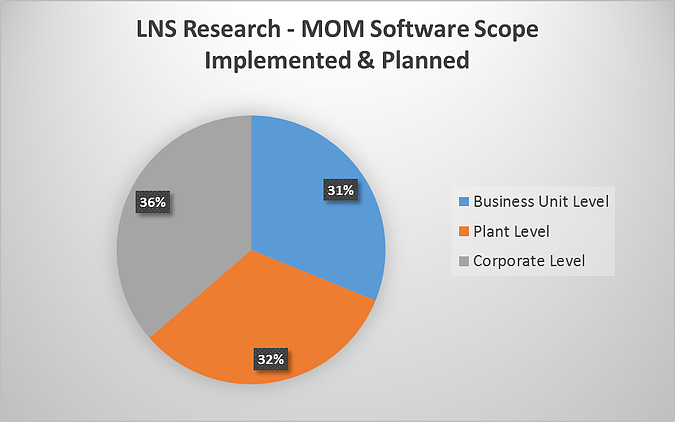 In future posts, we will drill down to further analyze any differences in organizational approaches being taken by small, medium and large manufacturing organizations, as well as by different industry segments.
Comparing Manufacturing Software To Make the Right Decisions
If you're considering any of these MOM application areas, what are some of the considerations you should be making to choose a 'best fit' vendor for your situation and requirements?
Composed of 20 top software vendors, the LNS Research MOM Solution Selection Guide provides you with valuable insights needed to make the complex decision around the vendors you should be actively considering for your respective implementation. It covers each vendor in depth, with individualized overviews and analyses on their business strategies, solution capabilities, industry expertise, geographic coverage, technology delivery models, and more. The guide is accessible after taking our short MOM survey.
Categories: Manufacturing Operations Management (MOM)