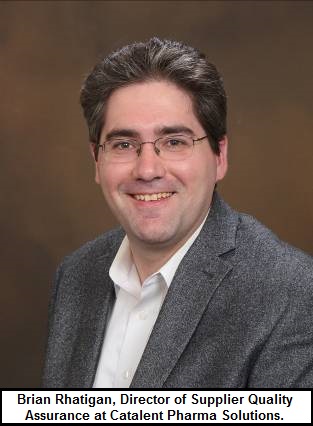 Managing supplier quality in the pharmaceutical manufacturing industry is a challenge for most organizations, even the ones that do it well. In a space where precision is key, slight variations in processes, equipment used, or materials sourced by suppliers can quickly result in rejects and dissolved relationships. These variations really highlight the need for a seamless supplier quality management system, which is what market leaders are continuously working toward.
To dive deeper into this topic, last week we had the opportunity to speak with Brian Rhatigan, Director of Supplier Quality Assurance at Catalent Pharma Solutions, a global leader in development solutions and advanced delivery technologies for drug, biologic, and consumer health products. Working with 49 of the world's top 50 pharmaceutical companies, Catalent has a global network of suppliers it relies on. Rhatigan's supplier quality team has been tasked with optimizing the quality and compliance aspects of those relationships.
A central theme from our conversation with Rhatigan surrounded taking a risk-based approach to supplier quality management. He detailed the journey his team has been on to transform Catalent's supplier relationships into a source of competitive advantage. A number of the transformations have been technological and process-oriented in nature. Below is an excerpt from our interview (full interview here).
LNS: Since you took over as Director of Corporate Supplier Quality in early 2013, what have been your main areas of focus?
BR: In terms of our ability to manage supplier quality, we're always evolving and striving to improve. Since I took on this role, my team and I have been working on a number of initiatives. Mainly, we have been putting our efforts into standardizing and centralizing the audit management process, and then into taking that a step further by adding an element of supplier risk management. Better utilizing the technology available to us has been a focus as well.
LNS: Standardizing and centralizing processes is instrumental to identifying areas for improvement and realizing real gains across the enterprise. How have you gone about doing that with your supplier audit process?
BR: With acquisitions and a number of distributed facilities, we've had redundancies in the audit process. Many sites had their own processes, and there wasn't a corporate standard. Our audits were carried out via questionnaires or by one of our auditors physically going to the site. With this approach, we met the regulatory requirements, but it wasn't necessarily the most efficient or cost-effective method.
In the past six months we've developed a quality action plan for the entire enterprise. The first step has been enhancing the building blocks–policies and standards–those things that will drive actual activities such as risk assessment, audit standards, monitoring supplier quality, and so on. We've been rolling that out, training personnel and building out processes and tools people need to accomplish the task at hand.
LNS: Risk management and supplier quality go hand in hand. How are you using risk management to improve your supplier quality audits?
BR: In the past, we've used a matrix model, where we knew the type of supplier and determined the frequency of audits required based on that. Recently, we've been transitioning to a risk-based model, putting more focus on evaluating the performance of suppliers along with evaluating the type of material or service provided and determining how much attention each evaluation required. Switching to evaluating suppliers based on performance requires considerable training as well as process standardization and has its own set of challenges, but we have a plan and are working our way through it.
After standardizing and centralizing the process, the goal is to minimize the number of redundant audits. And then taking a risk-based approach, we'll actually know which suppliers are more risk-prone and therefore require more attention versus auditing suppliers arbitrarily or because a certain amount of time has passed. Some need to be audited in 3 years, some in 5 years. Our new approach enables us to more strategically use our resources.
LNS: Having been working on this project for the past 6 months, what kind of benefits have you experienced since it started?
BR: One of the most notable advantages has been connecting what were traditionally individual silos, now putting all of that information in a central location. In that respect, we've been able to reduce workload significantly, and it's surfaced in financial and efficiency improvements. We've been able to cut down the number of redundant audits, reducing our total number of audits by 15-25%, which translates to several hundred thousand dollars in savings. Also we are focused on the suppliers who might need more oversight and therefore our efforts are where they matter most. The advantages will only increase as our risk-based model becomes more prevalent. The increased transparency has resulted in other benefits as well.
LNS: What has been the role of technology in this project and how do you plan to leverage it more in the future?
BR: We've been using an industry recognized quality management software solution to document and track our information. While a lot of our supplier quality processes have been manual in nature, we're making changes to our workflows and working to automate them.
Long-term we plan to build a supplier dashboard with real-time information being pumped in so we easily see internal and external supplier metrics and Key Performance Indicators, and start judging their performance the way we judge the performance of ourselves. Our goal is to develop a world-class supplier quality system and we're moving toward that.
In the past several weeks, we've interviewed a variety of quality directors, VPs, and CEOs. If you want to share your experiences in quality and be highlighted on the LNS Research Operational Excellence Blog, email me at mike.roberts@lnsresearch.com or tweet to me @mp_roberts.
To read the full interview and an overview of LNS Research's systematic approach to supplier risk management, click here or follow the button below.
Categories: Enterprise Quality Management System (EQMS), Case Study, Supplier Quality Management (SQM)