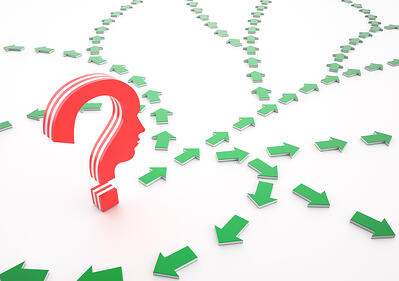 With regulations becoming stricter, supply chains increasingly complex, and operating margins tighter, more focus is being placed on the quality of products and processes than ever before. To anyone in the industrial or manufacturing sectors, the heightened awareness of and focus on quality comes with little surprise. It is, after all, a main contributor to many dimensions of business performance.
Today, many executives are finding themselves asking the same questions: "How can quality give me a leg up on competition? What do I need to do to get there?" For several years, we've been advocating for companies to adopt next-generation Enterprise Quality Management Software (EQMS) solutions, but the reality is that your investment strategy is largely dependent your quality maturity.
Progressing forward and improving your quality management capabilities starts with two things. First, having a thorough understanding of where you are in terms of quality management maturity. And second, determining where you want to be. This post aims to help you understand your current quality management maturity, so you can start developing a plan to get to the next level.
An Overview of LNS Research's Quality Management Maturity Model
One of the main focus areas for LNS Research in 2014 is to provide organizations more visibilty into the different stages of quality management maturity. Having this understanding is critical for comparing yourself relative to close competitors, developing an investment strategy, and just generally setting a realistic set of expectations and goals for the near and distant future.
From our experiences in the business environemnt, our research of the quality management space, and discussions with industry-leading executives, we've put together the graphic below showing the different stages of quality management maturity. For the sake of simplicity it breaks down some of the high-level attributes of quality maturity extremes: ad-hoc and market leader.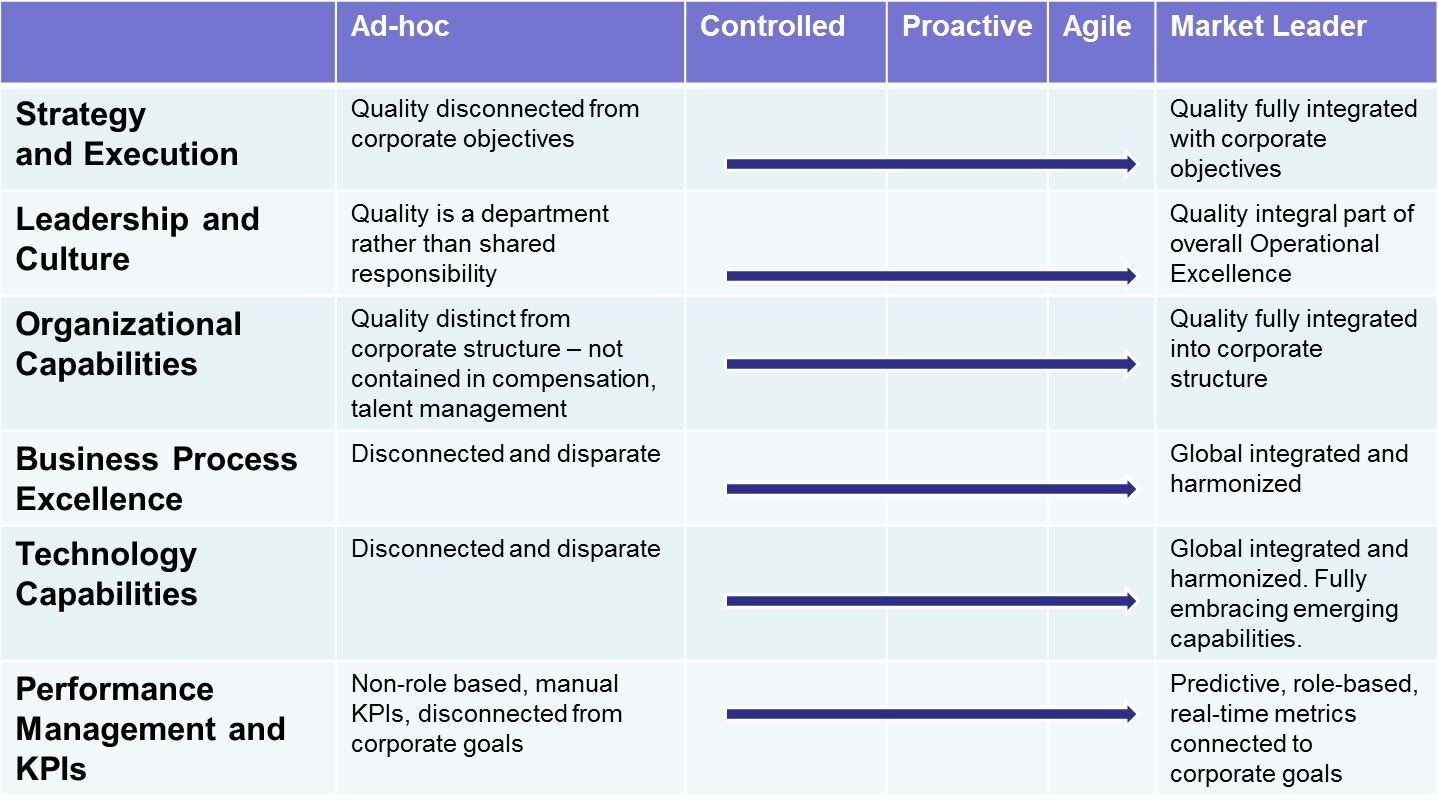 In evaluating your own quality management maturity, it will be helpful to leverage this matrix and use the same categories we've identified in the leftmost column. These categories are essentially the resources—stretching across people, processes, technology, and metrics—each organization has an opportunity to make use of, develop, and optimize over time.
Understanding the Different Quality Management Resources
As mentioned, before making any investments or developing plans, it's important to have a strong grasp on your maturity in the different quality management resources. Below, I'll dive deeper into what we mean by each category in the leftmost column of the chart above.

Strategy and Execution: Many companies experience a misalignment between corporate and local quality objectives, as well as between quality objectives and broader business goals. Ideally, organizations should align these goals from local facilities up through corporate Operational Excellence initiatives.

Leadership and Culture: Our research has shown that nearly half of all executives find culture as a major roadblock to quality improvements. This category looks at the way employees across the value chain perceive and participate in quality management.

Organizational Capabilities: Companies fall into three categories when it comes to quality structure: decentralized, centralized, and hybrid. Market leaders typically have a strong mix of both centralization and decentralization, where quality is integrated into the corporate structure but local facilities still have flexibility for innovation.

Business Process Excellence: It's common for one organization to have a broad range of similar but different processes such as corrective and preventive actions across facilities. This category is central to quality maturity, as market leaders are continuously working to standardize processes where appropriate to benefit from global synergies.

Technology Capabilities: Through acquisition as well as growth, it's common for there to be duplicate and disparate data sources and systems in the manufacturing environment. Emerging technologies such as EQMS are helping companies migrate toward a holistic platform for managing quality and connecting with other enterprise data sources.

Performance Management and KPIs: Like the business process and technology categories, organizations face similar challenges with disparate, as-needed metrics programs that typically aren't role-based or standardized across the enterprise. As quality maturity progresses, companies are likely to begin standardizing and streamlining metrics and KPIs, providing actionable intelligence to all levels of the organization.
Diving Deeper into LNS Research's Quality Maturity Model
Very few organizations have achieved market-leading performance in all of the resource categories discussed. And in reality, with year-over-year advancements to technology and strategies, maintaining that market-leading performance requires a continuous improvement mindset of setting increasingly higher standards and expectations. The point is, regardless of your quality maturity, there will always be room for growth.
Whether you're using paper-based processes and you haven't really developed a quality management culture or you've got a seamless EQMS solution in place and everybody considers quality their main responsibility, having that understanding of your quality maturity should be a top priority.
---
All entries in this Industrial Transformation blog represent the opinions of the authors based on their industry experience and their view of the information collected using the methods described in our Research Integrity. All product and company names are trademarks™ or registered® trademarks of their respective holders. Use of them does not imply any affiliation with or endorsement by them.