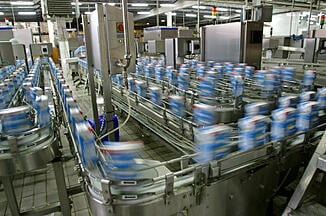 As a manufacturer in an increasingly competitive marketplace, there's a good chance you're on an Operational Excellence journey of some kind. And while your specific objectives may vary depending on the industry in which you operate, your geographic footprint, or current strengths and weaknesses, chances are that achieving greater operational agility is one of your important Operational Excellence initiatives. Agility is critical in allowing you to come closer to being a more customer-driven organization—which should be an important goal for any manufacturing company.
In this post, we'll look at some of the top objectives and challenges of manufacturers today, how increased operational agility is helping them in their respective Operational Excellence journeys, and how leading companies are achieving this ability through supporting their people and organizations with process standardizations and Manufacturing Operations Management (MOM) software application implementations.
The Top Strategic Manufacturing Objectives Today
The 2013-2014 LNS Research MOM Survey has been completed by over 325 manufacturing executives and decision makers across a wide range of industries and geographies, and aims to identify the top objectives, challenges, initiatives, and other top-of-mind concerns in manufacturing today. One of the first questions asked survey takers about their top strategic manufacturing objectives.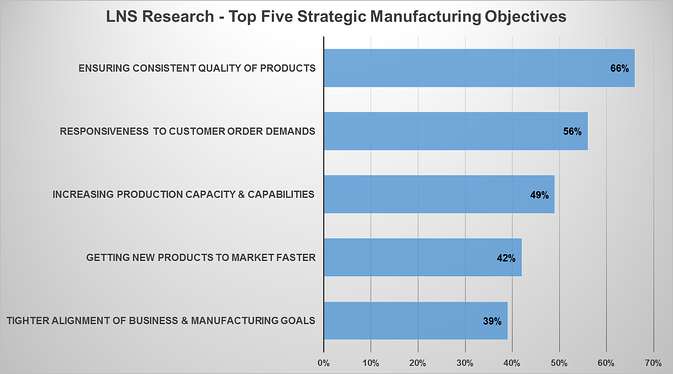 It's interesting to note that the top three objectives are specifically focused on serving customers better. This is a great sign, because if customers don't feel served, ultimately nothing else will matter for a manufacturing organization. The second highest response, in particular—being responsive to customer demands—is one that speaks directly to having an agile, flexible operation. If you're not able to deliver quality products within a prescribed timeframe to customers, they'll find another organization that will.
In today's market, customer expectations are higher than they've ever been in the past. With the dynamics of supply and demand, unpredictable supplier delivery schedules, and fickle consumer tastes, the manufacturer that can respond the fastest and most efficiently to changes with consistent quality will win. So what are the main barriers to achieving this agility?
Roadblocks to Being Agile
Another survey question asked respondents to identify the top challenges they faced in achieving their stated goals.

As this chart shows, the top challenges involve dealing with silos, both people and information related, as a lack of collaboration across different departments and dealing with disparate systems and data sources were the first and second top choices of respondents at 26% and 25%, respectively.
The Importance of Processes and Supporting Technology Capabilities
If these challenges sound familiar, there are a number of steps you can take to enabling greater organizational communication and information flow, and process standardization and integrated technology solutions play a big part.
It's a best practice to have multiple departments share some of the same goals and objectives, and to be on the same page with data, information and KPIs. Leading companies are achieving this by having a combination of structured dynamic processes in place, which are enforced and supported by MOM software applications.
Processes
Our research shows that 73% of companies surveyed have formal manufacturing programs in place or planned over the next year, and most have a combination of programs rather than just one, with the most popular being Lean, ISO 9000/9001, Operational Excellence, and Six Sigma. These types of programs are foundational to building collaborative and cross-functional processes that enable increased operational agility. But to be truly effective, they all require accurate and effective process management or workflow, along with in-context information.
Technology
MOM application functionalites such as Quality Management, Planning, Scheduling & Dispatching, and Manufacturing Execution Systems (MES) are leading the way in adopted software technologies among companies on Operational Excellence journeys, as the chart below shows.
As this hierarchy closely aligns with the top objectives stated above, the list comes as no surprise. Quality Management software is instrumental in the first objective of improving product quality by integrating quality with critical processes across the supply chain. Planning & Scheduling and MES software are both proven tools for helping companies become more operationally agile and able to respond to customer demands.
Getting your Operational Agility Journey on Track
The challenges around customer demands will only increase in 2014 and beyond, and the companies that are able to tighten up operations and achieve agile operations will be in the best position to remain competitive. Being on the cutting edge of the best methodologies for success through the latest research, benchmarking, and peer networking is a key way to accelerate this journey.
For more information on building a market-leading manufacturing software platform, download the report below. Also, please feel free to share your own thoughts on manufacturing agility in the comments section.
---
All entries in this Industrial Transformation blog represent the opinions of the authors based on their industry experience and their view of the information collected using the methods described in our Research Integrity. All product and company names are trademarks™ or registered® trademarks of their respective holders. Use of them does not imply any affiliation with or endorsement by them.