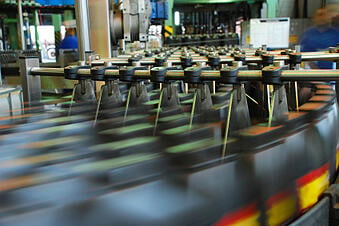 At a high level, manufacturers share some common goals and operations. And at their core, all manufacturing companies convert raw materials or components into finished goods through some set of processes for customer use/consumption.
However, the number of steps in this process varies highly between industries, companies, and product lines. There are some industries where matching customer demand with material/component inputs, production asset availability and labor utilization, while factoring in numerous competing priorities can be a serious challenge. Many companies today face these and other related challenges through the use of Planning, Scheduling & Dispatching software applications.
As part of our series on MOM applications, in this post we'll define Planning, Scheduling & Dispatching software, explain the advantages today's leading companies are experiencing through its use, and provide some insight into the future of the software space.
What Is Planning, Scheduling & Dispatching Software?
These solutions allow planners and schedulers to analyze, compare, optimize, and automate production plans and schedules that reflect actual resource capabilities and material/component availability. They are then able to integrate this information across plant and enterprise systems in order to accurately manage labor and inventory, meet delivery dates, and increase capacity, ultimately having a positive effect on profitability. The dispatching functionality allows the impacts of updated schedules to be sent electronically to specific plants, production units, or lines once the planning and scheduling priorities have been decided and established.
Planning, Scheduling & Dispatching software can be instrumental in overcoming challenges such as production bottlenecks, asset failures, materials shortages, and workforce interruption.
The technology and function of Planning, Scheduling & Dispatching software has been long-established, with use dating back to the 1980s. However, the underlying sophistication of the algorithms has increased and improved over time, while usability has also simplified. These applications typically integrate into Enterprise Resource Planning (ERP) software and/or Manufacturing Operations Management (MOM) or Manufacturing Execution System (MES) as a subset of overall enterprise demand and resource planning.
Who Uses Planning, Scheduling & Dispatching Software?
These applications can be crucial for process and discrete manufacturing companies, particularly when they use numerous types or grades of materials/components and have many suppliers to manage. For this reason, it is commonly used in industries like pharmaceuticals, chemicals, oil & gas, food & beverage, and automotive, or where the following conditions are present:
Made-to-order products
Capital-intensive production processes
Complex production tasks/high number of parts
High variability in the composition of raw materials or feedstocks
Frequent production schedule changes that cannot be readily forecasted
The Vendor Landscape and Future of Space
As mentioned, this software has a lengthy legacy extending into the past few decades. Today, many providers of ERP, MOM, and MES suites have either built their own solutions or acquired these capabilities. However, there are still some standalone players in the space.
The R&D heyday for this area is likely in the rearview mirror, but the coming advancements of Internet of Things (IoT) technology and the "smart" factory have the potential for sparking a second wave of innovation in the Planning, Scheduling & Dispatching space. While previous capabilities required daily or multi-day analysis and reporting, technology like SAP's HANA have turned this computer-intensive application into near real-time capabilities, allowing for actionable information in minutes instead of hours or days. Near-immediate and continuous information availability allows for substantially more agility at the plant and product-line level, and has significant implications for how companies plan their resources, both human and shop-floor.
Learn About the Planning, Scheduling & Dispatching Offerings of 20 Top MOM Vendors
Interested in learning more about which MOM software vendors offer Planning, Scheduling & Dispatching software functioality? The LNS Research Manufacturing Operations Management Solution Selection Guide evaluates 20 of the top vendors in the space based on strengths and central attributes such as industries and geographies served, functionalities, technology delivery platforms, investments, and go-forward strategies. Click below for a free copy of the solution selection guide.
Categories: Manufacturing Operations Management (MOM)