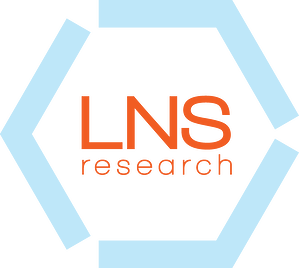 At LNS Research, we're proud to say we've always put depth in expertise before the breadth of topics we cover. Keeping quality over quantity in mind, we've been selectively and strategically expanding our team in the past three years. You've probably noticed the number of writers on our blog and the areas of expertise growing accordingly. And today, you can find emerging trends, news, strategies, solution selection advice, and more on topics spanning nearly the entire value chain.
We wanted to take a moment to highlight several of the new additions to our research team, as well as those analysts that have been with us from the beginning. We'll provide a short bio on each of our analysts below, and if you're interested in speaking with any of them individually, feel free to shoot me an email here.
Rob Harrison, Research Analyst
As the newest addition the LNS team, Rob brings 14 years of experience in designing, building, implementing, supporting and marketing enterprise Quality, Environmental, and Health & Safety (Q&EHS) management systems software. He has worked with many fortune 500 companies to deliver successful long-term and often global, multi-lingual enterprise deployments. He's also worked for an independent software vendor and most recently the British Standards Institution (BSI) as Global Product Marketing Manager and Global Product Director. His focus for LNS is researching how companies utilize Enterprise Quality Management Software (EQMS) to effectively align people, process and technology to achieve operational excellence. Rob's role is to provide timely, high quality and objective intelligence and analysis to Quality Management executives. He has a Degree in Marine Environmental Science and a Masters in Interfacing & Software Application. Twitter | LinkedIn
Dan Miklovic, Principal Analyst
Dan Miklovic joined LNS Research as a Principal Analyst leading our Energy & Asset Performance Management practice. He has over forty years of manufacturing technology experience in plant and process engineering and manufacturing IT. A well-known author, speaker and educator, Dan is certified Lean Sensei and is credited with introducing the concept of Enterprise Asset Management to the marketplace. In his current role at LNS he will be kicking off the Asset Performance Management (APM) practice in the fourth quarter of this year and publishing to that topic, the Industrial Energy Management (IEM) topic, and contributing to our IoT and engineering publishing going forward. Prior to joining LNS Research, Dan held the Chief of Research position at Sustainable Collaborations LLC, was the manufacturing practice leader at Gartner Group for 10 of the 15 years he was there and has a variety of end-user and manufacturing software vendor experiences in both discrete and process manufacturing. Twitter | LinkedIn
Paul Leavoy, Research Analyst
Paul Leavoy has been deeply entrenched in the environment, health and safety (EHS) and sustainability space for the past decade. Most recently, Paul worked in a content marketing and research capacity with an EHS, sustainability, and quality management software vendor, Intelex Technologies, for five years. Prior to that he wrote technical training guides in the manufacturing automation space and also worked as a journalist covering environmental sustainability for seven years. Paul is deeply dedicated to discovering how sustainability performance is linked to enterprise financial performance and wants to help manufacturers understand how to link environmental sustainability with overall business sustainability. As a research analyst with LNS Research, Paul leverages both his training in journalism with his deep exposure to EHS and sustainability issues to help generate a better understanding of the linkages between sustainability performance and overall profitability among global manufacturers. Twitter | LinkedIn

Mark Davidson, Principal Advisor
Mark Davidson joined LNS Research in February 2013, with his primary focus being the research and development of the Manufacturing Operations Management (MOM) and Performance Management practices. Mark has 38 years of experience in industrial automation and information technology-based products and services, in the areas of strategy and business planning, corporate M&A, new business development, sales & marketing, product line management, and internal/external corporate communications for B2B. Before joining LNS Research, Mark served as the Vice President of Global Marketing for Invensys Operations Management. He also previously held positions as the Vice President of Global Marketing for the Wonderware software business unit, as well as other leadership roles within Invensys Manufacturing and Process Systems, Siebe Control Systems, and Foxboro. Mark holds a Computer Engineering Technology degree from Northeastern University. Twitter | LinkedIn
Mehul Shah, Senior Associate
Mehul Shah is a Senior Associate and co-founder of LNS Research. He has a solid understanding of effectively managing quantitative and qualitative research projects to provide senior industrial executives with the resources needed to improve overall business performance. He recognizes the business value of investing in software solutions, and is a known industry speaker. Before joining LNS, Mehul spent six years working at the Aberdeen Group as a Research Analyst and, in the most recent years, an Account Executive for the Manufacturing and Retail practices. During his time there, Mehul created thought leadership content for executives to leverage within their operational and financial objectives, and managed and built relationships with senior executives within the industrial industry. Prior to the Aberdeen Group, Mehul worked as a research associate at IDC. He graduated from the University of Mumbai with a BE in Electronics Engineering, and the University of Massachusetts Boston with an MBA in Finance and International Management. Twitter | LinkedIn

Matthew Littlefield, President and Principal Analyst
Matthew Littlefield co-founded LNS Research in 2011 and is now President and Principal Analyst. In this roll Matthew oversees LNS's coverage of the industrial value chain. As a recognized industry expert he contributes to the widely read LNS Research blog as well as many other industry publications. Matthew is also a sought after public speaker and continually advises manufacturing executives on how to best leverage technology in their operations. Before founding LNS Research, Matthew spent five years at the Aberdeen Group leading the Global Manufacturing Research practice, where he authored hundreds of thought leadership research reports and frequently spoke at industry leading events. Prior to the Aberdeen Group, Matthew spent five years working for several global manufacturers in both engineering and shop-floor management roles. He graduated cum laude from the University of Massachusetts, Amherst with a BA in Economics and MS in Industrial Engineering and Operations Research. Twitter | LinkedIn
LNS Research's analysts work with leading manufacturing and industrial organizations on areas like technology solution selection, cultural transoformation, and performance management. If you're interested in learning how your organization can work with LNS Research, follow this link.
Categories: About LNS Research