The #MondayMusings blog series provides executive level insights and analysis for the Industrial Internet of Things (IIoT) and Digital Transformation from the previous week's briefings, events, and publications @LNSResearch.
Click here to speak with Matthew
GE Predix Briefing: Betting Big on IIoT and Cloud
Sometimes to win when competing the expression, "you have to go big or go home" seems to define market behavior. Alternately, there is the fact that many cutting edge innovations in the computing world have come from startups that are not bound by inertia and legacy systems. In the IIoT market there are certainly a number of nontraditional startups, particularly in the predictive analytics side of Big Data, especially as done in the Cloud. However, one of the traditional automation companies is taking the "best big" approach.
This week several folks from our analyst team sat in on a deep-dive briefing from GE Digital on the technical underpinnings of Predix. GE is going all-in, recognizing that IIoT is going to radically change the architecture of operational technology. GE sees the IIoT as both requiring and enabling not just a Cloud IaaS server based approach, but also PaaS, SaaS and edge computing model. GE has built Predix out to be scalable across all the modes of deployment and can be implemented in edge devices, as well. Hence, GE sees Predix as a combination of hardware, infrastructure, communications, and applications that can serve a "purpose-built" Industrial Internet of Things platform for an enterprise's Operational Architecture.
Predix is built using open source underpinnings with Cloud Foundry being at the heart. Since Predix is critical to GE's own industrial manufacturing operations, it has been built to be both secure and reliable. As an automation solutions provider, GE has made Predix available on Gateways, Controllers, and even on Sensors. Also, since Predix has its own infrastructure end-to-end security, it's easier to guarantee than on very open public Cloud solutions. There has been a very substantial amount of engineering effort expended to make Predix scalable.
One of the key differentiating features of Predix that GE has embedded in the design is a Graph Database approach that is especially well suited to the asset centric approach that manufacturers and asset intensive industries use to define their operations. Layering GE's predictive analytics capabilities on top of the Asset Graph DB provides users with capabilities that other multivendor approaches will not be able to readily duplicate.
Our assessment is that GE's big bet is going to pay off for GE internally, and will position it as a key provider of edge-to-Cloud platform in manufacturing. Attracting co-opetition to its platform is going to be critical to its ultimate acceptance alongside Microsoft's Azure, AWS and other potential Cloud infrastructure providers that see manufacturing as a key target market. We know many of GE's competitors are going with Microsoft for their first foray into the Cloud. If Microsoft provides the completeness and robustness that Predix currently offers, GE will have their work cut out for them. All the more reason for GE's big bet.
WI-NEXT Briefing: IIoT Enabled Sensors and Analytics
Wi-Next has been an early darling of the analyst community, garnering attention from many other analyst firms and media houses, alike. And why wouldn't these other companies be excited on the face of it? Who doesn't love a good old fashioned sensor to Cloud story with some IBM Watson analytics thrown in to boot?
Last week LNS Research had the opportunity to peak behind the curtain to see what the company was truly offering (and if the praise is warranted) when Nicola De Carne, founder and VP of Marketing, briefed the LNS team on WI-NEXT products and future vision for the company.
What Is WI-NEXT Offering?
WI-NEXT is a "Global Start-Up" being founded in Milan Italy, with HQ now in Palo Alto CA, and development run out of India. WI-NEXT is interesting because their products play on both sides of the IIoT gateway, with a cost-effective hardware solution on one side and an IBM analytics based SaaS offering on the other. To start, the company is targeting fast moving food, beverage, and consumer goods manufacturers in Italy; with aggressive plans to expand into other European countries over this year and next, and additional plans to expand into the US next year.
For the sensor side of the offering, WI-NEXT was born as a hardware company and is clearly confident in its ability to offer a set of differentiated and cost-effective end-nodes that can connect to machines and existing sensors through a broad set of existing industrial and IoT protocols.
For the software side of the business, the company has built added value solutions on top of IBM's existing quality and reliability analytics solution, which is itself built on top of multiple IBM products, including COGNOS, SPSS, and Watson. In terms of picking an analytics platform to partner with, IBM is a solid choice and it seems that WI-NEXT has received favorable licensing terms that can be passed on to customers.
Will It Work?
The short answer is yes. At LNS we are already seeing a broad set of industrial companies moving from a strictly hierarchical flow of information to one that incorporates cost-effective hardware to send information directly to Cloud-based analytics.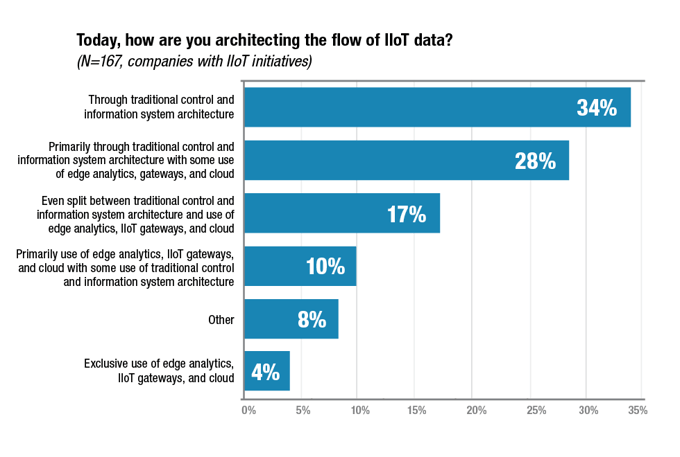 However, the more important question is: What is the best approach?
Manufacturing companies are always looking for a better mouse trap. 10 years ago it was EMI and often OEE specific applications. Today it is quickly becoming sensor to Cloud analytics that are enabling advanced predictive and prescriptive analytics like next-gen SPC. Although these siloed and targeted solutions deliver immediate benefit and a positive ROI, as more of these projects are launched sustaining value and maintaining systems becomes a challenge. Furthermore, these bolt on systems are often sensing data that is already in the control system/machine or sending data that could be directly sent from the control system, and in doing so it is losing much of the process context.
At LNS we encourage industrial companies to experiment with and pilot many of these new applications. It is where much of the innovation is going to come from in the market place. At the same time it is easy to get carried away, and it is important to remain objective and aware that many larger automation, hardware, and software vendors are also innovating.
At LNS we also encourage industrial companies to pursue Digital Transformation in a way that builds upon a long term Operational Architecture accounting for IT-OT convergence and new approaches to data flow.
Over time, as the automation and IIoT gateway companies mature, we will likely see more and more machine and automation data being exposed to the enterprise through built in IIoT capabilities. We may also see many large automation and software vendors acquire companies like WI-NEXT to complement existing offerings and jumpstart IIoT capabilities.
What to Do Today?
In the meantime, as the technology market continues to evolve rapidly, we encourage industrial companies to pursue a multi-pronged technology strategy that experiments with different data flows and hierarchies as long as it aligns with your long term Digital Transformation goals and Operational Architecture.
Quality Leaders should join this webcast, on Thursday, June 16, 2016 @ 1:00 that will provide senior leaders with best practices for building a business case around quality and the foundational framework needed to gain executive commitment.

Tags: Big Data, Predictive Maintenance (PM), Industrial Internet of Things (IIoT), Industrial Transformation / Digital Transformation, #MondayMusings, Cloud