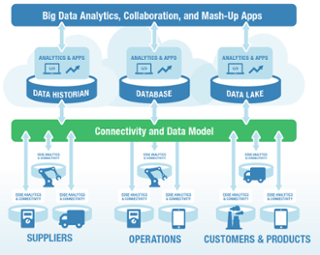 The #MondayMusings Industrial Transformation blog series provides insight and analysis for executives from the previous week's briefings, events, and publications @LNSResearch.
Click here to speak to Dan Miklovic
We have seen a growing number of mergers and acquisitions (M&A) in the industrial software and services markets as companies pursue opportunities in the IIoT, Cloud, and Big Data & Analytics fields. Some of them include GE (Service Max, Wise.io, and Bit Stew), AspenTech (Mtell), Yokogawa (SVM & IK), Oracle (NetSuite), and Rockwell Automation (Maverick Technologies). It appears that in the remainder of 2017 and into 2018 this pace will likely continue, if not accelerate.
The frenzy of M&A activity is driven by the larger companies trying to keep pace with the innovation that is occurring in these three technology areas as well as the desire to strengthen their industry-specific capabilities. Understanding how M&A activity is going to impact companies Operational Architectures and Digital Transformation plans presents a challenge to many firms. With so many competing IIoT platforms, Big Data & Analytics solutions, and deployment options emerging betting on the "right" provider can seem like as difficult as picking the winning lottery numbers. While losing a $10 bet on Powerball might not seem like a big deal, buying into a platform solution that ends up being orphaned or incompatible due to M&A activity can set a company back for a decade as it struggles to rebuild its technological infrastructure. Hence, the need to carefully consider how M&A could impact your selection of partners and providers when deciding on your own technology investment strategy.
Investment Often a Precursor to Acquisition
One strategy that the larger players in the infrastructure technology, enterprise software, and automation spaces often employ in their quest to gain early access to cutting-edge technology is through captive venture funds making investments in early-stage technology companies or established boutique players that have dominant industry positions. Companies from Cisco, to GE and SAP all have established venture investing programs as both a way to leverage cash generated from operations but more importantly, get access to early stage technology. These investments can be anything from venture round (often B) funding of a startup to taking an ownership position in a more established company where owners are looking to capitalize on their market position. An example of this was the late 2014 investment by GE for a 25% stake in APM provider Meridium, which was then acquired in 2016.
When an Acquisition Works to Your Advantage
Digital Transformation is the natural result of innovation and the more disruptive the innovation, the more likely it comes from a start-up business. Harvard University's Rebecca Henderson (author Disruptive Genius) notes that while small start-ups don't necessarily have the edge in disruptive innovation from an economic investment perspective, they benefit from a less constricted environment with constrained mental models, and that enables them to be more nimble and innovative. In the key technology areas supporting Digital Transformation, Predictive Analytics is one area where smaller startups are sometimes outpacing larger firms. Also, smaller startups are often producing cutting edge IIoT enabled devices that can help collect information in manufacturing from non-traditional sources.
For companies that have discovered these market-changing technology providers, there are two big risks. The first is that the company is not funded well enough. In this case, despite the great technology, they simply cannot scale or deploy it fast enough or support it globally. So, the end-user has a potentially game-changing technology but just can't make the most of it. Alternately, as the company becomes entrenched, it becomes an integral part of the end users business and is architecturally woven into its DNA. Unfortunately, it can't keep pace with market or technology advances. In either of these cases, investment from the outside or acquisition by a "friendly" firm can overcome these limitations. By friendly firm, we mean one that will invest in and support the technology from the startup, enable global support, and most importantly keep it compatible with the technological architecture the end user is pursuing. So in these cases, early adopters get the technology first-mover advantage and then can reap the benefits of long-term global support.
When an Acquisition Works Against You
Unfortunately, not every acquisition or investment works in the end users favor. The most common problem is when an acquirer fails to retain the innovative talent that created the game-changing technology and ultimately kills off the product, with no alternative or replacement that is easily adopted. This has the effect of exposing a first-movers' strategy but then acting as a roadblock to real execution. Alternately, and perhaps even worse, is when an acquirer is a competitor of one of the end users key technology providers and kills off the ability to integrate the game-changing technology into your overall architecture. The idea of changing a key strategic providers' platform just to support a disruptive piece technology is generally a non-starter as is the idea of being unable to have an integrated system. The whole point of IIoT, Big Data, or Mobility is ready access by everyone from anywhere, as appropriate. Having to pay an inordinate penalty for that integration can be as devastating as switching it out.
How to Protect Yourself
While there are few ironclad ways to fully guarantee you won't be left holding the bag if your innovative startup vendor is acquired there are some things to do to protect yourself when investigating and buying disruptive technology that will drive Digital Transformation in your business:
• Dig deep into the ownership structure of the company, understand who its current investors are, and try and get a read on the company's growth plans and where it is looking for investment.
• Negotiate long-term support contracts with survivability clauses that extend for some time beyond an acquisition.
• Have a formal Operational Architecture plan that includes IIoT, Cloud, Mobility, and Big Data & Analytics elements in the overall architecture.
• Adopt standards as part of your Operational Architecture and shy away from startups that refuse to support widely accepted interoperability standards, at least without a strong reason for their proprietary approach.
• Develop a culture of continuous improvement. No technology will provide competitive differentiation forever. Along with the culture of continuous improvement ensure your technological underpinnings can evolve as well.
Categories: Cloud, Big Data, Mobile / Mobility, Industrial Internet of Things (IIoT), Industrial Transformation / Digital Transformation, #MondayMusings, Operational Architecture