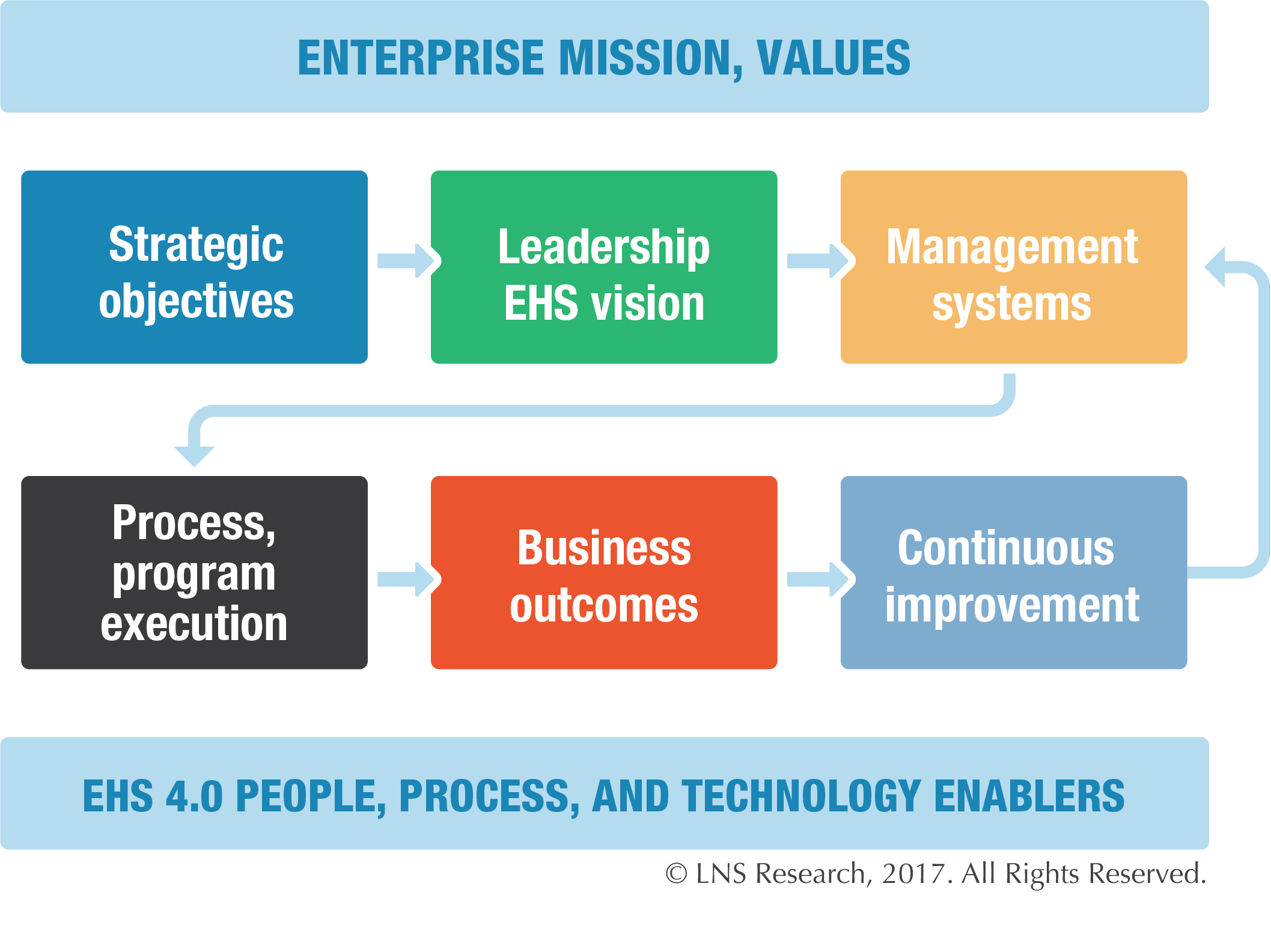 Change creates risk. The increased complexity and rate of change in the global business environment presents new risks to manage, despite resource constraints. Much of the change occurring today in industrial operations and global supply change is enabled by technology.
Digital Transformation (aka the fourth industrial revolution) is upon us. Industrial organizations strive to compete using emerging technologies such as the Industrial Internet of Things (IIoT) and Big Data analytics. For environment, health and safety (EHS) leaders, this creates new business and operational risks to be managed, and new opportunities to optimize performance.
Recently we explained fresh and powerful approaches to EHS management as prescribed in the EHS 4.0 framework. One of the key dimensions of EHS 4.0 is "strategic," meaning that effective leadership and business alignment lead to true integration of EHS with the enterprise. EHS leaders must develop the capabilities required for a strategic approach to EHS, and understand how digital innovation can enable those capabilities.
The EHS Evolution Toward Strategic Business Value
With a historical emphasis on compliance and cost-reduction, it's hard for EHS to shed the cost-center label and shine as a source of strategic business value. EHS leaders have made tremendous progress in recent years by shifting the focus of EHS management from reactive compliance to proactive risk management. In most organizations, much remains to be done to elevate EHS management and improve awareness of it as a potential source of value.

According to Operational Excellence maturity model data from LNS Research, companies that are innovation leaders are much more likely to view EHS as strategic than less mature organizations. They consider it a top corporate priority and align EHS objectives with Operational Excellence initiatives. EHS 4.0 embodies the evolution of business focus on EHS management in recent decades, from compliance, to risk mitigation, to sustainability, to strategic value. The shift only happens with clear business alignment and effective leadership.
Requisite Capabilities: Leadership and Business Alignment
Operational Excellence initiatives, including those in EHS management, are based on the concept of continuous improvement: measure performance, improve processes, get better results, then "rinse and repeat." It's an approach reflected in the closed-loop cycle of improvement called for by commonly adopted management system standards such as ISO 9001 and 14001, and OHSAS 18001.
Sustaining EHS performance gains and continuous improvement requires a supportive organizational milieu with two key capabilities: business alignment, and leadership. Business alignment starts with the enterprise mission and core values, with EHS initiatives and programs designed to support strategic objectives in areas such as market position, financial performance, and Operational Excellence. In other words, EHS leaders must ask, "What's important to the organization?"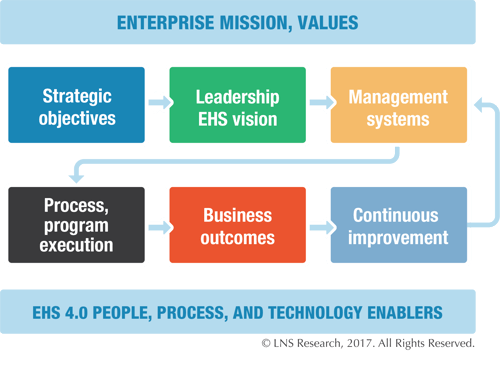 Top level management must provide leadership by establishing and clearly articulating a vision for EHS management and how it will contribute to strategic objectives. Effective leadership means "walking the talk" to consistently demonstrate and support that vision. Management systems underpin and enable the EHS vision. Execution occurs through programs, activities, and metrics, while management review closes the continuous improvement loop.
Digital Innovation Helps, But It's Not the Whole Story
Digitalization is a catalyst EHS 4.0, but EHS 4.0 is not just about technology. The real story is how new technology can improve EHS and business performance. Digital technologies are merely tools to apply in context of the EHS continuous improvement process. Companies beware: no amount of cool technology will work in isolation to fix a defective EHS management system or organizational culture.
Given that technology is necessary but not sufficient, there are several ways that digital innovations can fundamentally enable better EHS management:
EHS 4.0 is data-driven, and includes the ability to capture and analyze massive amounts and varieties of EHS and operational data. More volume and variety of data helps EHS leaders better understand EHS performance and the impact it has on the business, in a more accurate and timely manner. For example, a fact-based discussion about how a behavioral safety program will reduce asset downtime is likely to get attention from the COO instead of a conversation about incident rates.


Executive sponsorship requires sound business justification. Even in organizations that hold safety and EHS performance as core values, there will be competition for executive attention and resources (e.g. dollars, investment). EHS 4.0 enables greater visibility of EHS performance and provides relevant information and fact-based insights to quantify business value.


EHS 4.0 helps senior executives become and stay engaged in safety and environmental performance day in and day out. A real-time dashboard that shows safety performance enterprise-wide and the ability to drill down to plant level commands more attention than a monthly report. It also gives executives frequent opportunities to learn, communicate, and act on EHS matters. The net effect is that EHS leaders rely on facts and business results rather than platitudes to advance their EHS vision for the organization.


Start Today
Yes, achieving your organization's definition of EHS excellence requires getting a lot of things right, with people, process, technology, and culture all part of the mix. Today's hyper-dynamic business environment and the new risks it entails make the job that much harder. We've explained how strong alignment of EHS with the business and effective executive leadership in the form of clear and consistent communication of the vision for EHS are two of the critical success factors. While technology's not the "entire answer," it does offer tools to overcome the limitations of traditional EHS management to establish business alignment and leadership.
The first step is to get educated about the EHS 4.0 framework, how to use it to develop an improvement roadmap, and then start thinking about how digital innovations can help you get there faster.