Part of the fallout from the COVID-19 pandemic has been a resurgence of the Environment, Health and Safety (EHS) business function. Anyone paying attention has seen that the management (or mismanagement) of EHS-related operational risks can directly impact business continuity, for better or worse. Now more than ever, license to operate, let alone profitable operations, depend on effective management of safety, health, and environmental risks.
We saw as the pandemic unfolded that EHS digital initiatives were specially prioritized for increased focus among all Industrial Transformation (IX) initiatives along with the closely related area of Connected Frontline Workforce. Industrial Transformation (IX) is one of the major opportunities available to EHS business leaders to drive step-change performance improvement; we've documented that companies with superior EHS results are six times more likely than followers to have implemented EHS 4.0 digital strategies.

It's easy to assume that the success of digital initiatives centers on selecting the right technology and implementing it well. Rather, our research shows that the essential starting point is leadership, especially the purposeful alignment of EHS initiatives with the strategic business objectives of the enterprise. In the first report of our EHS 4.0 spotlight series entitled, "Transform EHS Management with Digital Innovation", we will highlight how these leadership best practices are linked with the success of EHS 4.0 digital transformation initiatives.
Leadership: Key Pillar of Industrial Transformation (IX)
What's the first thing people think of when it comes to IX or any digital transformation initiative? It's often technology, which makes perfect sense given that tech is a key enabler. Or perhaps what comes to mind is business process efficiency. Those more familiar with business transformation might cite people-related capabilities, such as leadership and change management. While all are key, a combined approach that encompasses all these dimensions is the proven formula for successful transformation. Technology is necessary but not sufficient.
The LNS Research Maturity Model defines nine key capabilities necessary for organizations to successfully execute their IX initiatives, spanning People, Process, and Technology dimensions. Our EHS 4.0 Framework uses the same structure, with Leadership being one of the nine essential capabilities. In our view, Leadership capabilities focus on the alignment of strategic initiatives to corporate objectives, vision, and values. This alignment is, in turn, reflected downstream in budgeting, decision making, roles, goals/KPIs, and so forth.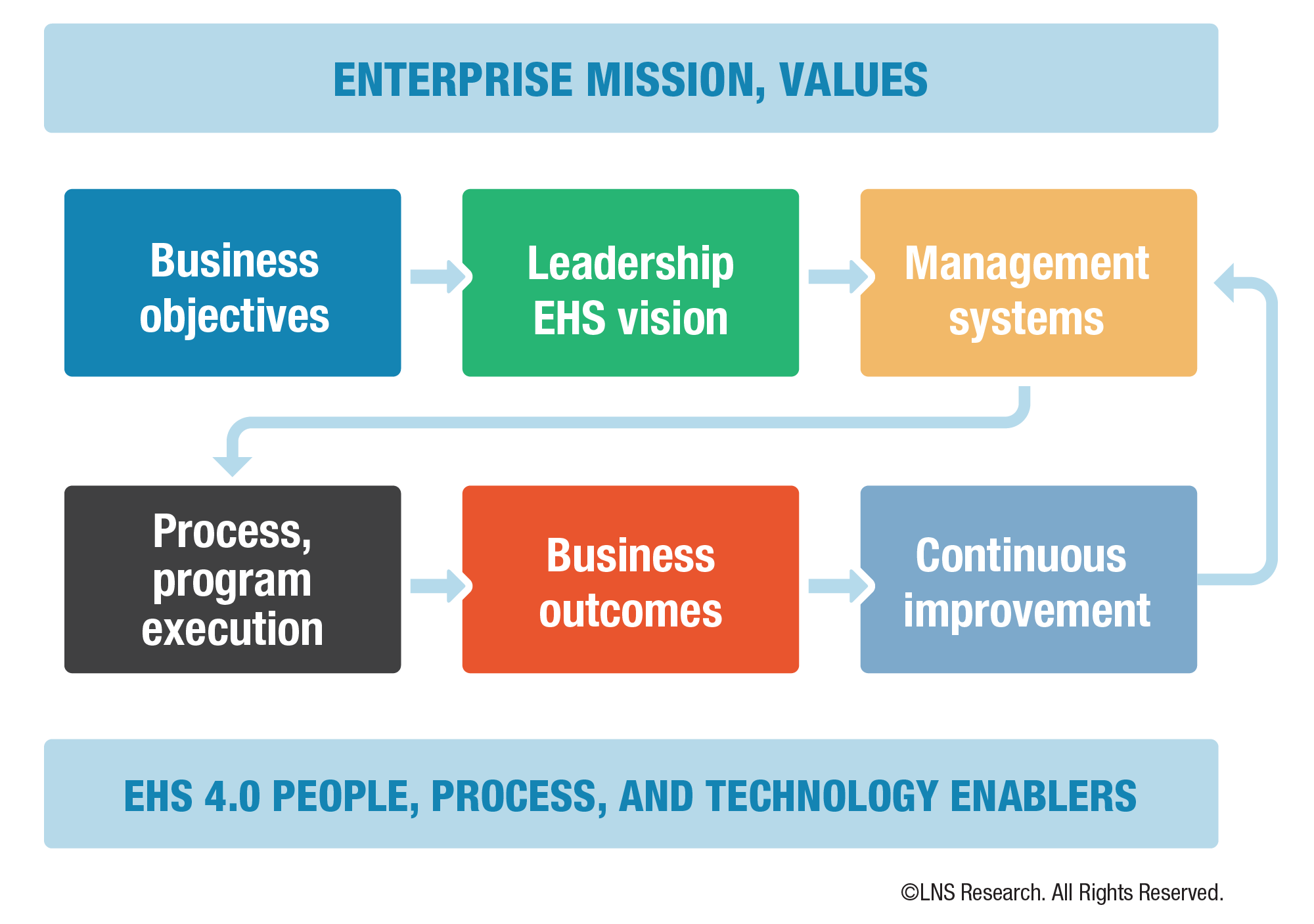 Leadership is about getting the organization headed in the right direction and focused on the right initiatives. In contrast, management is about getting things done efficiently and effectively. As famed management consultant Peter Drucker put it, "Management is doing things right; leadership is doing the right things." Strategic alignment is essential to a high-performance organization, and leadership is essential to strategic alignment. This has implications for the EHS business function and how it takes part in IX and contributes value to the business.
EHS Leaders Ensure Strategic Alignment
There is compelling evidence that companies that deliberately ensure a high degree of alignment between corporate goals and EHS initiatives benefit from it. In early 2021, we completed a global survey of EHS and Operations business leaders and managers in industrial organizations. We gathered data on the adoption of best practices in each of the nine key capabilities in the EHS 4.0 Framework, including Leadership. Analysis of that data enabled us to categorize respondent companies into EHS Leaders (the top 39% who have been more successful in realizing value from EHS 4.0 initiatives) and EHS Followers (all others, who have been less successful).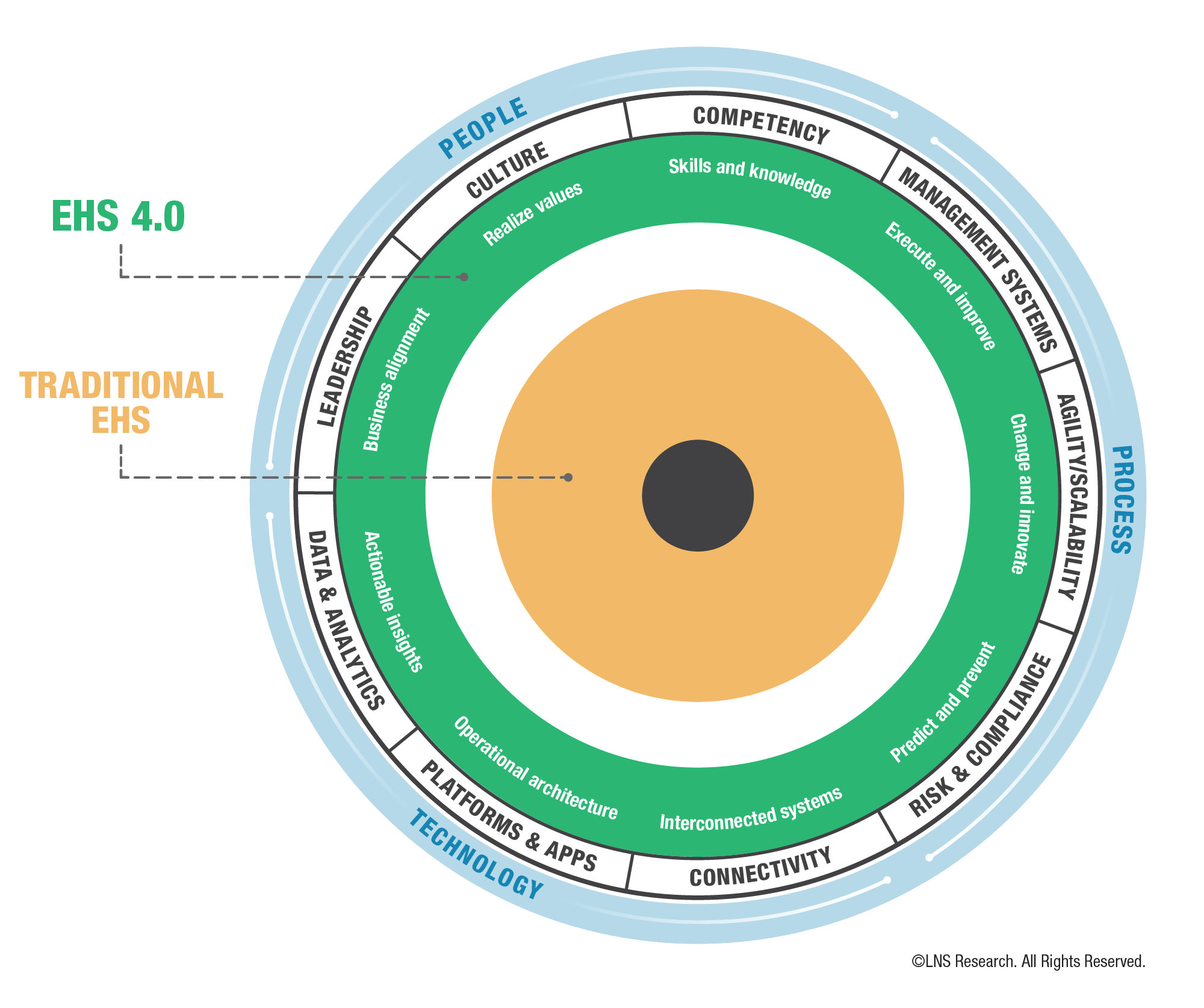 This research shows that EHS Leaders are much more likely to display effective leadership best practices than EHS Followers. We note some major differences between EHS Leaders and Followers:
Strategic alignment – EHS Leaders are 49% more likely than EHS Followers to have clear, documented alignment between top management's strategic objectives and EHS initiatives.
Communication – EHS Leaders are over one-third more likely to ensure that the alignment of EHS initiatives is well-understood enterprise-wide.
Operational performance – EHS Leaders benefit by front-running the EHS 4.0 trend, reporting 6.8% to 18.5% better relative performance versus EHS Followers on key operations and financial metrics, e.g., net profit margin, capacity utilization, EHS targets met, and Overall Equipment Effectiveness (OEE).
We see a similar positive correlation based on our IX Readiness research. Organizations that are more successful with their IX initiatives – IX Leaders – are 2.4 times more likely to proactively include EHS digital transformation in the scope of their overall IX program.
Achieving EHS Leadership
LNS Research's Maturity Model research shows that Leadership, in the form of strategic alignment, is an essential success factor for enterprise IX programs. Such programs yield better results when EHS 4.0 strategies are factored in upfront. Likewise, EHS Leaders are significantly more likely to systematically align enterprise objectives with EHS initiatives. Such alignment translates to significantly better operational and financial performance, as well as strategic benefits.
Our ongoing EHS 4.0 research to be published over the coming months will explore this topic in greater detail, with insights into the leadership and other best practices needed to successfully apply digital strategies and innovations to the EHS business function.