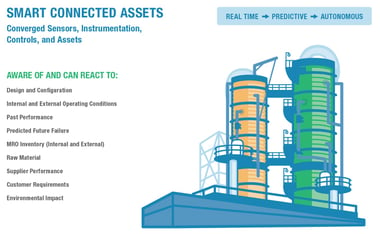 While attending the Emerson Process Management annual users group conference, Emerson Global Users Exchange, LNS Research found that it was different than many other annual vendor conferences. The difference being the end user community, through a Users Group Board of Directors, heavily drives content. This means that many of the presentations are focused on the "what and how" of deploying various Emerson products, and how those users improved their performance by doing so. This is not to say that the event is devoid of Emerson content or product strategy, and roadmap delivery. At this year's event, held October 12-16 in Denver, there was plenty of both.
The accompanying exhibition also showcased newly released and soon-to-be released products; as well as highlighting the Emerson partner community on both the services and product side. Approximately 3,000 attendees not only exchanged ideas, but heard how Emerson believes they can help their customers achieve top quartile performance. Emerson also introduced the concept of Project Certainty, and revealed many new product enhancements and upgrades. Interestingly, there was little hyping of things like Big Data, Cloud or the Industrial Internet of Things (IIoT). Instead there was a practical demonstration of how these technologies enable Smart Connected Operations (SCO), and aid in the pursuit of operational excellence (OpEx).
Achieving Top Quartile Performance
A dominant theme of the event, building on last year's event, was how companies can achieve top quartile performance, and what it will mean to them economically. Much of the top quartile messaging was related to asset reliability. Since the vast majority of Emerson's user community comes from process industries and are generally asset-intensive, asset performance management (APM) and reliability are critical to achieving OpEx.
Using benchmarking data from several sources, Emerson emphasized how the top quartile performers have significantly better performance when it comes to APM. This is including the fact that bottom quartile performers spend $3.46 on maintenance for every $1.00 that top quartile performers spend; yet achieve only 83% availability on average compared to top quartile performers who achieve 97% availability on average. Another reason to pursue reliability is that on average 50% of safety incidents occur when a plant is in a transient state which is only 10% of the time on average, mostly related to reliability issues. As we have said in several past posts there is a direct relationship between OEE and reliability as well and Emerson presented additional data to drive that point home.
Emerson and the end users did not stop at just presenting the theory, in fact that was mostly the focus of events Emerson held for the press and analyst community. In the educational sessions the content was all about the proof points that demonstrated that in practice these kinds of results were certainly achievable. Emerson rolled out several products, upgrades, and new releases of existing products. It all ranged from sensors and actuators to APM related applications, which were related to improving the reliability of the Emerson products or the overall process in which those products are installed. Emerson also provided a sneak-peek into their next generation reliability platform solution, which has an inherent asset register. It's capable of acing as a hub for bringing together the wealth of asset condition information from Emerson and non-Emerson sources. We think this approach is well architected, and look forward to Emerson filling out the platform when they release it to the market in earnest in 2016.
Bringing Certainty to Projects
Once of the bigger announcements Emerson made at Exchange was an initiative they are calling Project Certainty. In a press conference where Emerson presented the concept, they had two of their petrochemical industry customers and a major Engineer, Procure, Construct (EPC) company backup their approach. Project Certainty deals with the issue that today 65% of projects over $1 Billion and 35% of projects under $500 Million fail. These failures can include instances where the schedule slips by 50%, the budget is exceed by more than 25%, or there are severe and continuing operational problems in the 2nd year of the project). In the oil and gas industry alone 40% of projects suffer from budget and schedule overruns. Data from multiple sources put the opportunity cost from these issues in the billions of dollars.
Project Certainty is methodology supported by several Emerson products to address this issue. It will not only bring projects in at budget and on time, but also reduce the actual amount of capital required through the use of concepts. This can include concepts like virtual factory acceptance test (FAT), leveraging Cloud technology, wireless and self-configuring sensors actuators to reduce startup, and commissioning efforts. Sasol has selected Emerson as a key part of their $8.9 Billion Lake Charles, LA petrochemical facility expansion project based on the Project Certainty approach.
Partnerships Announced supporting IIoT
Unlike some companies in the automation space who have made IIoT and Smart Connected Assets the core of their go-to-market strategy; Emerson has focused on putting the technology to use while not specifically calling out the technology itself. Rather than hype IIoT, Predictive Analytics, or Cloud, they have embedded them into elements of their solution set; as it's noted above in the review of Project Certainty, and delivered on the value these technologies offer. This is not to say that Emerson has ignored them, rather they have just focused on the use of them. This will play well with their traditional plant and operations audience, but as IT executives get pulled into discussions around technology deployment Emerson will have to do a better job of articulating their commitment to these technologies. It is not that they haven't got a strategy. In fact they announced several key partnerships at Exchange to support the IIoT:
Cisco – Enhancements for remote access to DeltaV leveraging Cisco Identity Services

Intel Security/McAfee – Technology to improve the cybersecurity of the DeltaV control system.

OSIsoft – Release of a PI Connector for HART-IP devices
They also announced a large number of new wireless products that leverage the IIoT concepts, both operationally and from a systems management perspective. So, Emerson clearly is leveraging IIoT, the value of Cloud and Big Data and Predictive Analytics. Emerson just needs to make sure they can carry their messaging beyond operations, and make it clear to the IT elements in the enterprises they are targeting that they "get it."
Not Everything was Reliability
While there was a plethora of reliability focused product releases and content from Emerson and their user community, there was also content and products related to other topics. New solutions supporting energy management were introduced. Also, the continued development of the Syncade MES solution and its expansion into industries, such as terminal operations was introduced. Emerson also highlighted advances in process safety technology and services, and emissions management technology.
LNS Research's Take-Away
Over the last 20 years Emerson's User Group meeting has evolved to become a valuable forum for Emerson's existing and prospective clients to do exactly as the event name suggests. The want them to exchange information to make their use of Emerson solutions more effective, and help contribute to their bottom-line. Emerson's heavy process-centric user base is very operationally focused, and Emerson does an excellent job of supporting them leveraging technology in a highly pragmatic way. Emerson has added products and services to its portfolio to well serve their target industry. The MRG acquisition, now approximately 18 months old, is an example of the investments Emerson is making. It's not only paying off in being able to deliver reliability services, MRG has had a positive impact on Emerson itself broadening its reliability message.
If there is an opportunity for improvement it would be for Emerson to recognize that IT professionals are changing. They are becoming more engaged in technology decisions, albeit more slowly in their target industries than in others, and improve their messaging in that regard. They could also consider broadening their market beyond continuous and heavy batch process industries through expansion of their footprint. An industry as a whole could benefit from the approach Emerson takes to delivering and supporting solutions in a way that delivers on technology instead of hyping it.
Categories: Operational Excellence, Smart Connected Assets, Industrial Internet of Things (IIoT), Asset Performance Management (APM)