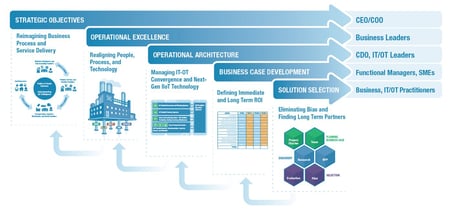 The marketing hype on the Industrial Internet of Things (IIoT) and Smart Connected Devices suggests that this technology will just spontaneously appear in the market and be available for immediate deployment. Data tells a different story though. The LNS "Metrics that Matter" and "IIoT" surveys show there is growing awareness and interest in Digital Transformation and how it will change the way companies operate. However, organizations have made little progress in this direction. In many respects, most manufacturers still need to take the first steps toward Digital Transformation.
Click here to speak to Dan
Fortunately, we see evidence in the supplier community that the engineering software vendors are now delivering capabilities that will simplify and accelerate the delivery and utilization of the power of smart connected assets.
LNS has attended two recent events sponsored by engineering software providers. The first was the annual Siemens press and analyst event which several LNS analysts attended. The second was an Autodesk event Jason Kasper attended and offered the following report.
PLM, IIoT, and Smart Connected Assets Converge at Autodesk Accelerate 2016
This event provided a good mix of customer use cases on the efficiencies manufacturers are gaining by using Autodesk's PLM software – Autodesk Fusion Lifecycle. There were a few product announcements, as well. One product adds data management functionality that the end-user community seemed to approve of based on the applause, and the other a partnership to provide predictive analytics – a necessity to gain insight into data.
Autodesk continues to enable its customers to take advantage of the IIoT by announcing the availability of a new capability, including Predictive Analytics. The larger story is that customers are beginning to digitally transform their people, processes, and technology to gain competitive advantages in the markets they serve. Here are some of the key insights learned from the conference.
Product Data Management is New and in the Cloud
At the end of day one, the Autodesk Product Management Team announced a new Cloud-based product data management (Cloud PDM) functionality. This capability is built directly into Fusion Lifecycle and is available immediately to all current users of Fusion Lifecycle. Cloud PDM enables engineers to collaborate on designs and manage their work-in-process CAD data and documents. Teams can collaborate on designs, track versions and releases, and connect to manufacturing workflows for sharing of design data across the enterprise.
The new PDM features improve collaboration between engineering and the rest of the enterprise, enabling real-time design reviews, viewing and markup of 3D files, and connecting key processes for managing Bills of Materials (BOM) and Engineering Change Orders (ECO).
Although Autodesk has had PLM functionality since it was defined, they seem to be blooming at the moment, as they are doing a great job in showing a lot of progress and that they are serious with their PLM, CAD, IIoT Cloud-based platform innovation platform. The PDM functionality moves Autodesk in the realm of capability of other providers in the space. As a single platform offering, it Autodesk should be considered when looking at providers in the PLM space.
New Analytics Partnership Better Equips Manufacturers
The other key announcement at the conference was the partnership with Nutonian. Autodesk Connect will integrate to Nutonian's Eurega. This Artificial Intelligence (A.I.) modeling engine, automatically extracts meaning from large data sets and delivers prescriptive solutions. This enables forecasting of product equipment failure and can help enable manufacturers to develop new business models and services. For example, this will help manufacturer's make sense of large volumes of data without hiring a Data Scientist, to gain insights into equipment sold to customers. This information can then support the next generation of products. At the same time, manufacturers would be able to provide enhanced service offerings to their customers, provide real-time insight and recommendations for repair, before they fail.
Potential Benefits of Replacing Data Scientists with Predictive Analytics Solutions
At LNS we have written a variety of content around Big Data Analytics and the Data Scientist Divide. It is good to see Autodesk provide Predictive Analytics offerings to is customers, in the PLM space. From a general manufacturing software point of view, most vendors are now providing this capability, and if they are not, they better soon. This is a good approach and path for those that may not have the resources for a team of Data Scientists, who's positions are becoming difficult to fill due to a growing skills gap and lack of available talent. Also, be aware that there are some vendors providing Predictive and Prescriptive Analytics solutions in the market today. Make sure to investigate the best fit for your organization's needs and what you are looking to answer before going down the Big Data path.
Enabling Smart Services with the Industrial Internet of Things
There was a good presentation from a customer who has spent the last year going through and IIoT solutions implementation. The company, TSM Controls is using Autodesk Fusion to alter business models through Smart Connected Assets. Using the information from these assets they can gain insight and provide Smart Services to their clients. What they found was that in essence as they when down the IIoT path, they found what the real story and change was business transformation, or what the market terms Digital Transformation.
LNS Research's Framework to Help Manufacturers Understand the Components of Digital Transformation
Digital Transformation means shifting to new production, business, and customer engagement models and enabling unprecedented business possibilities like packaged services of industrial equipment, selling capacity instead of capital, and improved performance. For industries that rely on physical assets to produce the goods and services they deliver, Smart Connected Assets are at the heart of their Digital Transformation efforts, and it the first use case we see creating value with the customers we work with.

Closing Thoughts
Accelerate 2016 provided a good update on the latest product direction and customer use stories of Autodesk Fusion product innovation platform. For end-users looking to move from paper-based systems and siloed processes, the Cloud-based, IIoT platform is worth investigating as part of an organization's overall strategy. Existing customers should be encouraged by the partnership announcement with Nutonian with an expectation of additional partnerships to come. A strong partner ecosystem should be expected as Autodesk continues to move their cloud-based platform forward. As the platform matures, customers should also expect innovations in existing solutions as the predictive and prescriptive analytics capabilities take hold, providing additional insights into the product lifecycle.

Tags: Industrial Internet of Things (IIoT), Smart Connected Assets, Industrial Transformation / Digital Transformation