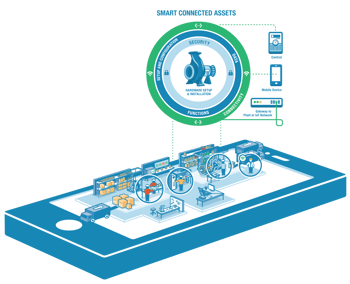 The #MondayMusings Industrial Transformation blog series provides insight and analysis for executives from the previous week's briefings, events, and publications @LNSResearch.
The Honeywell User Group (HUG), with over 1,000 attendees, met in San Antonio Texas June 18th to the 23rd. The theme of this year's event was "Knowledge" and the new announcements, along with a change in positioning, signaled that the Honeywell team is gaining confidence in the maturity and ability of the Connected Plant to deliver tangible value for customers.
Click here to speak with Matthew Littlefield
Last year "IIoT Ready" and the new Sentience IIoT Platform were the stars of the show. At HUG 2017, there was hardly a mention of the Sentience platform, and the importance of IIoT technology took second stage to the business value being delivered by the Connected Plant. It seems that Honeywell has quickly learned what many other vendors are still learning; the IIoT Platform is an enabling technology, not a value-creating solution.
Honeywell Connected Plant Takes Center Stage
Highlighted in many of the Honeywell executive presentations at HUG was the Connected Plant. In Honeywell's vision, three components make up the Connected Plant; Connected Processes, Connected Workers, and Connected Assets. The words are simple but the vision is modern, and the technology behind is sophisticated.
Over the course of the week there were a number of interesting new announcements and highlights of new but previously announced technology; most of which came during CTO Jason Urso's day one and two keynotes. The announcement LNS found most notable include:
ControlEdge PLC (claiming to fill a current gap in the market)

Extending LEAP for Operations to Auto Device Configuration (claiming to be analogous to USB for automation systems)

Risk Manager Software for ICS (claiming to assess and prioritize risks across IT and IT for ICS)

Experion and Uniformance in the Cloud (Microsoft partnership and claiming to be just the start of using Cloud)

Advanced Threat Intelligence Exchange (claiming to dramatically reduce risk and impact of security events)

Safety Score App (claiming to assess safety risks for specific employees based on real time date)

The Last Migration (claiming to abstract automation software and existing programming from hardware; eliminating the need for hardware, so system life becomes infinite)
Overall, these new announcements, along with the existing technology portfolio and Sentience IIoT Platform, enable Honeywell's Connected Plant vision. This embodies the core of what the IIoT Platform should enable:
Cloud-based technology where it makes sense (now including SCADA and Data Historian)

Advanced Analytics with Machine Learning that doesn't depend on the ISA-95 hierarchical model for data and Information flow.

An industrial focus on applications that can optimize the performance of people, processes, and assets.

A deep set of capabilities for Industrial Cyber Security (ICS)
LNS Take
After HUG 2016 LNS came away from the event with more questions than answers. There were a lot of new technologies and brands all being announced at the same time. Could Honeywell deliver? Could customers keep up?
Now we have gotten our answers.
On the technology delivery front, LNS is impressed. The company has moved quickly, in tight partnership with Microsoft for Cloud and IoT capabilities, to quickly get the Sentience Platform customer ready with both existing and new applications running.
On the marketing front, LNS is not surprised Honeywell has backed away from leading with the Sentience Platform and is now leading with the value of the Connected Plant. LNS believes this should help answer one of the questions from 2016 in the positive, making it easier for customers to understand and deploy these new technologies.
Moving forward, LNS sees Honeywell as a company focused on delivering business value through differentiated user experiences, and it plans on doing this by helping its process industry clients embrace next-generation technology like the IIoT. It is also clear that Honeywell believes there is a limit to what can be delivered in this realm through standards and a multi-vendor architecture.
Urso summed it up well in his keynote, "standards ensure interoperability, not the user experience."
LNS believes customers should take this perspective to heart when dealing with Honeywell. When many of the announcements made this year are viewed through this lens, they become clear. Why did Honeywell enter the PLC market? Why does Honeywell focus so much on connectivity? Why did the company go to the time and expense to abstract automation hardware from software? So that the company can deliver a complete software, hardware, and services solution that differentiates on user experience.
LNS believes this will be the long-term trend for the company and what customers should expect when doing strategic planning: A commitment to open standards but a focus on a Honeywell centric solution that delivers business value, differentiate on user experience, and builds in next-gen technology like the IIoT.

Categories: Industrial Internet of Things (IIoT), Smart Connected Assets, #MondayMusings, Cloud, Industry 4.0 / Smart Manufacturing