The Industrial Internet of Things (IIoT) technology has become one of the supposed underlying drivers of Digital Transformation in manufacturing, along with predictive analytics and enhanced data presentation tools like augmented reality (AR)/ virtual reality (VR). Most of the focus has been on how the vastly increased amount of information and data about manufacturing processes in IIoT equipped plants will drive analytics and AR/VR visualization tools to accelerate decision making at what is generally considered "level 3, 4 or 5" systems.
>Click here to speak with Dan Miklovic.
Transformation or Evolution of Traditional Manufacturing?
There are numerous case studies of how manufacturers have used IIoT data and analytics to drive better reliability or productivity, or how AR/VR enables workers to quickly diagnose and repair machinery or perform assembly operations. There is an argument to be made that this application of technologies isn't transformative but just the evolution of traditional manufacturing, accelerated using technology. Just how transformative is it to only use newer, more connected versions, of the same technology to do the same things?The trend in plant floor automation so far has been to use IIoT capable sensors and devices to augment the information that is already on the shop floor. The architecture of the systems from majority of suppliers hasn't changed in the last 15-20 years. While the distributed digital technology has replaced analog or centralized computing-based automation, the basic design resembles the basic models from the advent of programmable logic controllers (PLC) and distributed control systems (DCS) some 40+ years ago.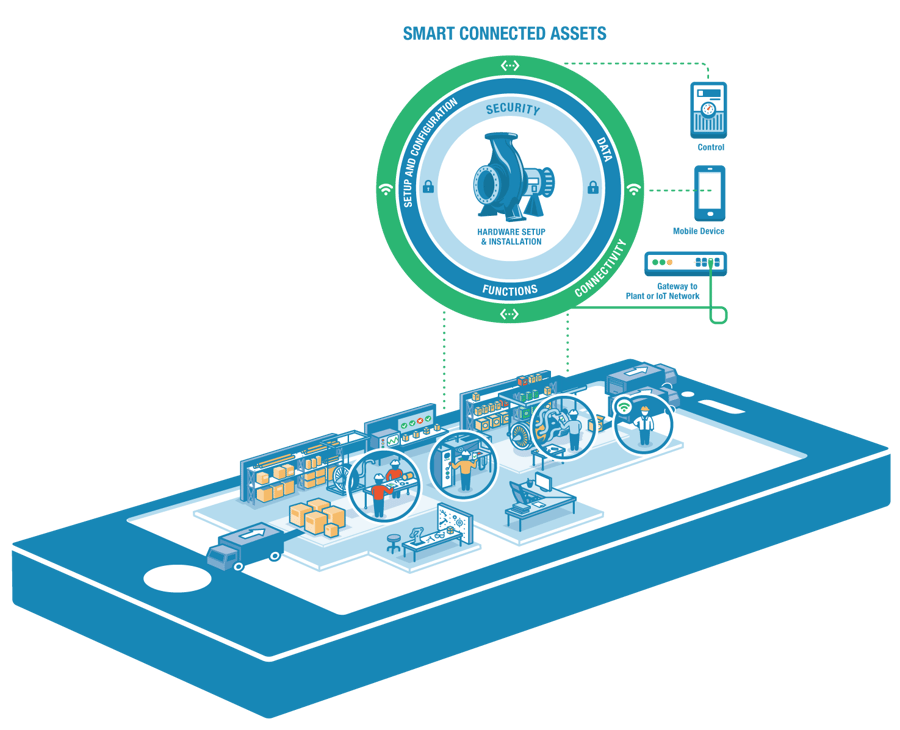 It is true numerous startups are providing alternative hardware platforms based on Arduino or their own hardened but more open platforms, but they represent a small, albeit slowly increasing, share of the market. More importantly, they are not yet viewed as robust, reliable, and secure enough for critical automation tasks such as running refineries, power plants or other process manufacturing plants. Additionally, the approaches between vendors differ widely so adopting any one of them replicates the single vendor lock-in that proprietary automation solutions provide. This has resulted in Digital Transformation being stalled at the manufacturing execution system (MES)/manufacturing operations management (MOM) level in most industrial companies.
Digital Transformation on the Plant Floor and OPA
Fortunately, the pace of technological change and the adoption of industry standard approaches common in consumer and commercial systems such as TCP/IP networking, Bluetooth device communication, and Wi-Fi standardization offers a vision of how plant floor automation could effectively evolve. Many leading manufacturers have recognized that there is an opportunity to drive Digital Transformation down to the plant floor and have banded together to try and create a new model for automation.
LNS has written about the Open Process Automation (OPA) Forum several times before and tracked its progress. The Forum has reached a milestone with final balloting on Version 1 of the OPA Standards being conducted now. While the ultimate success of OPA is still not guaranteed, this step is significant in that it essentially defines what Digital Transformation of automation and control should look like. When it is released in the next month or so, it will, in LNS' opinion, serve as notice to the automation industry that past system designs have reached the point of decline to obsolescence. Admittedly, the success of OPA still requires much effort on the part of the leading end-user advocates and a commitment to invest in the further development of the technology. Even if the future is fully standardized OPA compliant systems or some other open evolutionary platform, the proof-of-concept pilots being conducted in 2019 will likely prove that the approach OPA advocates is viable.
Whether it is the forward-thinking suppliers in the existing community, which LNS believes there are, or new disruptors that emerge to challenge the status quo, the roadmap to real Digital Transformation on the shop floor is being laid out in the next few months. Vendors that want to be part of the future need to demonstrate to a growing end-user community that they see this future and start working towards it with real efforts, not just lip service. OPA or an alternative, the supplier community, needs to clearly articulate their strategy for driving Digital Transformation beyond the MES/MOM level. Moreover, end users need to step up and let their automation suppliers know if they are prepared to drive transformation to the shop floor.
Categories: Industrial Internet of Things (IIoT), Industrial Transformation / Digital Transformation