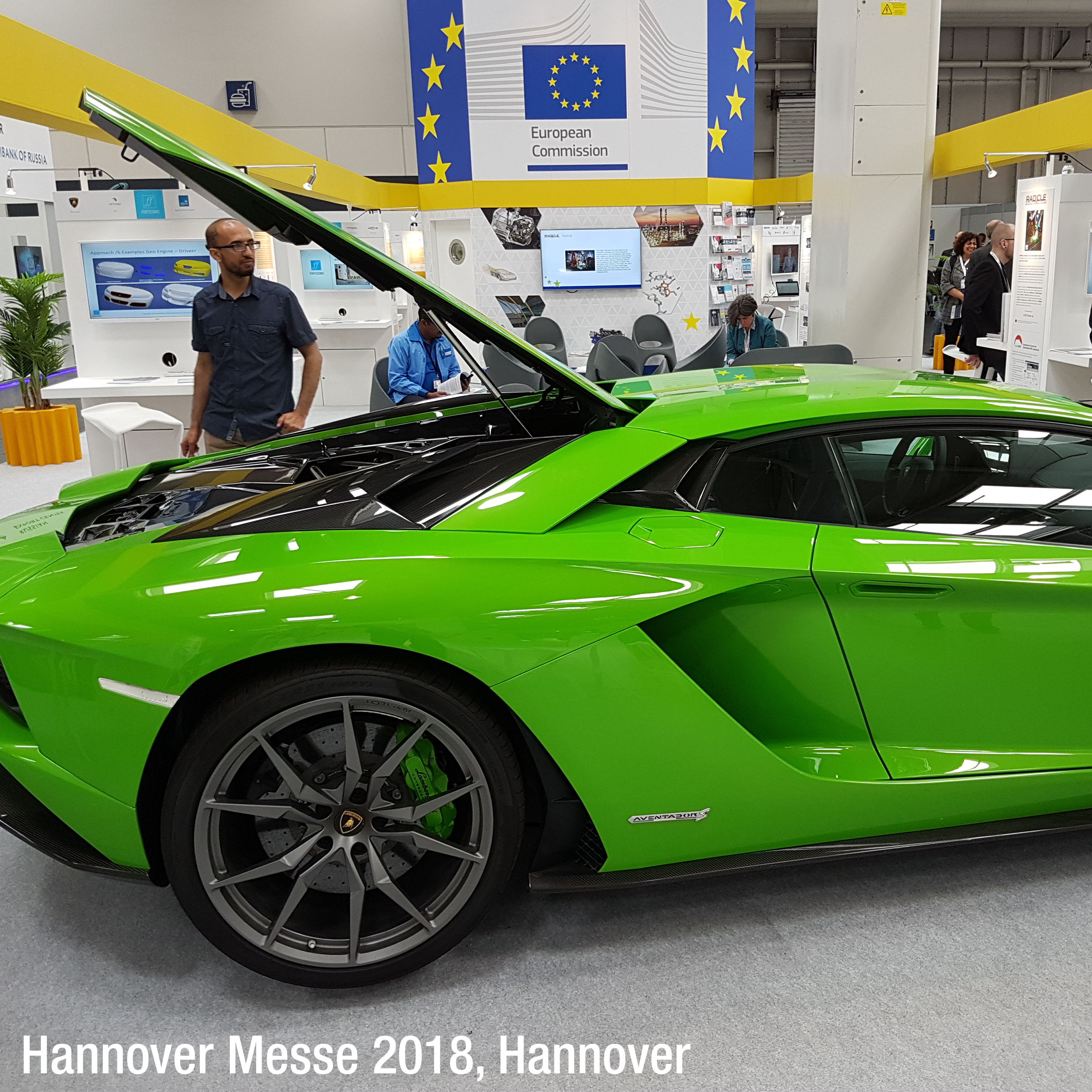 In 2013, the concept of Industrie 4.0 was first touted at Hannover Messe, the world's largest, and most expensive manufacturing show for exhibitors, industrial automation, and equipment. In the ensuing five years, the halls have been full of hype, everything 4.0 and grand promises of what is coming soon. Thankfully, signals from the Messe this year are aimed at delivery on a commercial scale. The Industrie 4.0 messaging spread across dozens of stands has gone, and the stand holders seem to be ready to deliver the first stage of benefits that Digital Transformation promises.
As always, the LNS Research crew were inundated with press conferences, one-to-one meetings, and surprise encounters with old acquaintances. Some things never change (like Siemens had the most prominent stand), but there did seem to be a general move to increased stand size, and space in the main Digital Transformation and automation halls was at an even higher premium than usual. Stands seemed to stay busy, past years had seen a lull by day 3, but by the time we left on Thursday (day 4), the show was still frenzied with activity.
What's Hot?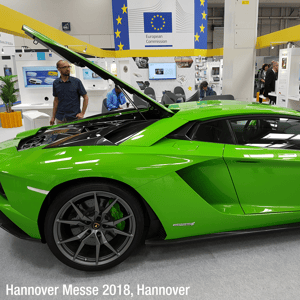 In automation and software, the hottest word was "Edge." After all the discussion of moving automation and manufacturing operations to the Cloud, a much overdue reversal is occurring as a more realistic Edge to Cloud architecture is proposed. Edge platforms, if that is not a contradiction in terms, will lead to easier connectivity to new plant sensors and devices. Enterprise computing companies such as Dell and HPE, and big Cloud vendors such as Microsoft, are touting edge to keep control of as much data as possible. Similarly, Dell is marketing an Edge application market to grow connectivity. However, it is still early days for Edge computing in the plant; we can expect to see better definitions of Edge, reference architectures, and new applications, especially in analytics, to appear over the next year.
Industrial Internet of Things (IIoT) platform has moved from being used for experiments and trials to go live in real factories and plants. Focus in the IIoT space is also shifting away from the all-encompassing platform to the applications that run on it. Particularly in process industries, we see a significant move towards asset performance management (APM) on IIoT. This is no surprise since both data collection and analytics are key features of APM solutions.
One area of technology that many manufacturers have been waiting for is Time Sensitive Networking (TSN), a networking layer on Ethernet. TSN guarantees delivery of messages in known time, a critical requirement in high-speed manufacturing control that allows protocols such as IP and Profibus to run in time-critical applications. Many vendors, strongly led by Cisco, have joined a standards body for TSN and OPC Unified Architecture (a connection protocol). Many vendors are also offering TSN in real applications.
Unsurprisingly, security was a big subject everywhere. We did not see enough of real differentiated industrial security as opposed to IT security but vendors, big and small, have it on their radar.
Somewhat to our surprise, manufacturing operations management (MOM) was also warm. There were many small specialist MOM vendors with their stands. Talking with a few of them, an exciting trend was revealed, a continuing move to specialized industries rather than trying to compete with the big players in the general MOM space.
A Quick Look at a Few Exhibitors
We had discussions with many vendors at the Messe. Here we make a few comments about a handful of them. Apologies to all those we fail to mention that were kind enough to talk with us.
We start with a small MOM supplier, Critical Manufacturing, based out of Portugal and experts in semiconductors and electronics. Like many MOM suppliers, they have gone after opportunities when they arise, especially in Portuguese speaking countries. However, they have now refocused on what they know best and can compete with everyone in these specialized spaces. Another, slightly larger, MOM supplier, MPDV from Germany has recently expanded into new markets, especially the US, and is slowly moving away from project delivery from MPDV itself to a partial delivery partner approach.
At the other end of the automation scale, Siemens showed, as always, its entire automation portfolio from its main stand of 4000 sq. meter. The main display for digital factory concentrated on aerospace and defense (A&D), from ideation to finished product with a considerable focus on the Digital Twin and additive manufacturing (AKA 3D printing). Across the stand, the marketing drive was to implement Siemens' IIoT platform, MindSphere, now. Siemens also held a two-day additive manufacturing session for analysts and press. They are betting on additive manufacturing as a future growth area for all their manufacturing solutions. Siemens does not do the printing but provides a complete lifecycle of applications to support it.
Microsoft had a large stand filled with partners using its Cloud platform and tools. It is worth watching the advancement of its industrial apps, time series capabilities, and Edge computing; there is likely to be considerable overlap with its partners' offerings. Nevertheless, Microsoft is making a massive commitment to manufacturing and Azure will be used extensively in manufacturing Clouds.
At Schneider Electric's press conference, there was a strong emphasis on industry and the new AVEVA, now a separate but 60% owned, company to Schneider Electric. We heard from the new AVEVA CEO, Craig Hayman, and have the impression that he will be a great guardian of a diverse set of industrial software assets that have grown from many acquisitions over decades. With a suite from process design to operations and maintenance, AVEVA will be a significant competitor in the process industries. We expect the lower end Wonderware business to flourish as well in the new environment.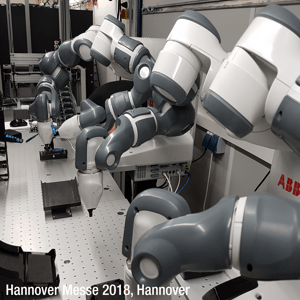 SAP also had a large stand with a focus on the Digital Manufacturing Cloud into which they will take the traditional manufacturing execution (ME) and manufacturing integration intelligence (MII) components, some of their older capabilities in the process industries (e.g., PP/PI) and complex discrete, which SAP sees as a growth opportunity for them. With product lifecycle management (PLM) capabilities, SAP can also address the engineering side of manufacturing and Digital Twin concepts.
Rockwell Automation had a substantial presence on both Cisco and Microsoft stands, showing their long-standing networking partnership with Cisco and their commitment to Azure as an IIoT platform. The message on both stands was the connected enterprise, with IIOT, security, TSN, and mobility.
At the white ABB stand, we saw two interesting developments (and a nice BMW i8), connected robots for global performance analytics and, most interestingly, a small relaunch of their MOM capabilities.
Takeaways
Hannover Messe may be the largest industrial show on earth; it is also an essential meeting place for manufacturing executives and vendors. Almost all the people we talked with, remarked about the high quality of engagements they had at the Messe. But it is imperative to be in the right place to get sufficient foot traffic and to have something to attract people to your stand. The difference between the empty and the packed stands was very noticeable. There is no question that Hannover is the place to be in April for anyone related to manufacturing automation. A lack of presence is noticed as much as those that are there.
The most significant takeaway for many this year is that the industry is in great shape and people are doing business rather than talking about the next great thing. IIoT, Edge to Cloud, and analytics are all growth opportunities for vendors and key technologies for manufacturers to gain an advantage, but today the drive is for better information, Operational Excellence, and generally preparing for the future. This is one reason why we see so much activity in manufacturing operations – without the data and business processes in place, Digital Transformation will remain a dream.