LNS Research has been at the forefront of research on the Industrial Internet of Things (IIoT) and the technologies' impact on Industrial Transformation (IX). We all were the first to define the term. We were the first to define an IIoT Platform. With market changes and technology advances we have become convinced manufacturers should be looking beyond IIoT Platforms to a comprehensive view of an IX Reference Architectures. A recent LNS Research Spotlight details our thinking. This blog post focuses on one piece of that Spotlight: what is an IX Reference Architecture?
The Challenge and the Change
The business challenge remains the same. Today most manufacturing companies have a legacy of information and automation technology solutions that have been implemented over several decades. Most of these solutions are built on a mix of open and proprietary communication protocols that were the industry standard at the time of their development. Given these systems do not easily interoperate with one another, the communication sticking point becomes a significant roadblock to realize Industrial IoT capabilities; creating the need for a systems that can integrate the information from these legacy systems and provide powerful insights to drive step change improvement.
IIoT Platforms were the first generation of solutions aimed at to meet challenge. But the market has matured and fragmented. Technical solutions have evolved. LNS now believes that manufacturers need to look at the process of Solution Selection in and around IIoT differently. This technology space is not like Financials, for example, that is well defined, consistently structured by external forces such as stock markets and governmental authorities and, therefore, relatively uniform. In Financials, industrials are selecting across types of apples. IIoT is a selection between apples and salsa: they both have (some) nutritional value but very different tastes and uses. Instead of seeking to purchase and deploy an IIoT platform, industrials must implement an Industrial Transformation (IX) solution built with a combination of vendors' technologies which may include an IIoT Platform within that architecture. To assist companies in defining their IX solution, LNS Research has developed the IX Reference Architecture. Let's step up from IIoT to IX.
IX Reference Architecture Defined
The LNS Reference Architecture is a future-looking framework that categorizes the technology capabilities needed to deliver on all 6 sets of use cases LNS has found around IX: Smart Connected Operations, Smart Connected Assets, Smart Connected Products, Smart Connected Supply Chains, Smart Customer Experiences and the Smart Connected Workers.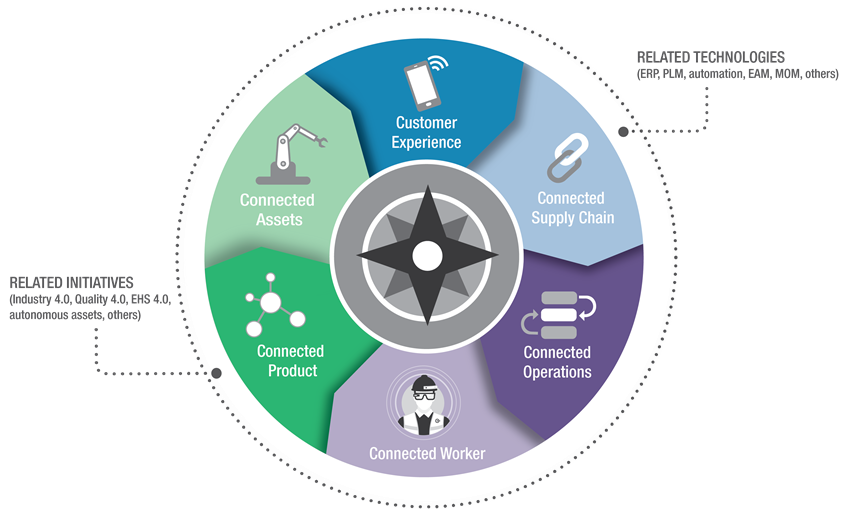 LNS Research sees six main buckets of capabilities that are critical in enabling manufacturers to capture the true value of new Digital Technologies and transform their industrial operations. Research indicates that multiple vendors will be required to deliver all 6 sets of capabilities.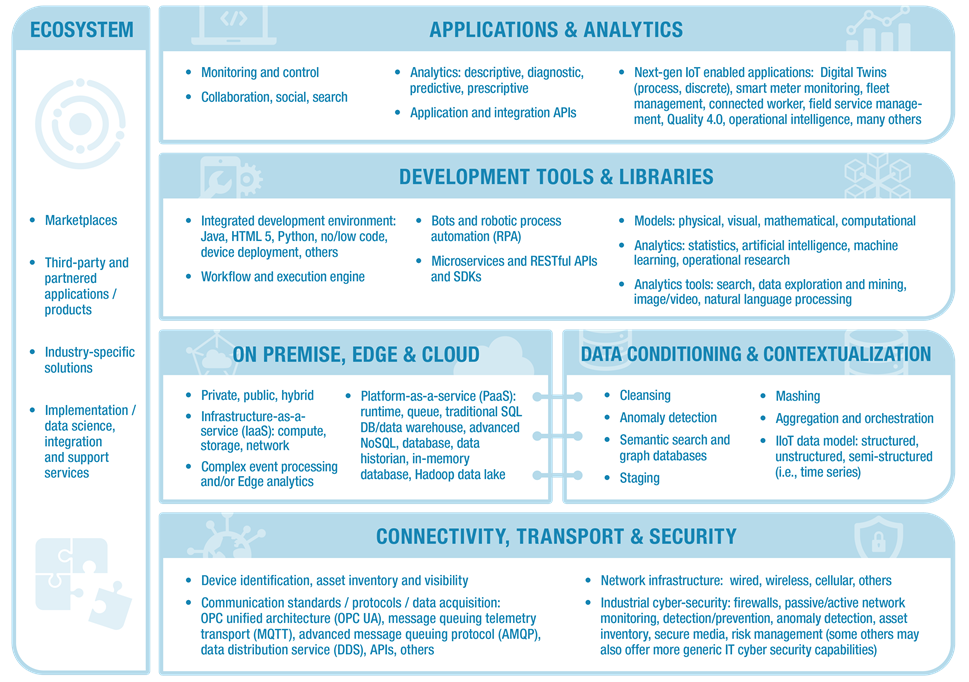 1. Connectivity, Transport, and Security
This layer includes:
All necessary hardware and software to connect to and network devices, equipment, and leverage sensors.
Support for the existing and emerging standards for integrating machines, clouds, and applications.
Capabilities to move data to the appropriate application, domain (edge, premise, cloud), or user. One of the key differentiators of IIoT is the ability to break the ethernet limitation: IIoT leverages a wide range of alternative networks including wired, wireless, and other lower power alternatives. LNS Research believes the widescale deployment of 5G telecommunications will be a key accelerant for IIoT.
The technology for quickly and efficiently identifying and managing devices and triggering events.
Industrial cybersecurity capabilities focused on device and operational security that are foundational to the whole IIoT solution space (in addition, many vendors also offer more typical IT cybersecurity capabilities focused on data security as well.)
In many ways, the fundamental concepts of IoT and IX are really around this layer. It is the increasing ability to cost-effectively connect to things/devices/equipment in ways that were previously impossible or too costly that offers the potential to leverage them in smart-connected ways.
2. Data Conditioning and Contextualization:
The days of thinking that moving everything to a data lake and finding sudden, magical answers are over. Early products and projects found that data without context is of marginal operational value. In addition, IX Leaders regularly report that data clean-up is often as much as 80% of the total workload of their IX initiatives. Increasingly vendors and implementers are focused on the sources, quality, and manipulation of industrial data. Vendors now offer products and services to clean (eliminating spurious and anomalous data), ingest, stage, aggregate, and orchestrate operational data.
A key and defining capability within the IX Reference Architecture is to go beyond structured data from an SQL database (such as financial or inventory levels) to also leverage unstructured (video, social) and semi-structured (most importantly, time series) data. The goal is to unify all this data into an IIoT data model (today, primarily around assets only). Given that operational insights are a core benefit of IIoT Platforms, these capabilities are critical.
3. On-Premise, Edge, and Cloud:
This bucket of capabilities includes the various Clouds across an enterprise to implement computing and storage capabilities wherever they are most needed—at the Edge, within the plant, at the enterprise, or outside the firewall. While the early discussion of IIoT was focused almost exclusively on the Cloud, practical realities and technology innovation, have driven conversation to embrace the Edge and even on-premise (plant-wide) deployments. In early 2020 the most momentum is around the Edge. Increasingly, vendor offerings allow users to deploy any functionality wherever they need or want it.
Core to understanding IIoT offerings is to recognize the scope of their Cloud offering (whether delivered directly or via a Cloud partners such as Microsoft Azure or Amazon AWS). To enable an IIoT application, a vendor directly or with a Cloud partner(s) must deliver the core Infrastructure as a Service (IaaS) capability that provides virtualized computing resources (network, servers, data centers, storage, back-up, load-balancing, security, etc.) over the internet.
To deliver on the vision of an IIoT Platform, vendors directly or with their Cloud partner(s) also need to provide Platform as a Service (PaaS). IaaS delivers an IT computing infrastructure over the internet. PaaS goes beyond to provide application hosting for the development environment inherent in the IIoT Platform. As a result, PaaS platforms offers compute and storage infrastructure, text editing, version management, compiling (if required) and testing services to help developers/enablers create new mashup applications quickly and efficiently. PaaS also enables development/enablement teams to collaborate and work together regardless of their physical location.
4. Development Tools and Libraries:
This layer includes the needed tools for quickly and easily creating new mashup software applications that leverage all other areas of the IIoT Platform as well as quickly and easily moving existing legacy applications on top of the platform. Whether these are "development" or "enablement" tools is a matter of semantics. Most vendors are seeking to enable less technical users to create these mashup software applications and are promoting "low code" or "no code" capabilities, yet sophisticated applications typically require sophisticated understanding of IT/OT systems and programming and/or data science. The goal of the development here is to define and enable the execution of workflows, bots, or robotic process automation upon findings from earlier data.
There is a distinction within the vendor offerings as to the scope of the mashup software applications that are enabled: all or most provide the ability to create analytics applications focused on monitoring data streams (asset monitoring, for example). Some offers go beyond monitoring to enable control applications (the ability to shut down or slow an asset based on those findings, for example).
This layer also includes the use of a broad set of statistical and optimization tools to monitor and analyze both structured and unstructured data for enabling unprecedented insights. This would include capabilities that are often described (rightly and wrongly) as Artificial Intelligence and/or Machine Learning. Typically included would be the following types of Analytics: statistics based, Artificial Intelligence/Machine Learning, 1st principles/physical, and operational research/applied mathematics. They would leverage Models such as physical, visual (2D or 3D), mathematical, and computational. In addition, an IIoT Platform includes a large set of these types of Analytics Tools: search, data exploration/mining, image/video, and natural language processing.
5. Applications and Analytics:
One of the most pronounced trends is the strategic repositioning of several vendors from platform/toolkit to application providers as discussed above. The driving force is simple: industrial organizations are typically looking for business improvement rather than technology toolkits. Increasingly vendors are offering packaged applications to solve specific operational challenges (Remote Asset Monitoring, Smart Utility Networks, Quality, Connected Worker, Device Deployment, Production Monitoring, etc.). These applications may be the exclusive offering of the vendor and/or part of an offering that also includes the development environment.
As noted above, there is a distinction between monitoring and control, with many vendors focused only on monitoring/analytics applications. In analytics LNS sees the applications ranging the full spectrum: from Descriptive, to Diagnostic and then toward Predictive and, Prescriptive analytics and increasingly towards Prognostic.
One of the most potentially impactful mashup applications that can be delivered via an IIoT Platform is Digital Twins. LNS Research has written about the use of Digital Twins in discrete and Digital Twins for plant and process primarily for the process and batch industries. As of early 2020, there are few, if any, out-of-the-box Digital Twin applications available.
Digital Twins demonstrate why LNS believes the focus for manufacturers must be on Industrial Transformation Reference Architecture: many traditional Operational Technology (OT) vendors are delivering strong solutions around Digital Twin without creating a whole new technology platform. The PLM/Design vendors are creating powerful "prenatal" Digital Twins with their strong simulation tools: models that reflect virtually the product/plant precisely to accelerate development, construction/manufacturing, and operational preparedness. The APM, MRO, and even some MOM vendors are delivering strong solutions around the "postnatal" Digital twins: as-built and as-maintained models that allow optimization of design, repair, and manufacturing.
6. Ecosystems:
Beyond the capabilities and applications of the IIoT platform, vendors are now working hard to establish ecosystems around their product platform. Some companies are pursuing a model like the Apple iPhone: seeking independent application providers to write business applications using their platforms. Vendors hope that this will speed functionality to market and allow them to gain market share indirectly. Some companies are going so far as to build virtual marketplaces to enable commerce around these applications. Others are aligning partners to deliver components of the platform, services or industry-specific functionality.
As you might expect, no one vendor is best class in all these areas yet. Many vendors have begun to specialize in delivering parts of the solution. Several companies have strategically repositioned themselves around Connectivity or Transport for example.
Recommendations to Survive the Changing Environment
LNS Research sees a real shake-up coming to the IIoT landscape and the need to look at the bigger picture of IX. There is no need for 600 different IIoT platforms or even ten. As companies continue to reposition, there will be accelerated M&A in the IIoT space with the collapse of the less committed, more poorly funded initiatives. And to really empower IX, companies need to look at a bigger picture of the full IX technical landscape highlighted in the IX Reference Architecture. In this environment, what is an industrial organization to do? LNS Research has five recommendations:
Deploy IIoT yes, but also look across your full IX Architecture | Most industrial enterprises should consider the deployment of IIoT technologies in pursuit of Continuous Improvement and Industrial Transformation (IX) Initiatives. In our IX Readiness Research we found "Industrial Transformation Leaders" – those succeeding in their transformation program – were 44% more likely to deploy IIoT technologies as a part of their program than the "Followers." Look forward to LNS Research defining, renaming and evaluating IIoT Platform technologies in 2020.

Industrial Transformation is not being driven by IIoT alone. IX Leaders are significantly more likely to also be deploying 12 of 13 other technologies we queried. They are implementing bleeding edge technologies and more mundane systems to fill in system gaps and to rearchitect business processes. IIoT is part of the answer based on our research, but it is only part of the answer -- which is why we have developed the IX Reference Architecture.


Monitor the Market | Organizations should actively pursue IX and IIoT initiatives fully understanding that this is a mega, long term trend with significant vendor change likely in the future. Leading manufacturers will be those that can implement next generation technologies in the near term while understanding the change in direction/vendors may be required as suppliers deliver dramatic new capabilities over time. Therefore, continual market monitoring mechanisms need to be put in place by organizations to leverage this exciting opportunity fully.


Build for Smart Connected Products | The priority in IX for discrete manufacturers should be to redefine products and transform customer experiences. Evaluating the potential of IIoT to enable Smart Connected Products in your market is imperative; you want to be the disruptor, not the disrupted. Data is the focus - what data do your design engineers need to fuel disruptive or transformative ideas? How can new Digital technologies deliver that data to the design engineers today and into the future? Smart Connected Products should be viewed as a long-term initiative in which new capabilities will define and evolve to ultimately change the customer experience.


Leverage your Suppliers | Remember what is good for the goose is good for the gander: be sure to push your key equipment suppliers to build IIoT capabilities within their products to help accelerate your Smart Connected Assets and Operations initiatives. This is especially true in asset-intensive industries such as oil & gas, chemicals, mining, and automotive assembly. You may be able to gain most of the advantages of IIoT without deploying it yourselves directly into your operations.


Continue to monitor the market | The market is changing rapidly. Technologies are evolving even faster. IX Leaders are showing the value and IX Exemplars are emerging to show the way. Long term winners will be those manufacturers that have the best mechanisms to monitor and adapt to change. Stay tuned to LNS as we continue to define, research and evangelize IX.
Categories: Solution Vendor / Software Vendor, Industrial Internet of Things (IIoT), Industrial Transformation / Digital Transformation