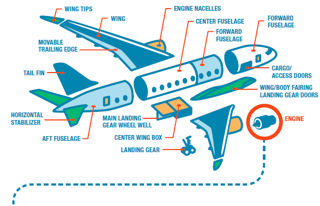 In this weekly Roundup, LNS Research explores recent announcements and events, such as Industry Day hosted by ExxonMobil and Open Group; Joy Global gets acquired by Komatsu; Boeing moves its analytics to Microsoft Azure to further enable the IoT; and a public-private partnership is formed to help the workforce in digital manufacturing.
Joy Global Get Acquired by Komatsu for $3.7B
As the demand for mining equipment has been in decline for quite a few years now, market consolidation becomes a necessity for survival. To that end, this week Komatsu announced its $3.7B acquisition of Joy Global. Additional incentive for making this deal is the strong yen, which has made acquisitions in US based companies more attractive.
Synergies exist with the new combined company, although both produce a variety of surface mining equipment, the opportunity for Komatsu is Joy Global's offerings in underground. Both companies offer strong offerings in the area of Smart Connected Assets, providing the ability to remote monitor equipment and package it with Service Offerings to keep equipment downtime at a minimum.
ExxonMobil & Open Group: Industry Day
The Open Group is an established end-user driven organization that drives architectural and IT standards to foster frictionless communication within and between businesses. ExxonMobil previously announced its intent to formulate a new open control systems platform and has engaged with the Open Group to facilitate that effort. On June 27th there was a workshop held in Houston to socialize this effort among end user companies. A common theme to be noticed on June 27 was interoperability and open systems amongst numerous industries. The day was dedicated to discussion of a proposal for a standards-based, open, secure, and interoperable process control architecture. The push behind the proposal is the would enable automation technology through a collaborative system of users, integrators, suppliers and more. Commenting on this architectural reformation is LNS Research Principal Analyst, Dan Miklovic.
"LNS sees this as yet another proof point that the Industrial Internet of Things (IIoT) is changing the face of plant control systems and the hierarchical model of distributed control today is going to evolve to leverage the peer-to-peer nature of the IIoT." Click here to read more on this.
Boeing Moves Analytics to Microsoft Azure
Boeing announced it will be moving a large portion of its commercial aviation analytics software products to the Microsoft Azure platform. Both organizations hope to "accelerate innovations in areas such as predictive maintenance and flight optimization." Big Data Analytics continues to drive the movement to Cloud says LNS Principal Analyst & President Matt Lttlefield.
Boeing Digital Aviation, Vice President, Kevin Crowley commented on the relationship with Microsoft by saying Boeing is teaming up with Microsoft to accelerate Digital Transformationof aviation through the use of analytics, Cloud, and large scale integration. Microsoft also commented on the relationship in a blog post, starting that it hopes to further collaborate the use of IoT and artificial intelligence (AI); "The digital airline will enable further integration between humans and machines, leveraging artificial intelligence to streamline business operations while enabling airline operations to be more efficient, competitive, and attractive to consumers. To read more on the collaboration click here.
The combined company will stand to benefit from a broad portfolio of offerings for both surface and underground mining, allowing it to be price competitive in a mining industry that is languishing at the moment, but poised for growth in the longer term. To read more about this acquisition click here.
Public-Private Partnership to Help Boost the Workforce in Digital Manufacturing
As advanced manufacturing and Digital Transformation gains momentum, most manufacturers aren't adequately prepared with technologies and expertise to take advantage of the opportunities. Solution providers are working diligently to innovate and satisfy technology needs. Many industrial companies are worried about where they're going to find people with the right skills in manufacturing and design to run things.
With its newly formed partnership, The Digital Manufacturing and Design Innovation Institute (DMDII) in Chicago and ManpowerGroup, a global workforce solutions group, have collaborated to engage U.S. manufacturing firms, research universities, and technical colleges, to define and map the roles and skills required by companies for advanced digital manufacturing.
Companies like Lockheed Martin, Siemens, GE and others, along with government experts and certification agencies are already working to identify roles that will be needed for digital manufacturing and develop a framework to understand and describe them. To read the full story on the partnership click here.
Categories: Manufacturing Operations Management (MOM), Industrial Internet of Things (IIoT), Industrial Transformation / Digital Transformation, Asset Performance Management (APM)