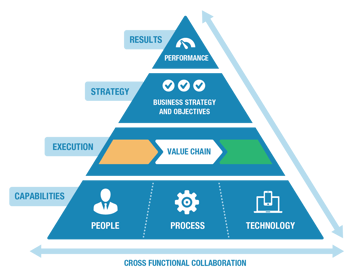 The #MondayMusings, Industrial Transformation blog series provides insight and analysis for executives from the previous week's briefings, events, and publications @LNSResearch.
Click here to speak with Peter Bussey
Economists are trained professionals paid to make incorrect guesses about the economy. For everyone else, making predictions is a risky business. That's why I hedged my bets; the post about what's ahead in 2017 for the EHS management software space was entitled, "Trends and Impacts to Watch." Regardless of expression, we already see evidence of two:
Large EHS software vendors acquiring smaller, specialized players to build out a more comprehensive portfolio

Further specialization of solution offerings as a means of competitive differentiation
Recent developments illustrate these predictions about EHS software vendors expanding portfolios to meet a wider range of specialized requirements across the value chain.
Medgate's Strategic Acquisitions to Expand Solution Portfolio
Medgate is a well-established player in the EHS software arena, with strong roots in occupational health and safety. Over a two-week period, the company announced two significant acquisitions of smaller, specialized technology vendors. First, Medgate bought out regAction to add industrial-strength environmental compliance and reporting functionality to its portfolio, significantly rounding out EHS capabilities. IQS quickly followed, which added the entirely new dimension of enterprise quality management
With the transactions Medgate accomplished two key objectives: 1) offer customers a comprehensive EHS solution set, to include environmental emissions management and reporting; and 2) expand offering beyond EHS to other business process areas, namely quality management. The net effect is that Medgate quickly distanced itself from the pack by joining a selective club of "EHSQ" vendors.
Medgate's approach is consistent with and supportive of two overarching trends we see in manufacturing and the industrial space. First is the movement toward integrating EHS into Operational Excellence initiatives such as Lean. The other is integrating management systems across EHS, quality, risk, etc. With the strategic acquisitions of regAction and IQS, Medgate can now support customers with a wider range of related solutions in line with these trends.
Sphera Invests to Deliver Specialized Product Safety Solutions
Product-related compliance obligations comprise a major part of a manufacturer's EHS and sustainability concerns. Meeting requirements for product safety and compliance is hard. The effort is governed by a complex set of global regulations, is data intensive, and must be managed across extended supply chains. Getting it wrong can be extremely costly in terms of market share, recalls, and damage to brand reputation.
A recent announcement by Sphera illustrates how EHS software vendors differentiate themselves with increasingly specialized offerings. Sphera is a significant player in the EHS software space; it was formed from the spinoff of assets from I H S. The company markets solutions in theme of operational excellence, including operational risk management, environmental performance, and product stewardship. It's a diverse software portfolio that stems from the acquisition of multiple software vendors by its predecessor company.
The firm enhanced its product safety offering with the release of a new solution to help companies comply with the forthcoming 2018 European Substance Volume Tracking (SVT) requirements under the European Union's long-standing Registration, Evaluation, Authorization, and Restriction of Chemicals (REACH) regulations. The new regs make substance tracking and reporting requirements much more onerous.
By meeting SVT requirements within a broader set of product safety solutions, Sphera differentiates itself from the competition. Not many diversified EHS software vendors have "heavy-duty" product safety and compliance solutions to manage such complex requirements. Now Sphera offers a broader suite of applications in the EHS and sustainability realm. The company also meets industry-specific requirements, in that the REACH requirements place the greatest burden on chemical producers and manufacturers using chemicals in their products. Sphera even further specializes in that it delivers necessary content as part of the solution, extending the "one-stop shop" approach.
The Race Continues, But Is Bigger Better?
We've written before about the notion of the "EHS Arms Race" ― a group of well-resourced EHS software vendors jockeying to be among the market leaders. Granted, no company can be all things to all potential customers. However, a key strategy they use is to offer broad solution sets to address a wider range of related requirements. This applies to EHS, risk, sustainability management, and adjacent, complementary business areas such as quality management.
With their recent announcements, Medgate and Sphera exemplify this trend: Medgate by covering the EHSQ waterfront through acquisition, and Sphera by building solutions to meet specialized product safety requirements beyond the standard set of operational EHS management solutions. It's clear that technology companies are making investments to build out broader, deeper solution portfolios.
The key question is to what extent does this benefit the customer? Having access to a wide solution portfolio from a single vendor doesn't necessarily translate to business value for the end-user. There may be certain commercial advantages in dealing with fewer vendors. But how does a broad portfolio help improve EHS and operational performance?
To a large degree, it depends on how much the various business process/functional areas should be integrated, e.g. health and safety, operational risk management, environmental management, product safety, and quality. While there is some business value in integrating these management systems and the enabling technology, the devil is in the detail. Where does it make sense to share common data and workflows? It varies by industry and individual company.
The second key consideration is to what extent a solution provider truly offers an integrated solution. How much will the vendor integrate an acquired code base into the core product? How much business value does it create by integrating these, and to what degree does the vendor provide an integrated solution to support that scenario?
Overall, the broad solution footprint approach makes a lot of sense. But customers shopping for technology solutions should weigh all of these questions carefully. It might make more sense to use Vendor A for EHS management in operations, Vendor B for quality management, and Vendor C for product safety and compliance. Or perhaps Vendor D for all three.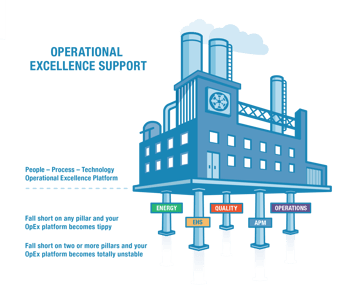 Fortunately, methodologies and tools are available to help answer these questions. For example, a large aerospace and defence company used the LNS Research Operational Architecture model and the operating model from MIT's Center for Information Systems Research (CISR) to formalize how best of breed versus standardization decisions are made.
When it comes to EHS software, the appropriate approach will depend largely on how the challengers in the EHS Arms Race integrate and package their assorted solutions, and the resulting value proposition for targeted market segments.
Categories: Enterprise Quality Management System (EQMS), #MondayMusings, Environment, Health and Safety (EHS)