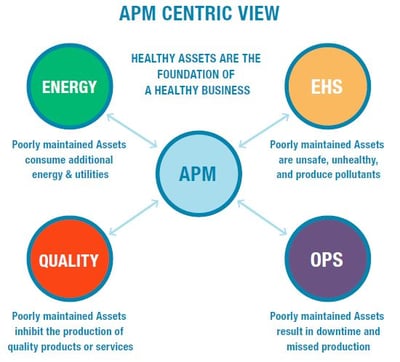 The more asset intensive the industry, typically the more disastrous unplanned downtime can prove in meeting production goals, customer expectations, finances, etc. The predictive and reliability centered maintenance being leveraged by leading companies is designed to eliminate this unplanned downtime before it occurs, and is a vital component of Asset Performance Management (APM) strategy.
But what happens if unplanned downtime does occur? It's critical that maintenance professionals are able to make necessary adjustments and repairs in short order to regain asset productivity.
In this case, the last thing desired is for a business to not have the needed part or material on-hand and be delayed in acquiring it, though this sometimes occurs with asset intensive industries looking to operate with a lean inventory mindset, and why maintenance, repair, and overhaul (MRO) inventory management is so important.
It's not uncommon for equipment to be replaced or upgraded as technology advances. Planned obsolescence can also be a factor as OEMs periodically phase out older equipment that may be costly or difficult to support. Over time if not well managed, the spare parts on hand may become at odds with the present installed equipment, with businesses lacking necessary spare parts or, in some cases, having spare part on hand for equipment they no longer even use.
In order to help maintenance professionals optimize MRO Inventory management and all other aspects of their APM strategy, LNS Research has released its Asset Performance Management Solution Selection Guide. The guide evaluates and compares 20 of the top APM solution providers in the space by the factors that matter most to those considering an implementation, such as geographies served, functionalities delivered, platforms supported, and others. We've been highlighting a difference vendor from the guide on the blog periodically, and this week we're looking at Oniqua.
Oniqua Analytics Solution Capabilities
Headquartered in Brisbane, Australia, Oniqua is a specialist provider of APM Solutions focused particularly on MRO inventory analytics and optimization as well as optimization for maintenance and procurement. The company was founded in 1990 and acquired by the ASCO Group (Oil & Gas services company) in 2012. Oniqua has a globally dispersed workforce of more than 50 employees located in office in Australia, South Africa, Chile the U.K. and the U.S. Its users are in over 30 countries and have more than $12 billion worth of spares, materials and assets under management.
Originally rooted in the mining industry, Oniqua has expanded to serve most asset intensive industries, such as Chemicals, Industrial Equipment, Metals, Public Transport and Infrastructure, and Paper & Forest Products.
The company's core product is Oniqua Analytics Solution (OAS), available either as on-premise software or by a subscription based service, offering three tiers of capabilities.
Oniqua also provides extensive consulting on both the implementation of its own products and also on general MRO data issues, including:
Catalog Master Data standardization/cleansing

Bill of Materials development

Procurement analysis

Custom consulting related to inventory management and supplier relationship management and procurement practices

Training on the above topics
We believe that any industry focused on achieving Operational Excellence with a significant reliance on assets needs to include MRO Inventory optimization within its APM capabilities. Oniqua was one of the first companies to address this space and one of the more established today, warranting consideration from organizations looking to improve in this area.
Learn More About MRO Inventory Optimization as well as Details on Oniqua and 19 Other APM Providers
The LNS Research APM Solution Selection Guide dives deep into 20 prominent APM solution providers by key criteria such as industries served, established and growing strengths, solution delivery models, geographies served, new developments, and other considerations for APM professionals considering implementing APM software.
---
All entries in this Industrial Transformation blog represent the opinions of the authors based on their industry experience and their view of the information collected using the methods described in our Research Integrity. All product and company names are trademarks™ or registered® trademarks of their respective holders. Use of them does not imply any affiliation with or endorsement by them.