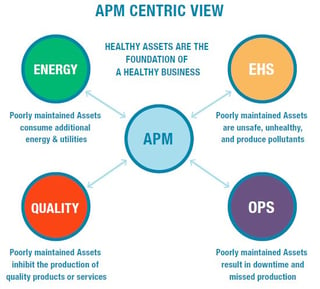 As research data has continued to pour in through our Asset Performance Management (APM) it's become abundantly clear that organizations have some priorities that are rising to the top. chief among them being obtaining better operational performance. This dominates the question about strategic APM objectives (by 51% to the next most popular answer choice, increasing production capacity and capability, at 11%).
Companies approach this in different ways; sometimes through management consulting and purely people and processes related improvements, but more frequently through some form of Operational Excellence initiative that seeks to properly align and optimize an organization's people, process, and technology resources.
In an effort to educate reliability and maintenance professionals on the technology component of improving APM performance, LNS Research has released its Asset Performance Management Solution Selection Guide, which details 20 top vendors in the APM space by key criteria that anyone tasked with evaluating or selecting an APM solution should know in order to narrow down to a short list.
As we've been highlighting a different vendor from this guide over the past several weeks, we continue today with Maintenance Assistant.
An Overview of Maintenance Assistant and its APM Strategies and Strengths
Headquartered in Toronto, Canada, and formed in 2008 Maintenance Assistant provides a Cloud-based maintenance and asset management software platform that directly targets both the enterprise and mid-market, specifically a toward IT, manufacturing, food and beverage, and energy and utilities sectors. The company offers a turnkey Platform as a Service (PaaS) model to affiliated resellers, MRO vendors, and white label partners.
Fast growing in financial, functional, and interoperability growth, Maintenance Assistant's Cloud-based maintenance and asset management product, MA, is available for platforms that range from desktop to mobile devices. MA supports:
Work orders

PM

Rotable assets

MRO Inventory Management

Multi-site implementations

Reporting

Machine monitoring I/F

API Connections to equipment and other applications
A key area that poises Maintenance Assistant for growth is in MA Source™, an MRO marketplace for typical MRO stock item purchases, which is a multi-tenant, Cloud-based offering. As Principal Analyst Dan Miklovic has mentioned in the past, on top of the flexibility that Cloud offers in accessing data and facilitating decision making, as the Cloud model evolves a key value that's emerging for manufacturers to take advantage of is in benchmarking—wherein their data is anonymized among other clients to allow for a view into performance against industry. As the subscriber base grows in this scenario so too does the potential value for manufacturers in benchmarking KPIs.
Maintenance Assistant is available in several languages, including English, French, Spanish, Portuguese, German, Dutch, Turkish, Arabic, Korean, and Chinese. The software is notable for its very affordable pricing model and weekly updates to integrate access and the latest features and functions across users, making it a good option for companies looking for an entry-level Enterprise Asset Management (EAM) or Cloud-based CMMS.
Access the Full APM Solution Selection Guide
The LNS Research Asset Performance Management Solution Selection Guide dives deeper into the capabilities and considerations of Maintenance Assistant as well as 19 other APM providers by key criteria such as company sizes served, applicable geographies, solution delivery models, industry strengths, and more.
---
All entries in this Industrial Transformation blog represent the opinions of the authors based on their industry experience and their view of the information collected using the methods described in our Research Integrity. All product and company names are trademarks™ or registered® trademarks of their respective holders. Use of them does not imply any affiliation with or endorsement by them.