A few weeks ago, I attended PowerPlex, Plex Systems' (Plex) annual user conference. The event was held in the heart of Detroit, fitting given Plex's strong presence in the automotive supply chain and discrete manufacturing. The PowerPlex event continued to grow this year, reflecting Plex's strong year-over year growth in users (expanded usage in 294 existing customers) and customers (65 new customers). The strength of the Plex platform is a vital growth enabler and differentiator. The platform delivered 1.7 T transactions, 779M web service calls, and 99.9998% uptime in 2017, all with better than 500ms response rate on its multitenant Cloud platform.
Click here to speak with Dan Jacob.
Scalable Satisfaction
Lots of numbers, but all adding up to a robust technology stack and for the most part a remarkably positive and vibrant user community. In 2017, Plex invested to enhance this positive community by documenting and instrumenting the customer experience. Insights from this work led to improvements in release management, global support, and earlier engagement of customer success personnel in service engagements. Interestingly, customer satisfaction is now a key performance indicator (KPI) for every Plex employee, incentivizing this crucial initiative. LNS sees these steps as important to Plex, particularly as it increases its growth trajectory and must scale the replication of customer success.
Plex Tech: A Year (mostly) in Review
Plex showcased many technical accomplishments over the past year. These included the release of a new Human Capital Management module, support for attribute-based production scheduling, just in time/just in sequence (JIT/JIS) manufacturing and shipping, and loT inheritance (e.g., setting the expiration date of a finished good based on batch ingredients). Plex's new user experience, aptly named Plex UX, is being deployed at new customers, and transition from Plex Classic to Plex UX is proceeding at existing customers, albeit slowly. Enhancements to the Plex UX administration, planned for late 2018, should accelerate this migration. Plex also sees a growing interest in mobile and augmented reality (AR) on the shop floor and plans to launch its Plex Mobile native app in July 2018. Plex Mobile will interface with device features like location, phone, camera, and vibration to put data into the proper context for operators, boosting efficiency.
Plex has had plans to move upmarket for several years. Although much of its customer base is in the small and midmarket, Plex made progress upmarket in 2017 with several strategic wins. Core to this upmarket move is its two-tiered ERP strategy, where Plex intends to provide the tier 2 site-level manufacturing ERP function, connected to tier 1 ERP providers (e.g., SAP, Oracle) which support ERP at the enterprise level. The short-term roadmap includes some key functionality to better support this strategy, namely the release of enhanced APIs. Plex plans to deploy master data APIs in its summer 2018 release and transactional APIs in fall of 2018, making the connection between ERP tiers easier and more robust.
Forward-Looking Plans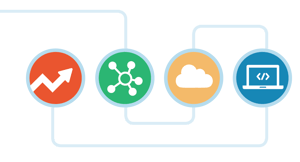 Central to Plex's forward-looking plans is its evolving Industrial Internet of Things (IIoT) strategy, which includes four elements: Industrial Automation, Advanced Analytics, Resource Optimization, and Extended Enterprise. While much of this strategy is still developing, there were several exciting highlights demonstrated at PowerPlex. First, Plex showcased its interesting work with Realwear Head Mounted Technology, a voice-activated and noise-canceling system, that Plex mated with Microsoft LUIS (Language Understanding Intelligence Services) to drive Plex hands-free in the manner of a Siri. The system has progressed since LNS last saw it in November and was a crowd-pleaser with the promise to allow access to complex tech and automation with limited competency requirements. Secondly, Plex shared the stage with potential partner PTC to highlight its work with ThingWorx and ThingWorx Kepware, a ThingWorx mashup of Plex operations and quality data.
Organization
One of the most critical changes announced at PowerPlex was that it has now deployed a strategy team under newly minted Chief Product Officer, Richard Murray. Historically, the Plex roadmap has been dominated by customer-led development, which resulted in happy customers, but has been more focused on tactical versus strategic development. This is fairly common. The new strategy team is responsible for building a longer-term view to better position Plex to realize its goals around two-tiered ERP strategy and IIoT. This team has already made substantial progress, which is encouraging. However, Plex does have a missing element, a permanent CEO. While it has a highly engaged board and ownership team, the executive search has been underway for nine months, and counting, this critical leadership element is still missing.
LNS Takeaways
Plex is making steady progress and has recently made decisions regarding its strategy team that should accelerate its plans. At many of its customers, Plex is a hub for high-value production planning, workflow, automation, and quality, connecting data and providing context to the data. This occupies a business-critical space for its manufacturing clientele. Its multi-tenant Cloud manufacturing ERP environment may be a ticket to becoming a manufacturing platform. Its several years efforts around Plex UX is winding down, which opens more development resources for other initiatives.
While all the above are positives, the question is if it can monopolize on this space quickly enough to become a meaningful IIoT player, or if its relatively slowly evolving strategy will result in it effectively ceding the market to the growing cadre of data lakes, analytics, manufacturing execution system (MES), enterprise ERP, and other players that are aggressively attacking the industrial IoT space. The next 12-18 months will be decisive for Plex. Will it continue to be a primarily mid-market and North American-centric manufacturing ERP company, with the occasional large global customer? Or will it realize its vision of becoming a viable IIoT solution and global enterprise market player? Given the attention on this space, Plex must move quickly.
Categories: Cloud, Solution Vendor / Software Vendor, Industrial Internet of Things (IIoT), #MondayMusings