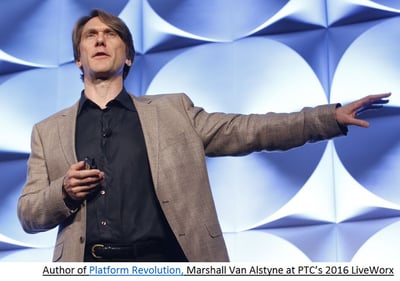 The opportunities for the Internet of Things (IoT) continue to take shape, and the value proposition is becoming clearer as industry applies the promise of platforms to improve Operational Excellence, customer service and improved quality in products.
Click here to speak with Jason
These were the main takeaways from the broad depth and breadth of presentations at PTC's LiveWorx this year. From my perspective, it was good to see the progress from as recently as last December to date, integrating companies like Vuforia and Kepware into the enterprise portfolio of solutions PTC has to offer. Here are three areas I think our readership would get the most value from this year's conference.
The Disruptive Impact of IoT
The emphasis on Industrial Internet of Things (IIoT) is often focused on the enabling technologies, but as Michael Porter, Professor, Harvard Business School, pointed out: The story isn't about IIoT, but how IIoT is enabling changes in products, what they are now capable of doing. At LNS Research this is the opportunity for Smart Connected Assets.
We define Smart Connected Assets as those assets that are used by a business to produce and deliver its goods and services that can sense and respond to internal and external environments as an intelligent agent. This means they are aware of and can react to:
Design & Configuration

Past Performance

Predicted Future Failure

Raw Material

Environmental Impact

Other factors such as customer requirements or supplier performance
These assets are more than just digital sensors connected to a control system. Smart Connected Assets allow an enterprise to move beyond real-time control to predictive control and ultimately, autonomous operation. These assets are moving us to the Digital era and are often the primary focus in organizations leading efforts in Digital Transformation.
The Platform Revolution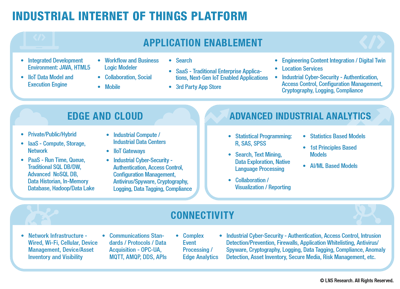 Author of Platform Revolution, Marshall Van Alstyne delivered a compelling presentation that provides the context on how open platform companies are creating transformative value and why. It was a case study on how companies like Uber, Airbnb and Amazon have been able to disrupt their markets and now are industry leaders.
The primary reason for this disruptive success are the cutting edge platforms for which they are based. This platform based approaches are changing the dynamics of company valuation. This week the platform play and its related value was on display with Microsoft's purchase of LinkedIn for $26.2B.
The platform trend is expected to usher in a new era that will continue to transform businesses for the coming decades. LNS Research is hyper focused on understanding platforms, specifically for IIoT. Our view can be seen in the below graphic. It's important to note that currently there is no one vendor approach to selecting an IIoT Platform provider, it will require and ecosystem of partners to provide a full complement of capability. More importantly, and confirmed by Marshall Van Alystyne, the successful providers of the enabling technologies should be open.
Leveling the Playing Field by Transforming Service
A progressing opportunity in the Asset Performance Management (APM) space is business model transformation. By enabling legacy assets with additional sensors and selling already Smart & Connected assets to customers, manufacturer's and distributor's now have the ability to package Smart Services to retain customers and increase competitiveness.
One such opportunity is in the elevator business, where McKinley is using PTC solutions to compete with larger firms in the space. Kevin Rusin, CFO of McKinley Equipment, discussed how they have an industry reputation as a strong distributor and sell manufacturer equipment. Because they are a distributor, it's difficult to differentiate from other distributors selling the same products.
Kevin Rusin quickly realized the opportunity IIoT represents. By sensor-ing and using PTC and ServiceMax solutions, they can proactively and predictively detect equipment failures. This has led to an improvement of the first time fix rate. The industry benchmark is 60%, McKinley is now at 88% and expects to be the mid-90% range soon.
Closing
PTC's LiveWorx certainly delivered on educative content for any organization looking to understand the promise of IIoT and customer stories of those taking advantage of it today. PTC is doing a good job of showing why they have acquired companies like Kepware and Vuforia. This was evidenced by the demonstrations provided in the Xtropolis Exhibit floor.
LNS Research looks forward to continued understanding of the solution roadmaps as PTC tackles IIoT and its opportunity at product inception all the way through to managing assets in the field via Connected Service. Openness of these products to partners will be key, and is evident at they move forward in the Digital Transformation era.
Quality Leaders should join this webcast on Thursday, June 16, 2016 @ 1:00 that will provide senior leaders with best practices for building a business case around quality and the foundational framework needed to gain executive commitment.

Tags: Operational Excellence, Smart Connected Assets, Industrial Internet of Things (IIoT), Industrial Transformation / Digital Transformation